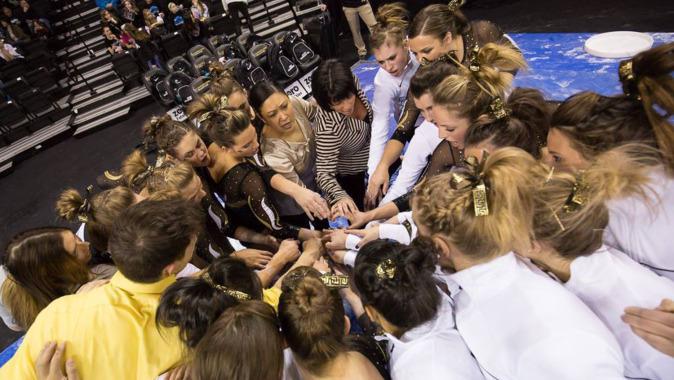 April 4, 2015
Full Results

AUBURN, Alabama — The University of Iowa women's gymnastics team capped it's season in NCAA Regional action at Auburn Arena in Auburn, Alabama, Saturday night. Three senior GymHawks — Sydney Hoerr, Johanny Sotillo, Caitlin Tanzer– ended their collegiate careers leading Iowa to a fifth place regional finish and a score of 194.475.
"It was unfortunate that we began on floor with mistakes that we couldn't recover from however, I don't wish for this day to define their season," said head coach Larissa Libby.
Five GymHawks placed in the top 15 for individual events. Sophomore Mollie Drenth posted a score of 9.825 on bars, good enough to secure a ninth place finish. Sophomore Angel Metcalf and senior Johanny Sotillo both posted a 9.800 to tie for 12th.
Junior Alie Glover lead the GymHawks on beam, posting a season high score of 9.875 and placing ninth overall. Seniors Sydney Hoerr and Sotillo both tallied a 9.850 to tie for 12th. Glover also paced the GymHawks on floor, placing 10th with a score of 9.800.
Metcalf represented Iowa in the all-around, posting a 39.175 to take fifth. Drenth finished eighth (39.050), while Hoerr took 13th (38.250).
No. 5 Alabama won the meet, totaling 197.575. No. 8 Auburn earned second (196.900) followed by Maryland (195.150), No. 17 Minnesota (195.025), Iowa and George Washington (194.150).
The top two teams, Alabama and Auburn, will continue on to the NCAA national championships in Fort Worth, Texas, on April 17-19, hosted by Texas Woman's University and the Knight Eady Sports Group.
"This team has had an amazing season and for that I will always be proud," said Libby. "We will go back and I promise you we will be stronger next year."