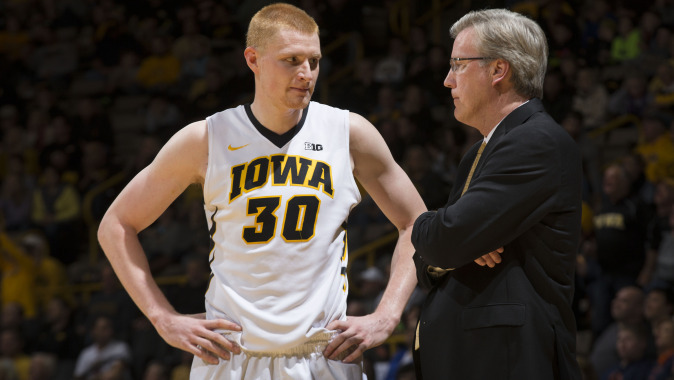 April 6, 2015
Editor's Note: The following first appeared in the University of Iowa's Hawk Talk Daily, an e-newsletter that offers a daily look at the Iowa Hawkeyes, delivered free each morning to thousands of fans of the Hawkeyes worldwide. To receive daily news from the Iowa Hawkeyes, sign up HERE.
Dear Hawkeye fans,
On behalf of our players, coaching staff and staff, I would like to thank you for your support of Iowa Hawkeye basketball this season.
There's no doubt that Hawkeye fans are some of the most passionate fans in the country. Not only was Carver-Hawkeye Arena rocking again, but our fans came out coast-to-coast to support our team. Whether it was early season games out East in New York City and North Carolina, league games around the Midwest, or the NCAA Tournament contests in Seattle… Hawkeye fans represented at every stop. It's motivating for our players to know that no matter where they play, they have unwavering support.
I could not be more impressed by our guys' effort level this season, athletically and in the classroom. Mike Gesell became the program's fifth Academic All-American, while Jarrod Uthoff was recognized as a first-team Academic All-District honoree. The duo, along with Adam Woodbury, also earned Academic all-conference distinction.
On the court, it was great to see the team finish the regular season strong with six straight wins and ultimately earn a bid to the NCAA Tournament for the second year in a row. Not resting on their laurels, our guys executed the game plan against Davidson to post the largest margin of victory ever in an NCAA Tournament 7/10 game (83-52).
Winning 22 games and tying for third place in the demanding Big Ten Conference is an accomplishment our players can be proud of. Success begins with preparation, and I'm not sure that I have coached a team that collectively studied and digested scouting reports better than this year's team. They truly had a business-like approach before each game.
We have been blessed to have tremendous senior leadership from day one. Guys like Jarryd Cole, Matt Gatens, Eric May, Melsahn Basabe, Zach McCabe, and Devyn Marble, to name a few, were instrumental in laying the foundation for future Hawkeye success. This year's senior class of Kyle Denning, Gabriel Olaseni, Josh Oglesby, and Aaron White will be deeply missed. Their contributions to this program, on and off the court, were immeasurable.
It has been a pleasure to coach another one of the greatest Hawkeyes of all-time in Aaron White. Without question, his work ethic and determination helped him achieve his goals. Earning first-team All-Big Ten honors, and becoming the second all-time leading scorer and third-leading rebounder is a phenomenal accomplishment.
Kyle Denning's impact on the program was felt in a different way, as he was pivotal in helping prepare our team for each opponent by running the scout team. He earned a scholarship this season after being in a walk-on role his first three years.
Watching the growth and development of Gabriel Olaseni the past four years has been rewarding. Gabe's unselfishness and athletic ability helped him reach his goal of Big Ten Sixth Man of the Year, in what was an emotional season for him. The benevolent nature of how Gabe's teammates comforted him upon learning of his father's passing in November is something that will not be forgotten.
Josh Oglesby will go down as one of this program's top 3-point shooters, but it's his compassion off the court that I may remember most. Upon learning of my son Patrick's thyroid tumor prior to last season's Big Ten Tournament, it was Josh's idea to make P-Mac/#teampat shirts to show support.
It's anecdotes like that, that demonstrate the personality of our team. We are an extended family that care for each other and cherish representing the University of Iowa.
We look forward to generating more memorable Hawkeye basketball moments in the years ahead. We thank you again for your continued support for our program and the Iowa Hawkeyes.
Go Hawks!
Fran McCaffery