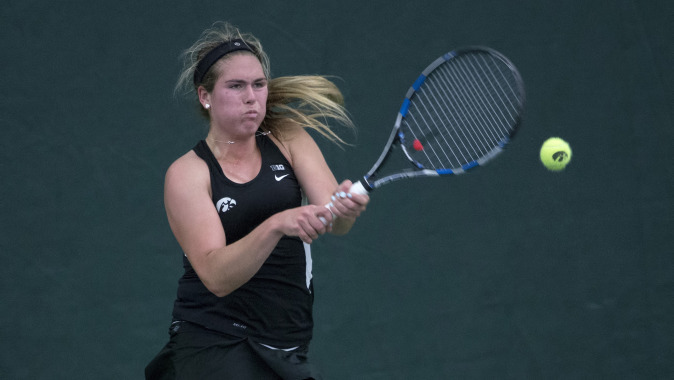 April 12, 2015
University of Iowa senior Katie Zordani competes at the Hawkeye Tennis and Recreation Complex for the final time this weekend. Iowa hosts Ohio State on Friday at 4 p.m. and Penn State on Sunday at 11 a.m. Zordani and her fellow seniors will be recognized following Sunday's Match.
Q:What has been your favorite part of being a member of the Iowa Tennis program?
A:My favorite part about being a member of the Iowa Tennis program is being a Hawkeye in general; every day is a great day to wear black and gold. Also, I enjoy the relationships that I have been able to build not only with my teammates but also with my coaches, our strength coach, and academic coordinators. I love being able to compete in one of the best conferences in the country and travel to some other really cool places. But most importantly being able to play the sport I love at my favorite school in the country is hands down my favorite part about being a member of the Iowa Women's Tennis program.
Q:What is your best tennis memory while playing at Iowa?
A:My best tennis memory while playing at Iowa would be my sophomore year, when I clinched the match against Ohio State at the Big Ten Tournament against a girl from junior tennis that I was never able to beat.
Q:What will you miss most about Iowa City?
A:The thing I will miss most about Iowa City is Iowa Football game day. Personally I love football and nothing gets me more excited than watching a football game in Kinnick on a Saturday, so I will miss attending all the football games in the fall.
Q:What is your favorite spot on campus?
A:My favorite spot on campus would be Kinnick on a Saturday during football season. It feels like, just about the entire state of Iowa, shuts down to watch the game and support the Hawkeyes. This is an extremely cool experience to be apart of, especially when some of your close friends are out there on the field.
Q:What is the greatest lesson you have learned while in college?
A:The greatest lesson I have learned in college is time management. Especially being an athlete, time is valuable and in order to be successful in athletics, school, and relationships you need to be organized and able to mange your time well. If not well managed it results in extra stress, which can affect many different parts of your life.
Q:Is there anything tennis-related that you regret or wish you would have done differently?
A:No, not really. I don't believe that there should ever be regrets but rather to take the situation you didn't like as a lesson or learning experience.
Q:What advice do you want to pass along to the underclassmen?
A:It goes extremely fast so enjoy every moment you have and don't take anything for granite because you never know what could happen. Also, I would say to branch out of your comfort zone and meet as many people as possible because making connections with other people on campus can really help you. Lastly, take advantage of all the different resources that are given to you. And as I said before it is always a great day to be a Hawkeye.
Q:What has made your experience at Iowa different than any other tennis experience you've had?
A:My experience at Iowa is different than any other tennis experience I have had because we are a team and all ultimately want to achieve the same goal, we may take different approaches on how to get there. But at the end of the day we all want to win, so we push each other and believe in each other on the court so that we can ultimately achieve our team goal. This is every different then junior tennis because it is all individual, and different from high school because we are all more highly motivated and it is a way different level of tennis.
Q:One thing that Coach Dougherty has taught you that will stick with you?
A:Something Coach has taught me that will stick with me forever is to have a positive outlook on everything; it is all about how you view the situation and how you choose to react on it.
Q: Do you have any future tennis plans? If so, what are they?
A: Over the summer I will continue tennis by coaching younger children and giving back to the sport I love. After that I plan on coming back to Iowa next year to be a volunteer assistant and help out with the team.