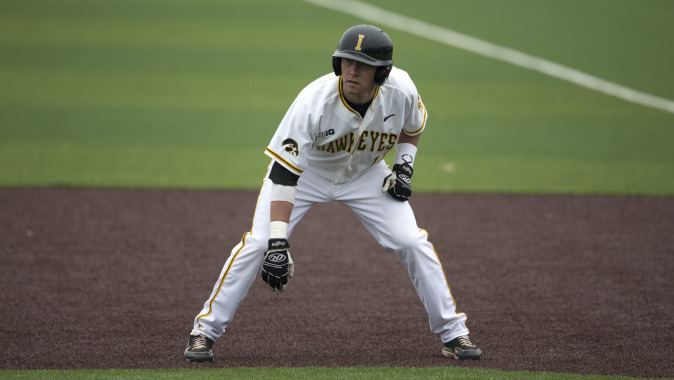 April 13, 2015
No. 14 Iowa (23-9) at Bradley (22-9) | vs. Cornell College (11-11)
Dates
April 14-15, 2015
Location
Peoria, Ill. (Dozer Park) | Iowa City, Iowa (Duane Banks Field)
Statistics
Bradley | Cornell | IOWA
Game 1 at Bradley
Date | Time
Tuesday, April 14 | 6 p.m. (CT)
Pitching Matchup
IOWA: Sr., LHP Andrew Hedrick (0-0, 16.20 ERA) vs.
BU: Jr., LHP, Cameron Roegner (2-0, 4.40 ERA)
Game 2 vs. Cornell College
Date | Time
Wednesday, April 15 | 6 p.m. (CT)
Pitching Matchup
IOWA: TBA vs.
CC: So., RHP Andy Dodson (0-1, 2.57 ERA)
IOWA CITY, Iowa — The 14th-ranked University of Iowa baseball team is set for a pair of midweek games beginning with a Tuesday matchup at Bradley at 6 p.m. (CT) from Dozer Park. The Hawkeyes will host Cornell College at 6 p.m. Wednesday at Banks Field.
It is the second meeting of the series against the Braves with Bradley claiming a 5-2 victory on March 25 in Iowa City. Jordan Fedro was the pitcher of record, pitching four innings of one-run ball.
Bradley is 22-9 overall and 3-3 in the Missouri Valley Conference after going 1-2 last weekend at No. 16 Dallas Baptist. The Braves dropped the first two games of the series, 10-3 and 16-7, before winning the finale, 11-6.
The Braves are hitting .266 as a team with three players hitting over .300. Isaac Smith has a .373 with three home runs, eight extra base hits, and 17 RBIs. Ten different Bradley players have 10 or more RBIs.
Bradley has a 4.09 team ERA, giving up 4.5 runs per contest. Redshirt junior Cameron Roegner will take mound for his fourth start of the season. The southpaw is 2-0 with a 4.40 ERA over 30 2/3 innings. He has allowed 15 runs on 26 hits and has 21 strikeouts to 16 walks.
UI senior Andrew Hedrick will make his first start of the season for the Hawkeyes. The left-hander is 0-0 with a 16.20 ERA in two appearances after missing the first 1 1/2 months because of injury. Hedrick made six starts as a junior, finishing 3-4 with a 4.98 ERA, logging 47 innings in 13 appearances.
Cornell is 11-11 on the year after splitting four games against Illinois College. The Rams started the season 2-6 but have gone 9-5 since. Cornell is hitting .330 as a team with 12 players hitting above .300. Brandon Davis has a team-best .419 average, Walker Breard is hitting .395 with six home runs and 20 RBIs, and Beriah Quick has a .371 average with 21 RBIs and 24 runs scored.
The Rams have a 4.90 team ERA, surrendering 151 runs (99 earned) over 182 innings. Cornell has 133 strikeouts to 92 walks and has given up 223 hits. Defensively, the Rams have committed 46 errors in 22 games for a .946 fielding percentage.
The Hawkeyes have struggled during the midweek this season, going 2-3 in five games. Iowa is hitting .272 as a team during the stretch, but the UI pitching staff has a 5.36 team ERA.
Tuesday's game at Bradley will be streamed live on bradleybraves.com, while Wednesday's game against Cornell will be streamed live on hawkeyesports.com. Both games will also be broadcast on 1360-AM KMJM and will be available on Hawkeye All-Access.
Following the two midweek games, Iowa will host Northwestern for a three-game series from April 17-19 at Banks Field.