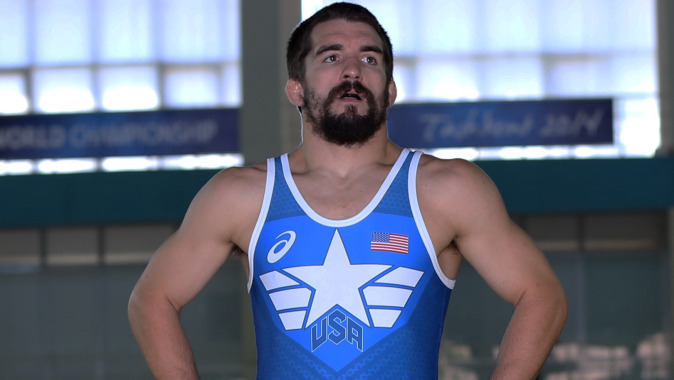 April 13, 2015
LOS ANGELES — University of Iowa two-time NCAA champion Brent Metcalf went 4-0 last weekend to lead the United States to a runner-up finish at the 2015 Freestyle World Cup.
Metcalf claimed individual gold for the second straight year, outscoring his opponents 32-8 in wins over Cuba, Russia, Mongolia, and Iran.
University of Iowa NCAA champion Tony Ramos split four matches in his World Cup debut. He defeated Russian Omak Syuruun, 4-2, on Saturday, and on Sunday defeated Tsogtbaatar Damdigbazar of Mongolia, 1-1, based on criteria.
In the gold medal dual against Iran, Ramos appeared to have a takedown and gain exposure, but he was not credited the points and lost 5-5 on criteria. It turned out to be a pivotal no-call, as Iran won the dual 5-3 to claim its sixth World Cup title.
In the same dual, Metcalf defeated 2014 World silver medalist Masmoud Esmailpour, 3-1. Metcalf finished the World Cup undefeated for the second straight year.
University of Iowa two-time NCAA champion Matt McDonough, who was on the Team USA World Cup roster at 61 kg, did not compete.
Team USA's next senior level event is the U.S. Open on May 7-9 in Las Vegas. Ramos (57 kg) and Metcalf (65 kg) are both ranked No. 1 in the United States at their respective weights. Metcalf is the defending U.S. Open champion.
World Cup results — Tony Ramos
57 kg/125.5 lbs. – Yowlys Bonne Rodriguez (Cuba) pinned Tony Ramos (USA), 4:57
57 kg – Tony Ramos (USA) dec. Omak Syuruun (Russia), 4-2
57 kg/125.5 lbs. – Tony Ramos (USA) dec. Tsogtbaatar Damdinbazar (Mongolia), 1-1
57 kg/125 lbs. – Hassan Rahimi (Iran) dec. Tony Ramos (USA), 5-5
Word Cup results — Brent Metcalf
65 kg/143 lbs. – Brent Metcalf (USA) dec. Franklin Maren Castillo (Cuba), 7-2
65 kg – Brent Metcalf (USA) won by tech. fall over Akhmed Chakaev (Russia), 14-3
65 kg/143 lbs. – Brent Metcalf (USA) dec. Mandakhnaran Ganzorig (Mongolia), 8-2
65 kg/143 lbs. – Brent Metcalf (USA) dec. Masmoud Esmailpour (Iran), 3-1