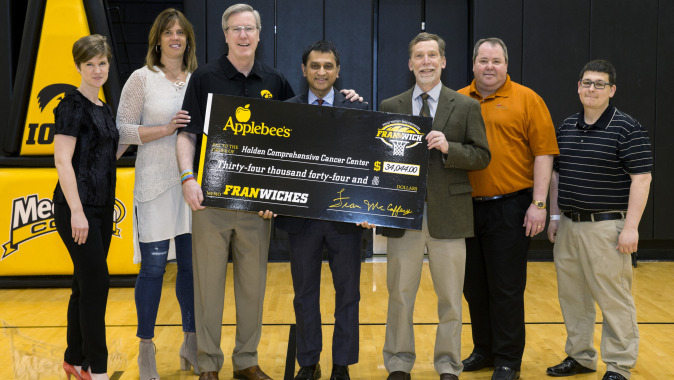 April 15, 2015
By MATTHEW WEITZEL
hawkeyesports.com
IOWA CITY, Iowa — Fran and Margaret McCaffery, along with representatives from Applebee's, presented a check for $34,044 to representatives from the Holden Comprehensive Cancer Center Wednesday afternoon at Carver-Hawkeye Arena.
Applebee's donated $1 for each "Franwich", a Philadelphia-style steak sandwich with sautéed peppers and onions and cheese, sold at 23 Iowa Applebee's locations since Nov. 2, 2014.
"Margaret and I are thrilled to be associated with this program," McCaffery said. "This money will kick start a program that will benefit adolescence over at the Holden Comprehensive Cancer Center.
"We all hear about pediatric and adult cancer, but (adolescence) was a group that doctors here feel really needs to be developed because they have different needs. Having a son who is an adolescent, who just went through cancer treatment, it's certainly very close to everything we want to do as far as battling this terrible disease."
"The timing for this gift is perfect for us," said Dr. Weiner. "We're just starting a dedicated program that focuses on adolescent and young adults with cancer. It's exciting to see the community come together for an effort like this. We're pleased to accept these funds and make good use of them."