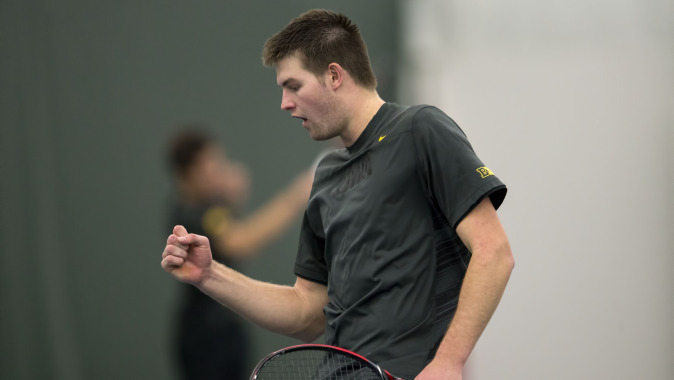 April 15, 2015
Weekly Release

THIS WEEK:
The University of Iowa men's tennis team (12-8, 4-5), ranked 66th nationally, battle consecutive Big Ten ranked opponents this week. First, the team hosts No. 11 Ohio State (20-7, 8-1) on Friday at 6 p.m. (CT) at the Hawkeye Tennis and Recreation Complex. The Hawkeyes will then host two teams on Sunday, No. 51 Penn State at 11 a.m. (CT) and Chicago State at 5:30 p.m. (CT). Sunday's match against Penn State will be "Senior Day" as the Hawkeyes will honor Matt Hagan and Andres Estenssoro for their contributions and accomplishments. Admission is free to the public for all three home contests.
HAWKEYES RANKED:
The recent Intercollegiate Tennis Association rankings, released on April 14, have Iowa ranked 66th nationally. Climbing six spots from the rankings released on April 7. Hagan is ranked 117th in the country in singles. The senior has posted a 8-10 record in the spring campaign, playing at the No. 1 position.
HAWKEYES SEEKING 5TH B1G VICTORY:
The Hawkeyes are 4-5 in Big Ten play this spring campaign. Their wins have come against Wisconsin, Michigan, Purdue, and most recently Nebraska. The last time Iowa posted four conference victories was the 2009-10 season, the team finished with a (13-10, 4-6) overall record. With only two Big Ten matches left on the schedule the Hawkeyes look to register their fifth conference win, an accomplishment not matched since 1998.
A DOMINANT PARTNERSHIP:
Junior Dominic Patrick and freshman Josh Silverstein have seen recent success in doubles competition. The duo, playing most matches at the No. 3 position, have tallied a 6-1 record this Spring. The two worked together to earn wins against five Big Ten opponents including the likes of then No. 44 Indiana, then No. 26 Northwestern, Michigan, Michigan State and Purdue. They will look to keep the momentum going against tough competition this weekend.
YOUTH LEADS THE WAY IN SINGLES:
Silverstein, Jake Jacoby and Lefteris Theodorou have all amassed double-digit wins in singles competition. Silverstein (14-6) has the best record on the team. His last triumph came on April 8, when he defeated Nebraska's Chris Hobgarski, 6-1, 6-1. Jacoby has posted a 12-6 record this Spring. In Champaign, Illinois, he managed to earn the team's only point against No. 3 Illinois on April 11, taking a 6-4, 6-2 decision over Blake Bazarnik. Theodorou (13-6) has the second best singles record for the team. In Iowa's last competition, Theodorou earned the lone point against No. 26 Northwestern at the No. 2 position. The freshman battled No. 116 Strong Kirchheimer en route to a 6-4, 7-5 straight set decision. The win was the first victory over a ranked opponent in Theodorou's young Hawkeye career.
ASSOCIATION WITH OHIO STATE:
UI head coach Ross Wilson was a standout at the national powerhouse from 2002-06. He broke the Buckeyes' overall career wins record, career doubles wins record and single season doubles wins record in 2006. In his time at Columbus, he became a two-time NCAA All-American and three-time ITA national doubles champion. Wilson is not the only coach with ties to Ohio State. Assistant coach Ty Schaub also experienced success in Columbus. Schaub graduated from Ohio State in 2009, and as a senior he served as the men's tennis team captain. Schaub, who was a teammate of Wilson in 2006, was part of four Big Ten championships and was the league's Sportsmanship Award Winner in 2006-07. The four-year letter winner was part of teams that went 129-8 in dual match competition.
WILSON ON THE COMPETITION:
"Ohio State has been the class of the conference the past ten years. We are looking for the team to go out and compete well against them. We want to come out with good energy and not play scared. Sunday against Penn State is a huge match for us, the biggest one of the season. We are playing for sixth place in the conference and to accomplish one of the goals we came up with at the beginning of the season. If we win on Sunday we have a good shot at finishing in the top 75 in the nation," said Wilson.