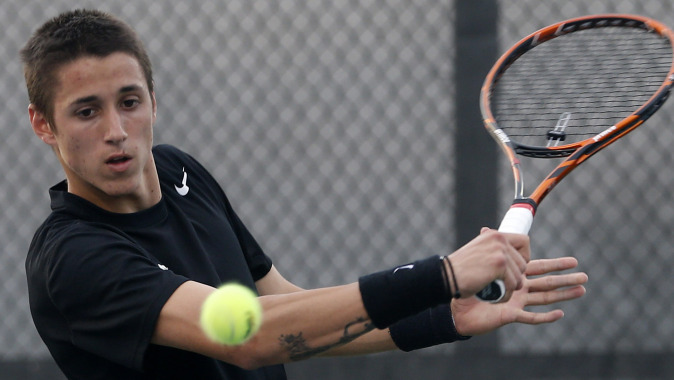 April 20, 2015
Weekly Release

THIS WEEK:
The University of Iowa men's tennis team (13-10, 4-7), ranked 66th nationally, travels to Champaign, Illinois, to compete in the 2015 Big Ten Tournament. The Hawkeyes, seeded eighth in the12-team field, will play ninth-seeded Wisconsin in the first round on Thursday at 10 a.m. (CT). If the team advances they will play top-seeded Illinois Friday at 10 a.m. (CT).
HAWKEYES RANKED:
The recent Intercollegiate Tennis Association rankings, released on April 14, have Iowa ranked 66th nationally. Climbing six spots from the rankings released on April 7. Hagan is ranked 117th in the country in singles. The senior has posted a 9-11 record in the spring campaign, playing at the No. 1 position.
HAWKEYES REGISTER FOUR B1G VICTORIES:
The Hawkeyes finished the regular season 4-7 in Big Ten this spring campaign. Their wins have come against Wisconsin, Michigan, Purdue, and most recently Nebraska. The last time Iowa posted four conference victories was the 2009-10 season, the team finished with a (13-10, 4-6) overall record. Iowa completed its regular season Sunday night with a sweep over Chicago State, 7-0. The Hawkeyes ended the 2014-15 regular season (13-10, 4-7), but look to advance through the field in Champaign.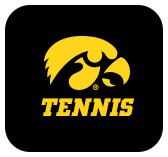 A DOMINANT PARTNERSHIP:
Junior Dominic Patrick and freshman Josh Silverstein have seen recent success in doubles competition. The duo, playing most matches at the No. 3 position, have tallied a 7-2 record this Spring. The two worked together to earn wins against six Big Ten opponents, including the likes of then-No. 44 Indiana, then-No. 26 Northwestern, Michigan, Michigan State, Purdue and Ohio State. The duo defeated 80th-ranked Ohio State pair Callahan/Diaz, 8-4. The win is there first win over ranked opponents as a team this spring. They will look to continue their success against Wisconsin.
YOUTH LEADS THE WAY IN SINGLES:
Silverstein, Jake Jacoby and Lefteris Theodorou have all amassed double-digit wins in singles competition. Silverstein (15-7) has the second record on the team. In his last win, Silverstein defeated Chicago State's Rohan Wattley in straight sets, 6-1, 6-2. Theodorou (15-6) has the best singles record on the team. In Iowa's match against Penn State, the freshman recorded a win against Alex Fennell in a three-set thriller, 6-1, 5-7, 6-3.Theodorou played at No. 1 singles and posted a win over Chicago State's Sergiu Muresan in straight sets, 6-4, 7-6. He improved to 3-0 this year playing at the No. 1 spot. Jacoby (13-7) registered his first win at the No. 3 singles position, earning a 6-2, 6-2 triumph over Rashley Yeremia of Chicago State.
FIRST MEETING WITH WISCONSIN:
In the team's Big Ten opener, the Hawkeyes earned a 4-3 win over the Badgers on March 22 in Iowa City. Dominic Patrick, Jacoby, Theodorou and Silverstein all tallied wins in singles, leading Iowa to victory.
LAST TIME OUT:
The Hawkeyes hosted both Penn State and Chicago State on Sunday. In its final Big Ten match of the regular season Iowa was beaten 4-2 by the Nittany Lions. The team managed to bounce back in the dual match nightcap, blanking Chicago State, 7-0.
WILSON ON THE B1G TOURNAMENT:
"Wisconsin is a deep team that is very experienced and we expect another close match," said UI head coach Ross Wilson.