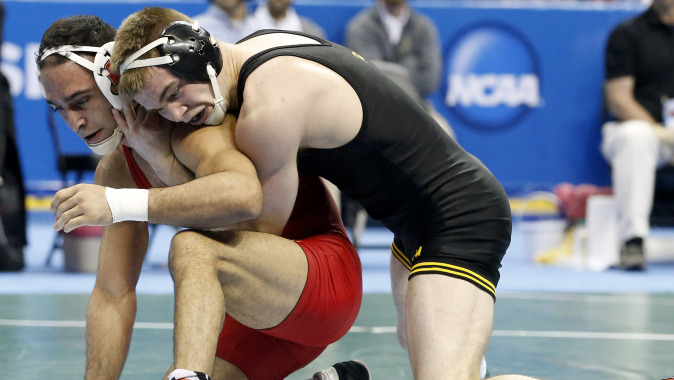 April 28, 2015
IOWA CITY, Iowa — Redshirt freshman Brandon Sorensen has been named the top 149-pound rookie in the country by Amateur Wrestling News. The national wrestling publication announced its all-rookie team Tuesday.
Sorensen (40-6) earned All-America honors with a fourth place finish at the 2015 NCAA Championships. He led Iowa with 40 wins, one shy of tying Ed Banach's single season freshman record, and finished runner-up at the Big Ten tournament.
The Cedar Falls, Iowa, native is the fifth freshman to earn All-America honors under head coach Tom Brands, and the first Hawkeye to win 40 matches in a single season since 1999 (Jody Strittmatter, T.J. Williams).
The 2015 AWN All-Rookie team includes Nathan Thomasello (125, Ohio State), Matthew Grossman (133, Wilkes), Dean Heil (141, Oklahoma State), Sorensen (149, IOWA), Isaiah Martinez (157, Illinois), Bo Jordan (165, Ohio State), Zach Epperly (174, Virginia Tech), Willie Miklus (184, Missouri), Kyle Snyder (197, Ohio State), and Nate Butler (285, Stanford).
Martinez was named AWN Rookie of the Year, and West Virginia's Sammie Henson was named AWN Rookie Coach of the Year.