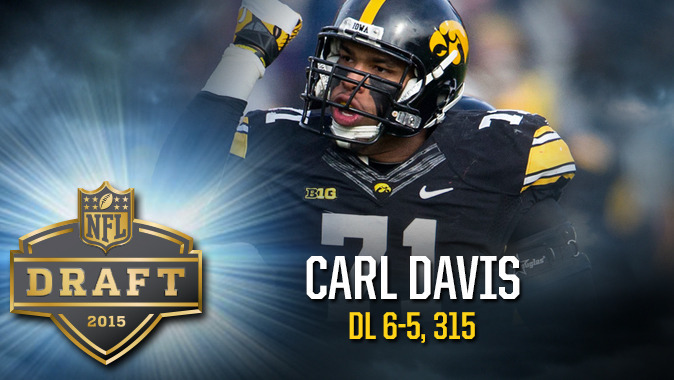 May 1, 2015
C. Davis Photo Gallery

CHICAGO — University of Iowa senior defensive lineman Carl Davis was selected by the Baltimore Ravens in the third round of the 2015 NFL Draft on Friday. Davis was the 90th overall pick in the draft. Davis is the second Iowa player selected, as offensive lineman Brandon Scherff was chosen in the first round (fifth selection overall) by Washington Thursday. Davis is the 57th Hawkeye player under Kirk Ferentz to be drafted and the 10th defensive lineman.
Davis (6-foot-5, 315 pounds) is a native of Detroit, Michigan, where he attended Stevenson High School before joining the Hawkeye program. He earned second-team All-Big Ten accolades as a senior by both league media and coaches. Davis was named the Practice Player of the Week while preparing for the 2015 Senior Bowl.
Davis started all 26 games over his final two seasons at defensive tackle. As a senior he recorded 36 tackles, including nine tackles for loss and two sacks. He earned the Coaches Appreciation Award for defense. Davis completed his career with 94 total tackles.
Davis is the 24th Iowa player selected in the draft over the past six years. He is the first Hawkeye defensive lineman selected since Mike Daniels (fourth round, Green Bay) was selected in the 2012 draft.
Iowa has had at least one player drafted in every NFL Draft since 1978.
Baltimore won the Super Bowl three years and last season lost in the playoffs to the Super Bowl champion New England Patriots. Former Hawkeye Marshal Yanda has earned All-Pro honors as an offensive lineman with the Ravens. Baltimore's head coach is John Harbaugh and the defensive line coach is Clarence Brooks.
HAWKEYES DRAFTED DURING FERENTZ ERA
2015 NFL Draft
Round 1
Brandon Scherff
New York Giants
Offensive line
Round 3
Carl Davis
Baltimore Ravens
Defensive line
2014 NFL Draft
Round 3
C.J. Fiedorowicz
Houston
Tight end
Round 3
Christian Kirksey
Cleveland
Linebacker
Round 4
Anthony Hitchens
Dallas
Linebacker
2013 NFL Draft
Round 5
Micah Hyde
Green Bay
Defensive back
2012 NFL Draft
Round 1
Riley Reiff
Detroit
Offensive line
Round 4
Mike Daniels
Green Bay
Defensive line
Round 5
Adam Gettis
Washington
Offensive line
Round 5
Shaun Prater
Cincinnati
Defensive back
Round 6
Marvin McNutt
Philadelphia
Wide receiver
Round 7
Jordan Bernstine
Washington
Defensive back
2011 NFL Draft
Round 1
Adrian Clayborn
Tampa Bay
Defensive end
Round 4
Christian Ballard
Minnesota
Defensive line
Round 5
Ricky Stanzi
Kansas City
Quarterback
Round 5
Karl Klug
Tennessee
Defensive line
Round 5
Julian Vandervelde
Philadelphia
Offensive line
Round 6
Tyler Sash
New York Giants
Defensive back
2010 NFL Draft
Round 1
Bryan Bulaga
Green Bay
Offensive line
Round 2
Pat Angerer
Indianapolis
Linebacker
Round 3
Amari Spievey
Detroit
Defensive back
Round 3
Tony Moeaki
Kansas City
Tight end
Round 4
A.J. Edds
Miami
Linebacker
Round 7
Kyle Calloway
Buffalo
Offensive line
2009 NFL Draft
Round 3
Shonn Greene
New York Jets
Running back
Round 3
Bradley Fletcher
St. Louis
Defensive back
Round 4
Seth Olsen
Denver
Offensive line
Round 6
Brandon Myers
Oakland
Tight end
2008 NFL Draft
Round 3
Charles Godfrey
Carolina
Defensive back
Round 4
Kenny Iwebema
Arizona
Defensive end
Round 6
Mike Humpal
Pittsburgh
Linebacker
2007 NFL Draft
Round 3
Marshal Yanda
Baltimore
Offensive line
Round 4
Scott Chandler
San Diego
Tight end
Round 7
Mike Elgin
New England
Offensive line
2006 NFL Draft
Round 1
Chad Greenway
Minnesota
Linebacker
Round 3
Abdul Hodge
Green Bay
Linebacker
2005 NFL Draft
Round 2
Matt Roth
Miami
Defensive end
Round 2
Jonathan Babineaux
Atlanta
Defensive line
Round 4
Sean Considine
Philadelphia
Defensive back
Round 6
Tony Jackson
Seattle
Tight end
Round 6
Pete McMahon
Oakland
Offensive line
2004 NFL Draft
Round 1
Robert Gallery
Oakland
Offensive line
Round 2
Bob Sanders
Indianapolis
Defensive back
Round 3
Nate Kaeding
San Diego
Place kicker
Round 7
Jared Clauss
Tennessee
Defensive line
Round 7
Erik Jensen
St. Louis
Tight end
2003 NFL Draft
Round 1
Dallas Clark
Indianapolis
Tight end
Round 2
Eric Steinbach
Cincinnati
Offensive line
Round 2
Bruce Nelson
Carolina
Center
Round 5
Derek Pagel
New York Jets
Defensive back
Round 5
Ben Sobieski
Buffalo
Offensive line
2002 NFL Draft
Round 2
Ladell Betts
Washington
Running back
Round 5
Aaron Kampman
Green Bay
Defensive line
Round 6
Kahlil Hill
Atlanta
Wide receiver
2001 NFL Draft
Round 6
Kevin Kasper
Denver
Wide receiver
2000 NFL Draft
Round 5
Austin Wheatley
New Orleans
Tight end
Round 6
Matt Bowen
St. Louis
Defensive back