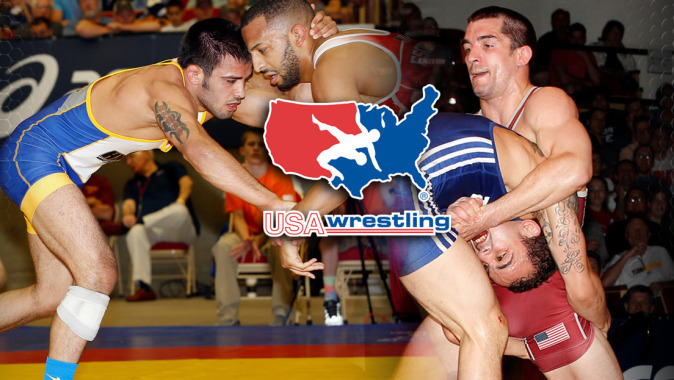 May 10, 2015
LAS VEGAS — Brent Metcalf defended his freestyle national championship and Tony Ramos won a title in his Open debut Saturday at the U.S. Senior Open in Las Vegas.
Metcalf defeated Jordan Oliver 2-1 in the finals of 65 kg/143 pounds, and Ramos scored a four-point move in the final seconds to defeat Andrew Hochstrasser, 7-3, in the finals of 57 kg/125.5.
"Dominate is not the word – figure it out, gut it out," Metcalf told USA Wrestling after the match. "When you are in a match where the guy is very stingy, and hard to get to, he's got a strategy. Maybe he's banged up, so he really doesn't want to wrestle in certain positions.
"I have to get to where I want to be. It was the same story as last year. I did a better job last year countering and taking advantage of opportunities than I did."
"I knew there was only 15 seconds left and I had to score quickly," Ramos said. "I'm going to wrestle hard the whole match and I never stop wrestling. This is my spot. You can't panic out there. You panic, and you can't think and you can't win."
The U.S. Open titles mean both wrestlers receive an automatic trip to the finals of the U.S. Freestyle World Team Trials in Madison, Wisconsin, on June 12-14.
The top five place-winners at each weight class of the U.S. Open qualify for the World Team Trials. The Hawkeyes sent five former wrestlers to the Open, and all five advanced to the World Team Trials. Daniel Dennis placed fourth at 61 kg/ 134 lbs. Matt McDonough placed fifth at 57 kg/125.5 lbs., and Derek St. John won four straight matches in the consolation bracket to place fifth at 70 kg/154 lbs.
NBC Sports Network will replay the U.S. Senior Open on Wednesday, May 13, at 10:30 p.m. (CT).
U.S. Open
May 9, South Point Arena, Las Vegas
Men's freestyle finals
57 kg/125.5 lbs.
Tony Ramos (Titan Mercury WC) dec. Andrew Hochstrasser (Titan Mercury WC), 7-3
61 kg/134 lbs.
Reece Humphrey (New York AC) dec. Kendric Maple (Sooner WC), 7-6
65 kg/143 lbs.
Brent Metcalf (New York AC) dec. Jordan Oliver (Sunkist Kids), 2-1
70 kg/154 lbs.
Nick Marable (Sunkist Kids) dec. Dustin Schlatter (Minnesota Storm), 4-2
74 kg/163 lbs.
David Taylor (Nittany Lion WC) dec. Andrew Howe (New York AC), 2-0
84 kg/185 lbs.
Jake Herbert (New York AC) dec. Keith Gavin (Titan Mercury WC), 5-2
97 kg/213 lbs.
Kyle Snyder (Titan Mercury WC) dec. Jake Varner (Nittany Lion WC), 2-1
125 kg/275 lbs.
Tervel Dlagnev (Sunkist Kids) dec. Zach Rey (Lehigh Valley AC), 3-1