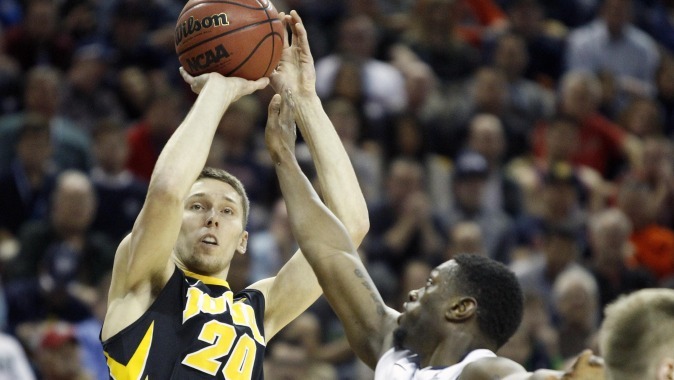 May 13, 2015
IOWA CITY, Iowa — The University of Iowa men's basketball team is paired with Florida State as part of the 2015 Big Ten/ACC Challenge. The Hawkeyes and Seminoles will meet in Iowa City on Wednesday, Dec. 2.
Game time and television information will be announced at a later date. ESPN, ESPN2, and ESPNU will combine to televise all 14 games of the three-day event, matching top college basketball programs playing for conference supremacy and the Commissioners Cup. All 14 games will also be available on mobile devices via WatchESPN.
This marks the third meeting between the Seminoles and Hawkeyes, and first in Iowa City. The Hawkeyes won the first meeting, 102-98, in the first round of the 1988 NCAA Tournament in Los Angeles. The Seminoles beat Iowa, 80-67, in the 2002 Big Ten/ACC Challenge in Tallahassee, Florida.
"We're excited to have the opportunity to host Florida State, an extremely talented and skilled basketball team, in this year's Big Ten/ACC Challenge," said UI head coach Fran McCaffery. "Leonard Hamilton has created a winning culture at Florida State and returns nearly its entire roster from last year. This will be another good test for our basketball team and believe it will be an exciting game for our students and fans to experience at Carver-Hawkeye Arena."
Iowa won its last two Challenge games in thrilling fashion, both by five-point margins. Iowa topped Notre Dame (98-93) in Iowa City in 2013, and won at No. 12 North Carolina (60-55) a year ago in Chapel Hill, North Carolina.
The Hawkeyes return four starters from last year's squad that finished 22-12 overall and tied for third place in the Big Ten with a 12-6 conference record. Iowa returns Jarrod Uthoff, who was a third-team all-conference honoree and ranked second on the team in scoring and rebounding (12.4 ppg and 6.4 rpg) and Mike Gesell, who led the team in assists (4.0 apg) last season. Iowa will add six newcomers to its fall roster.
Florida State returns its top six scorers from a team that registered a 17-15 overall record and tied for ninth place in the ACC with an 8-10 league mark. Xavier Rathan-Mayes earned Freshman All-American and All-ACC honorable mention honors last year after becoming the second freshman to lead the Seminoles in scoring, averaging 14.9 points per game. Rathan-Mayes also led the squad in assists (4.3 apg). Forward Brandon Montay will return for his senior season after leading the team in rebounding (5.5 rpg) and steals (1.1 spg), and ranking second in scoring (12.1 ppg).
After winning six of its first nine Challenge games, Florida State has since lost seven consecutive Challenge contests, including last year's 70-65 defeat to Nebraska in Tallahassee. The Seminoles' last Challenge win came in 2007 to Minnesota (75-61) in Tallahassee.
The Big Ten Conference has won four of the last six Challenges (2009, 2010, 2011, and 2014), including last year by a count of 8-6, to retain possession of the Commissioners Cup. The ACC and Big Ten split the 2012 and 2013 Challenges, with each conference notching six victories.
Mon., Nov. 30
Clemson at Minnesota
Wake Forest at Rutgers
Tues., Dec 1
Maryland at North Carolina
Virginia at Ohio State
Michigan at NC State
Purdue at Pittsburgh
Northwestern at Virginia Tech
Miami at Nebraska
Wed., Dec 2
Indiana at Duke
Louisville at Michigan State
Notre Dame at Illinois
Wisconsin at Syracuse
Florida State at Iowa
Penn State at Boston College