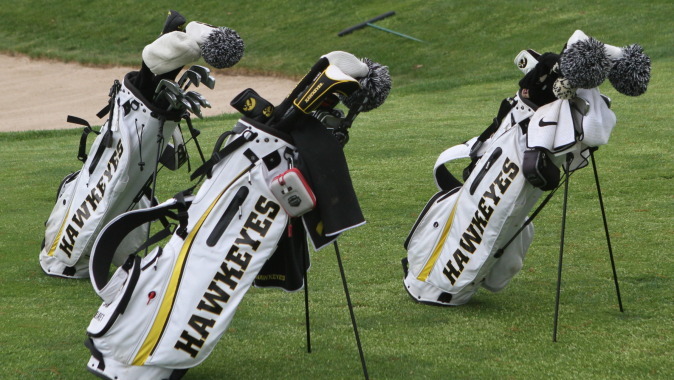 May 15, 2015
NEW HAVEN, Conn. — The University of Iowa men's golf team shot even par (280) in the second round of the NCAA Yale Regional on Friday, cutting 11 strokes from its opening round. Iowa sits in sixth place after 36 holes of the 54-hole event with a 571 total, just five strokes from second place. The top five teams following Saturday's final 18 holes advance to the NCAA Championships in Bradenton, Florida (May 29-June 1).
South Florida leads the team standings with a 557 total (-3). North Carolina State is second (566), followed by San Diego State (567), Vanderbilt (567) and Oklahoma State (570). The Hawkeyes had the third lowest round of the 14 teams Friday, as only South Florida (-4) and North Carolina State (-3) played under par.
"I thought today we were a lot more comfortable on the golf course," said head coach Tyler Stith. "We got into our rounds a little earlier today, made a couple of birdies early in the round. With the third best round of the day, I'm pretty happy with the way we performed."
Sophomores Carson Schaake and Raymond Knoll led Iowa in the second round, as each shot a two-under-par 68 on the par-70 layout. Senior Brian Bullington added an even-par 70, while freshman Sam Meuret (74) and senior Ian Vandersee (75) rounded out the team scoring. Schaake is tied for eighth in the individual standings at even par, while Knoll and Bullington are tied for 21st, Vandersee is tied for 36th and Meuret is tied for 62nd.
"Ray had a solid round of golf, I was happy to see him bounce back today," added Stith. "Carson played another great round at two-under. With birdies on three of his last four holes he was able to help us move up the leaderboard a little bit at the end of the day."
Both Schaake and Knoll scored well on their second nine of the day, which is the front nine at The Course at Yale. Knoll began play with a bogey on his first hole, but got back to even with a birdie on No. 16. His birdies on the front nine came at the par-3 fourth hole, and holes seven and eight, a pair of par four's.
Schaake was even through three holes before a bogey at No. 13. He recorded his first birdie of the tournament on the par-five 16th hole before a bogey on the following hole left him at one over at the turn. He birdied No. two to get back to even, and also recorded birdies on six, seven and nine. A bogey on the fourth hole was the only blemish on his last nine of the day.
"Yesterday I was plagued by five three putts, but today I focused on hitting to the right quadrants of the greens, trying to avoid giving myself the 30 and 40-foot putts," said Knoll. I hit 17 greens today until the last one; I gave myself a lot of good looks and fortunately some of them fell.
The par-five 16th is a birdie hole, you just have to focus on getting it close to the hole and making the putt, and I was able to do that today," said Knoll. "I made a 20-footer on the par-three fifth hole, and on seven I was able to get it all the way back to the pin and make the putt. On eight I was able to knock one close to the pin and tap in for birdie."
Bullington recorded 14 pars on the day, along with two bogeys and a pair of birdies. He made a short putt for birdie on No. 16 and added a second birdie with a short putt on the fourth hole, playing his final 10 holes in one-under-par.
Meuret, playing in his first postseason event as a Hawkeye, shot a 74 (+4), that included a triple bogey. His only birdie came at No. 1, his 10th hole of the day, as he played his final 13 holes just one over par.
Vandersee shot even par over his first nine holes, recording a bogey on his third hole before collecting a birdie on No. 17 for the second straight day. Back-to-back double bogeys on his second nine elevated his score before he closed the round at even par over his final four holes.
"The team race is tight, is has been tight for a couple of days, and we've known all along it was going to be close," said Stith. "We wanted to put ourselves in a position to have a chance on the last day, and that is exactly what we have done. We are not going to do anything different tomorrow than we have to this point. We are getting more comfortable with this course; we've seen it three times, so I feel good about Saturday and I am looking forward to it."
The third round will be held Saturday, with the top five teams advancing to the NCAA Championships. Iowa tee times on Saturday begin at 7:50 a.m. ET, on the first tee. The Hawkeyes are paired with Oklahoma State and Vanderbilt.