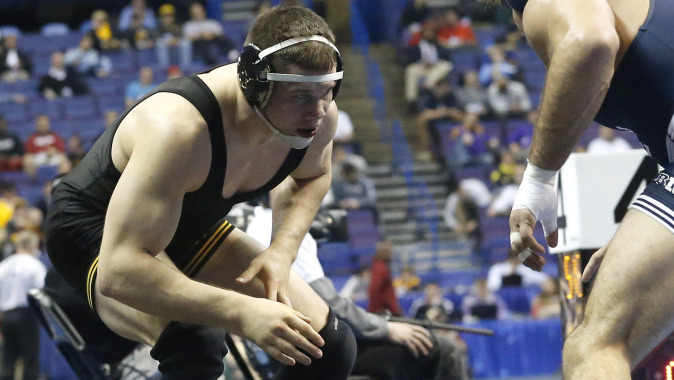 June 1, 2015
AKRON, Ohio — Two-time All-American Nathan Burak outscored his opponents 64-1 to win the 97 kg/213 lbs. University Nationals freestyle championship on Sunday.
Burak won all six matches by technical fall, blanking his opponents 52-0 before defeating Austin Schafer, 12-1, in the finals.
He was one of seven Hawkeyes to place in the top five at the event. Alex Meyer, Phillip Laux, Sammy Brooks, and Brandon Sorensen placed in the top five of the freestyle tournament, and Burke Paddock and Sam Stoll placed second and third, respectively, in the Greco-Roman tournament.
Paddock won three matches, one by fall and two by tech. fall, before losing 2-1 in the finals of the 75kg/165 lbs. bracket. Stoll won four matches by tech. fall to place third at 130 kg/286 lbs.
Meyer placed third at 80 kg/176 lbs., posting a 5-1 mark with three tech. falls. Laux improved one spot from his 2014 performance, placing fourth at 57 kg/125 lbs. and winning six matches by tech. fall.
Brooks (86 kg/189 lbs.) and Sorensen (70 kg/154 lbs.) placed fifth in their respective brackets. Sorensen won three matches by tech. fall and one by fall. Brooks was 5-2 overall, falling 6-4 in the semifinals, and losing on criteria, 7-7, in the consolation semifinals.
Past champions in this event had qualified for the University World Championships, but there will not be a University Worlds this year. The University Worlds will return to the schedule in 2016.