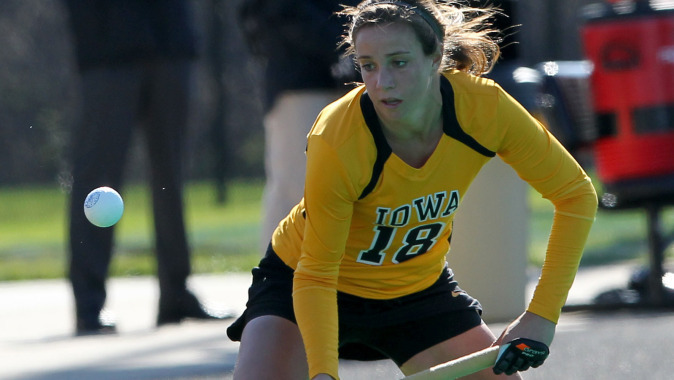 June 8, 2015
IOWA CITY, Iowa — University of Iowa junior field hockey standout Stephanie Norlander and former Hawkeye Karli Johansen have been selected to compete for the Canadian Women's National Team at the World League 3 Tournament, June 10-21, in Valencia, Spain. The World League Semi-Final is an Olympic qualifying event from which the top three finishers of 10 teams earn spots to the 2016 Olympic Summer Games in Rio de Janeiro, Brazil.
Canada's first match at the World League Semi-Finals is Wednesday against China. Canada's full schedule and results are available at the Field Hockey Canada website.
"It is quite an accomplishment to be selected to your country's National Team, but then to be one of the 18 members selected to participate in the World League 3 Tournament is outstanding," said UI head coach Lisa Cellucci. "We are thrilled that two Hawkeyes will get the opportunity to qualify for the 2016 Olympics in Rio. We wish the best of luck to Steph and Karli."
Norlander was on Canada's Senior Development Squad this past year, which prepared her for the senior level international competition. The native of North Vancouver, British Columbia, was a first-team All-Big Ten selection and second-team NFHCA All-American honoree this past season for the Hawkeyes. She started all 18 contests as a sophomore, scoring 15 goals and dishing out five assists. Norlander (F/MF) ranked third in the Big Ten and 13th nationally in goals per game (0.83), while ranking fifth in the Big Ten and 19th nationally in points per game (1.94).
Johansen, a defensive back, was on the Canadian Women's National Team in 2013 and 2014, and also the Canadian Junior National Team in 2012. The native of North Vancouver, British Columbia, started 65 games for the Hawkeyes from 2010-13, earning Big Ten All-Tournament team accolades as a sophomore and junior.