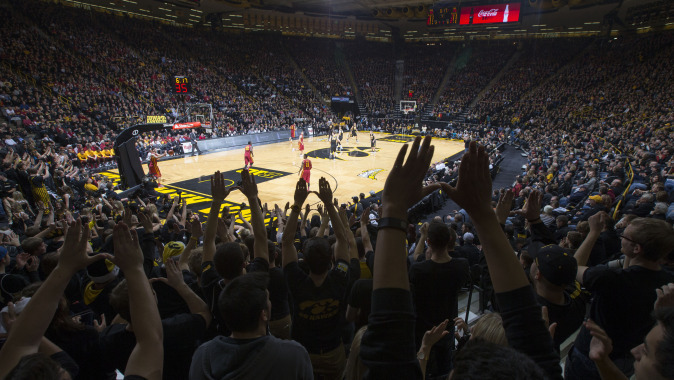 July 6, 2015
IOWA CITY, Iowa — The University of Iowa men's basketball team ranked 20th nationally in average attendance, averaging 14,101 fans at its 18 home contests in 2014-15. It is the second straight season and 21st time that Iowa has cracked the top 20 in the national attendance rankings.
Iowa played in front of 475,998 fans in its 34 games (home, away, and on neutral courts) throughout the season. That figure ranked 13th in the country.
As a conference, the 14 Big Ten schools averaged 12,781 fans to lead in the nation in average attendance for a 39th consecutive season. More than three million fans witnessed Big Ten games in person throughout the course of the 2014-15 season. For the second consecutive year, Iowa was one of seven Big Ten schools to rank in the top 20 nationally.
Iowa ranked among the national leaders in home attendance in four sports during the 2014-15 season. Iowa is one of eight schools in the country to finish in the top 25 in attendance in home men's basketball games (20th), women's basketball (14th), and football (22nd). Additionally, the Iowa wrestling program led the country in attendance at home events for the ninth straight year in 2014-15, averaging 8,358 fans per home dual.
Iowa's 2015-16 schedule will be released later this summer.