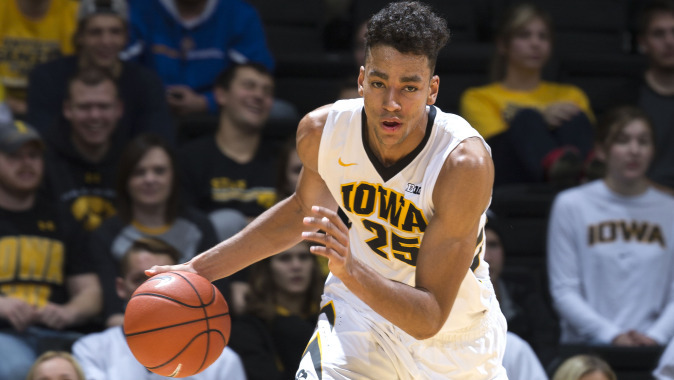 July 14, 2015
IOWA CITY, Iowa — Sophomore men's basketball student-athlete Dom Uhl will represent the University of Iowa on the USA East Coast basketball team, Aug. 1-9. The squad will be competing in France against teams from Europe and Africa.
Guy Rancourt of Lycoming College returns to coach the USA East Coast team. Other squad members include V.J. Beachem (Notre Dame), Isaac Cohen and Conor Voss (Columbia), Dusty Hannahs (Arkansas), Jared Nickens (Maryland), Marcus Strohman (South Carolina), Jordan Tolbert (SMU), Kaleb Joseph and Chinonso Obokoh (Syracuse), and Chris Wallace (Lycoming).
Uhl (6-foot-8, 215 pounds) played in 33 games as a freshman last season for the Hawkeyes. The native of Frankfurt, Germany, earned the team's Newcomer of the Year award after helping the Hawkeyes tie for third place in the Big Ten and advance to the NCAA Round of 32. Uhl tallied a career-high 11 points against Alcorn State last December.
This marks the fifth consecutive season that a Hawkeye has traveled overseas with the USA East Coast basketball team. In 2011, Matt Gatens and Bryce Cartwright traveled overseas; Zach McCabe went in 2012; Jarrod Uthoff was on the roster in 2013; while Mike Gesell and Adam Woodbury competed last summer.
To follow the progress of Uhl and the team, follow @East_Coast_BBC on Twitter.