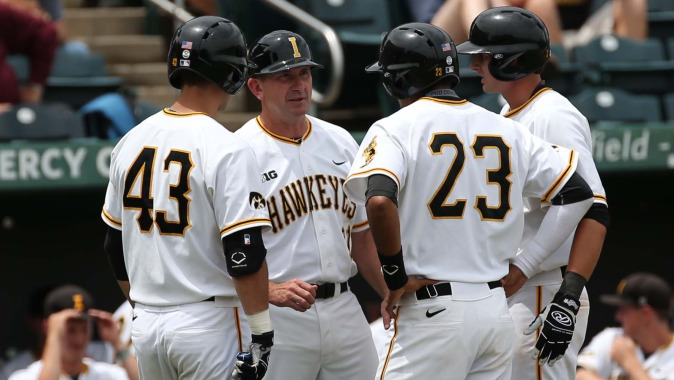 July 17, 2015
IOWA CITY, Iowa — The University of Iowa baseball team's 2015 recruiting class has climbed to No. 26 in the updated Perfect Game Recruiting Rankings. The Hawkeyes' class is still tops in the Big Ten Conference, coming in with 52 points.
Iowa's class was 40th in the initial Perfect Game rankings, released in November.
The rankings are determined based on Perfect Game's national high school player rankings. Colleges are given points for each recruit based on their recruit's current high school ranking.
Iowa's 10-player high school class consists of RHP Cole Baker (Grimes, Iowa), infielder Mitch Boe (Naperville, Ill.), RHP/infielder Zach Daniels (Robins, Iowa), catcher Dametri Evans (Hemet, Calif.), outfielder Luke Farley (Denver, Iowa), RHP Cole McDonald (New Hampton, Iowa), outfielder Robert Neustrom (Sioux City, Iowa), infielder Daniel Perry (Susanville, Calif.), RHP Shane Ritter (Plainfield, Ill.), and LHP Kyle Shimp (Yorkville, Ill.).
The Hawkeyes also signed a pair of junior college recruits (that are not factored into the rankings). Junior college All-American Mason McCoy (Washington, Ill.) is an infielder, who is leading the Northwoods League in hitting and runs scored in 2015, and Zach Fricke (Waterloo, Iowa), a catcher/RHP, who hit .343 with 13 doubles, 12 home runs, and 71 RBIs at NIACC last season.
RHP Chris Comito, Jr. (Norwalk, Iowa), signed a National Letter of Intent with Iowa in November, but he elected to sign a professional contract after being selected in the 15th round of the 2015 Major League Baseball First-Year Player Draft by the Chicago White Sox.