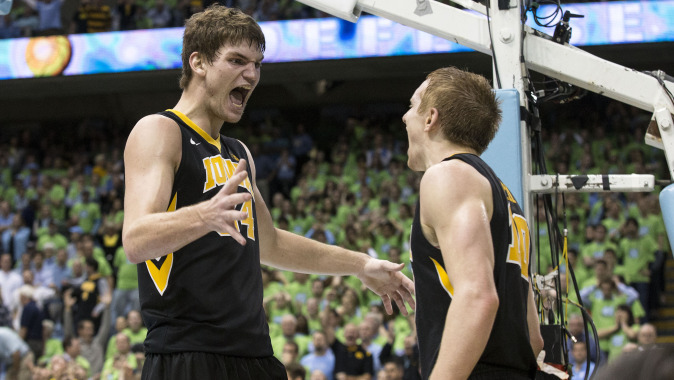 Aug. 6, 2015
IOWA CITY, Iowa — The UI Department of Athletics and head coach Fran McCaffery have announced the 2015-16 nonconference men's basketball schedule. Iowa will play a total of eight nonleague contests, including two exhibition contests, on Mediacom Court at Carver-Hawkeye Arena. The Hawkeyes will also travel for two road contests and four neutral site games.
Iowa will hit the hardwood with four returning starters and six newcomers. Hawkeye fans will get their first glimpse of the new squad on Oct. 29 in an exhibition against the University of Sioux Falls. Iowa will also play Augustana (South Dakota in an exhibition game on Nov. 6.
Iowa's Big Ten schedule, game times and television information will be announced later this summer.
Nov. 13 vs. Gardner-Webb
Iowa opens its 2015-16 campaign against Gardner-Webb — an opponent it faced three years ago in Iowa City. The Hawkeyes rallied from a 23-point deficit to upend the Big South opponent, 65-56. The 23-point comeback is the largest in Iowa basketball history. The Runnin' Bulldogs return nine players from last year's roster that posted a 20-15 record and competed in the College Basketball Invitational.
Nov. 15 vs. Coppin State
Coppin State is another nonconference opponent the Hawkeyes faced three years ago, like Gardner-Webb. The Hawkeyes overwhelmed the Wages, 80-50, in Iowa City on Dec. 22, 2012. This season will mark the fourth meeting between the two teams, with Iowa winning the previous three. Michael Grant enters his second season as head coach of the Eagles after posting an 8-23 overall record last season. Coppin State must replace its top three scorers from last year, as the Eagles return only one starter, but welcome six newcomers.
Nov. 19 at Marquette (Gavitt Games)
Iowa will travel to Milwaukee to challenge Marquette for its earliest true road game since playing at Notre Dame in the preseason NIT in 1990 (Nov. 17). This will be the first meeting between the two schools since 1982 and the 18th meeting overall (Iowa leads the series, 10-7). Marquette recorded a 13-19 overall record and tied for ninth in the Big EAST under first-year coach Steve Wojciechowski. The Golden Eagles return four lettermen and will welcome five freshmen to its squad for 2015-16.
Nov. 26-29 at Advocare Invitational
Iowa will make its first-ever appearance in the Advocare Invitational (formerly known as the Old Spice Classic) in Orlando. Joining the Hawkeyes in this eight-team tournament are Alabama, Dayton, Monmouth, Notre Dame, Southern California, Wichita State, and Xavier. The Hawkeyes will face Dayton in the first round and either Notre Dame or Monmouth in round two. Iowa recently competed against five of the seven other teams in the field since Fran McCaffery became Iowa's head coach in 2010 (Alabama in 2010, Dayton and Wichita State in 2012, and Notre Dame and Xavier in 2013). Including Iowa, five of the teams in the Advocare Invitational qualified for the NCAA Tournament last season (Dayton, Iowa, Notre Dame, Wichita State, and Xavier).
Dec. 2 vs. Florida State (Big Ten/ACC Challenge)
Florida State will travel to Iowa City for the first time when the two teams meet in the Big Ten/ACC Challenge on Dec. 2. The two teams split their previous two meetings, with Iowa beating the Seminoles in the 1988 NCAA Tournament in Los Angeles, while Florida State topped the Hawkeyes in Tallahassee in the 2002 Challenge. Iowa has won its last two Challenge games (98-93 over Notre Dame in 2013 and 60-55 at North Carolina in 2014). The Seminoles, who return their top six scorers from last year's 17-15 squad, have lost seven consecutive Challenge contests.
Dec. 5 vs. Missouri-Kansas City
This will be the first meeting between Iowa and UMKC. The Kangaroos finished last season with a 14-19 overall record and tied for second place in the Western Athletic Conference (WAC) with an 8-6 league mark. UMKC returns the WAC Player of the Year and leading scorer Martez Harrison. The junior guard averaged 17.5 points and 3.9 assists per game last season. The Kangaroos also return starters Darius Austin (4.4 ppg and 4.2 rpg) and Thaddeus Smith (2.4 ppg and 4.4 rpg). UMKC is coached by Kareem Richardson, who enters his fourth season as head coach.
Dec. 7 vs. Western Illinois
Iowa and Western Illinois will compete for the ninth time, with the Hawkeyes winning the previous eight meetings. The Hawkeyes won the last meeting, 58-43, in 2008 in Iowa City. The Leathernecks posted an 8-20 record a year ago and went 3-13 in The Summit League. Western Illinois returns its top five leading scorers from last year, including Garret Covington and J.C. Fuller, who led the team in scoring, averaging 15.5 and 12 points per contest, respectively. Fuller, who hails from Sioux City, Iowa, will be one of four seniors on this year's squad. The Leathernecks are coached by second-year head coach Billy Wright.
Dec. 10 at Iowa State (Iowa Corn Cy-Hawk Series)
Iowa and Iowa State renew their in-state rivalry for the 69th time; Iowa leads the all-time series 43-25. The Cyclones have won the last six meetings in Ames, with Iowa's last road victory coming in 2003. The Cyclones are under the guidance of Steve Prohm, who will lead the Cyclones after four seasons as head coach at Murray State. Iowa State returns its top three scorers from last year's Big 12 Tournament championship team: senior Georges Niang (15.3 ppg), Monte Morris (11.9 ppg), and Jameel McKay (11.0 ppg).
Dec. 19 vs. Drake (Hy-Vee Big Four Classic)
After a week for final exams, Iowa travels to Des Moines to play Drake in the Hy-Vee Big Four Classic. This will mark the second time the Hawkeyes will play the Bulldogs in Wells Fargo Arena; Iowa owns a 57-10 advantage over Drake in the all-time series and has won 31 of the last 34 meetings, including four straight. Ray Giacoletti enters his third season as Drake head coach after serving as an assistant coach at Gonzaga for six seasons (2006-13). Reed Timmer returns after leading the squad in scoring (11.6 ppg) as a freshman in 2014-15. Former Northwestern Wildcat and West Des Moines native, Kale Abrahamson, will be eligible to compete after sitting out last season due to NCAA transfer rules.
Dec. 22 vs. Tennessee Tech
Iowa and Tennessee Tech will hit the hardwood for the first time since 1970, a game in which the Hawkeyes won 98-68 in Iowa City. The Golden Eagles registered a 12-18 overall record and 4-12 mark in the Ohio Valley Conference a year ago. Tennessee Tech loses its top two scorers from last year, but do return senior guard Torrance Rowe (11.4 ppg) and senior forward Josiah Moore (8.9 ppg).
The Hawkeyes are coming off an exciting season that saw Iowa finish third in the Big Ten and advance to the Round or 32 in the NCAA Tournament.