Aug. 14, 2015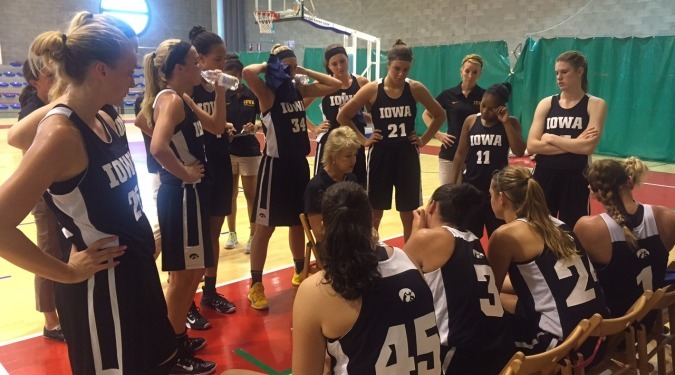 By JIL PRICE
FLORENCE, Italy — After traveling and sightseeing since arriving in Italy three days ago, the Hawkeyes made a successful transition back to basketball with a dominant 84-52 exhibition victory against Dream Team Italian Select.
Each available University of Iowa women's basketball player logged minutes in the total team win. Sophomores Whitney Jennings and Chase Coley, juniors Alexa Kastanek and Ally Disterhoft, and senior Kali Peschel earned starts, while freshmen Hannah Stewart, Megan Gustafson, and Tagyn Larson played the first game in their Hawkeye careers.
"I thought we pushed hard and had great energy tonight, especially in our zone and half court press," 16th-year head coach Lisa Bluder said following the win. "It was a really good first outing.
"The energy was high, rebounds were better, and we remembered things we went over in our 10 days of practice. We brought those things to the table and executed them tonight."
Iowa — at team that set a school record for single season offense in 2014-15 — netted 82 total points. Four reached double figures in scoring, led by Kastanek who scored 15 points. Jennings (14), sophomore Carly Mohns (14), Stewart (12), and Coley (10) joined her in double digits.
"It was a good game for Whitney to understand she's our point guard now," Bluder said. "She's our leader on the floor. For her to have that opportunity after Samantha Logic had been doing it for so long is good."
Mohns was a solid force off the bench, adding eight rebounds to her stat line.
"Carly Mohns was a bright spot to see," Bluder said. "She was unbelievable with her rebounds and hit a number of threes as well."
Bluder pleased with the team's rebounding overall, an area that the Hawkeyes have struggled with in the past. Iowa out-rebounded their opponent 35 to 17 in the contest, while allowing only one offensive rebound in the second half of play.
The Hawkeyes were strong against a physical team, and came together to play Iowa basketball. Those in attendance could see the chemistry forming on the court, and the players felt it too.
"It was nice to get out there with everybody in a game setting," Disterhoft said. "This was the first game setting for the freshmen, so it was good to be in that together.
"It was really great to be out there building that team chemistry that's been a staple in our program. We're just excited for the next couple of games in the next few days."
Iowa is back to sightseeing tomorrow morning. The day will begin with a walking tour of Florence with a guide, followed by a visit to the Fine Art Academy, where the team will view Michelangelo's "David." The Hawkeyes will have free time to shop and explore Florence afterward in groups.
To keep up with the Iowa women's basketball team's trip, visit the Italian Tour Central Page at hawkeyesports.com. Player blogs, video content, and photo galleries are posted daily to keep fans updated.
Additional exclusive content is available on our social media accounts. Follow @IowaWBB on Instagram, follow @IowaWBB on Twitter, and like the team's Facebook page for updates.