Aug. 28, 2015
Game Notes in PDF Format

IOWA/ILLINOIS STATE NOTES
• Saturday is the season opener for both teams, and first ever meeting between the two programs. Iowa is opening the season against an FCS opponent for the second straight year. Iowa defeated Northern Iowa 31-23 in 2014.
• Iowa is 12-0 all-time against FCS opponents.
• QB C.J. Beathard's uncle Kurt Beathard is Illinois State's offensive coordinator and quarterbacks coach.
• The Redbirds lost to North Dakota State in the 2014 FCS title game. Iowa opens the 2016 season hosting North Dakota State.
• Illinois State is ranked second in the preseason FCS poll and is picked to finish second in the Missouri Valley Conference.
• Iowa has 14 players from the state of Illinois. The Redbirds have one Iowa native on the roster, freshman QB Jacob Donahoe (Williamsburg), and one former Hawkeye, LB Reggie Spearman. Spearman played in 21 games for Iowa from 2013-14.
• Illinois State QB Tre Roberson started for Indiana when the Hoosiers visited Kinnick Stadium in 2011. Iowa won the game, 45-24. Roberson rushed 15 times for 82 yards, and was 16-of-24 passing for 196 yards and a touchdown.
• Illinois State has four Big Ten transfers on its roster, including DL David Kenney (Indiana), DE David Perkins (Ohio State), QB Tre Roberson (Indiana), and LB Reggie Spearman (Iowa). Kenney and Perkins never played against Iowa.
THE SERIES
Saturday is the first ever meeting between Iowa and Illinois State. Iowa is playing its 126th season of college football. Illinois State is playing its 128th season of college football.
SEASON OPENERS
Iowa is 92-32-2 (.738) in season-opening games, including a 13-3 mark under Coach Kirk Ferentz. The Hawkeyes won 12 straight season openers from 2001-12 before falling 30-27 to Northern Illinois in 2013. Iowa won its 2014 opener, 31-23, and has averaged 35.6 points per game in its last 13 season-opening victories.
NATIONAL IOWA VARSTIY CLUB HALL OF FAME CLASS
The National Iowa Varsity Club will induct seven former Hawkeyes into the Athletics Hall of Fame at the Coralville Marriott Hotel and Convention Center on Sept. 4, the night before the Hawkeyes open the 2015 season hosting Illinois State. The group will be recognized Sept. 5 at halftime of the Illinois State game. The 27th Hall of Fame Class includes former Iowa defensive coordinator Bill Brashier, All-America receiver Don Norton, NCAA Wrestling champion Jim Heffernan, All-America gymnast Neil Schmitt, 1991 B1G Gymnast of the Year Lori Cole, 1991 B1G softball Player of the Year Karen Jackson, and 12-time swimming All-American Tom Roemer.
YARDS, RECEPTIONS TO FILL
Iowa opens the 2015 season without its 2014 leader in passing yards (Jake Rudock, 2,436), rushing yards (Mark Weisman, 812) or receptions (Kevonte Martin-Manley, 52). It is the first time since 2004 that Iowa opens the season without a returning statistical leader in at least one of those categories (2003: QB Nathan Chandler, RB Fred Russell, WR Ramon Ochoa). Iowa and Maryland are the only Big Ten schools without a returning leader in at least one of those statistical categories. The Hawkeyes do return their 2014 leader in receiving yards. WR Tevaun Smith caught a career-high 43 passes for a career-best 596 yards in 2014. Iowa also lost its top two tacklers, SS John Lowdermilk (103) and Quinton Alston (94), to graduation.
QB C.J. Beathard (SO., 6-2, 209)
Career Games Played/Starts: 14/1
Junior QB C.J. Beathard is making his second career start in the 2015 season opener. Beathard made his first career start and led Iowa to a 24-10 win at Purdue on Sept. 27, 2014. He completed 17-of-37 passes for 245 yards and one touchdown against the Boilermakers. The completions, attempts and yardage totals are career highs. He also rushed eight times for 29 yards, becoming first Iowa quarterback to win his first career start in a road game since Jason Manson won at Syracuse in 2006.
Beathard in 3-2-1:
• Making his second career start (1-0).
• Named Iowa's starting quarterback in January 2015, just two weeks after completing 13-of-23 passes for 145 yards and a career-high two touchdowns (31, 18) at the 2015 TaxSlayer Bowl.
• Rushed for a career-high 82 yards on eight carries at the 2015 TaxSlayer Bowl.
OL Austin Blythe (SR., 6-3, 290)
Career Games Played/Started: 36/35
Senior C Austin Blythe is making his fourth straight season-opening start on the offensive line. He started at right guard as a redshirt freshman in 2012, and has been Iowa's starting center in the last three season openers. Blythe had started 19 consecutive games at center before starting at right guard at Maryland in 2014.
Blythe in 3-2-1:
• 31 consecutive starts on the offensive line.
• Iowa's opening day starting center for three straight years.
• Rimington and Outland Trophy Watch Lists.
RB LeShun Daniels, Jr. (JR., 6-0, 225)
Career Games Played/Starts: 12/0
Junior RB LeShun Daniels is on the top of Iowa's depth chart and is expected to make his first career start in the 2015 season opener. Daniels has 184 career rushing yards on 50 carries.
Daniels in 3-2-1:
• Missed the final five regular season games in 2014 due to injury and saw limited action in the 2015 TaxSlayer Bowl, rushing one time for seven yards.
• He is Iowa's eighth different opening day starting running back since 2007.
• Scored his only career touchdown in Iowa's 2014 season opener against Northern Iowa.
RB Jordan Canzeri (SR., 5-9, 192)
Career Games Played/Starts: 29/2
Senior RB Jordan Canzeri ranked second on the team with 752 all-purpose yards in 2014, including 494 yards rushing, 123 yards receiving, and 135 yards in kickoff returns. He was the only player on the team with 100 yards rushing and 100 yards receiving.
Canzeri in 3-2-1:
• Has 1,089 career rushing yards, one of 45 players in program history with 1,000 career rushing yards.
• Rushed for a team-high 120 yards on 12 carries against Tennessee in the 2015 TaxSlayer Bowl. Had a game-high 148 all-purpose yards in the bowl game, adding two catches for 13 yards and returning one kickoff 15 yards.
• 212 yards on 41 carries (5.2 ypc) in three postseason games (2011 Insight, 2014 Outback, 2015 TaxSlayer).
RB Akrum Wadley (SO., 5-11, 185)
Career Games Played/Starts: 7/0
Sophomore RB Akrum Wadley led Iowa in rushing in two games last season. He recorded his first career carry against Northwestern, finishing the game with 106 yards on 15 carries, and carried nine times for 68 yards against Minnesota.
Wadley in 3-2-1:
• 174 of 186 career rushing yards came in two-game stretch against Northwestern and Minnesota (7.25 ypc).
• First Hawkeye with 100-plus rushing yards in a player's first game with a carry (Northwestern) since Brandon Wegher in 2009 (vs. Iowa State).
• Named Big Ten Freshman of the Week following his 106-yard rushing game against Northwestern.
CB Desmond King (JR., 5-11, 190)
Career Games Played/Starts: 26/25
Junior CB Desmond King is making his second straight opening day start. He tied for ninth in the Big Ten with three interceptions in 2014.
King in 3-2-1:
• Started all 13 games in 2014, sharing team lead with three interceptions.
• Has started 25 consecutive games since entering the starting lineup in Week 2 of his true freshman season.
• Led all Big Ten freshman in tackles (69) in 2013.
FS Jordan Lomax (SR., 5-10, 205)
Career Games Played/Starts: 33/13
Senior FS Jordan Lomax is making his second straight opening day start at free safety. Lomax started 12 games last season and led the Hawkeyes with six pass break-ups. He started at cornerback in Iowa's 2013 season opener.
Lomax in 3-2-1:
• Moved from cornerback to safety during 2014 spring practice.
• 92 tackles in 2014 ranked third on the team.
• Saw action in 11 games as a true freshman before redshirting in 2012 with shoulder injury.
DE Drew Ott (SR., 6-4, 272)
Career Games Played/Started: 41/25
Senior DE Drew Ott led the team and tied for third in the Big Ten with 8.0 sacks in 2014. Ott nearly doubled his career sack total last season. He entered 2014 with 4.5 career sacks. He also had a team-high 12.0 tackles for loss, tied for 15th in the conference.
Ott in 3-2-1:
• Has started 25 of the last 26 games at defensive end, including all 13 games last season.
• One of 11 players on Big Ten Players to Watch List.
• Picked up a deflected punt against Nebraska in 2014 and returned it 12 yards for his first career touchdown.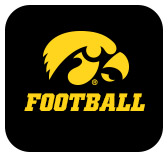 WR Tevaun Smith (SR., 6-2, 205)
Career Games Played/Starts: 35/15
Senior WR Tevaun Smith led Iowa with 596 yards receiving and ranked second on the team with 43 receptions in 2014.
Smith in 3-2-1:
• Had a team-high eight plays of 30-plus yards from scrimmage in 2014, including two touchdowns (37, 31) and a 35-yard rush.
• Caught at least one pass in every game last season, and has a reception in 22 of his last 24 games.
• Shared the team lead with three touchdown receptions in 2014 (Damond Powell, Ray Hamilton, Jake Duzey).
WR MATT VANDEBERG (JR., 6-1, 185)
Career Games Played/Starts: 23/3
Junior WR Matt VandeBerg is listed as first team wide receiver in 2015. He has three career starts in 23 career games.
VandeBerg in 3-2-1:
• Averaged a team-best 18.3 yards per catch on 14 receptions in 2014.
• Was Iowa's primary punt returner over the final four games of 2014 (8 returns, 49 yards)
. • Career-high five catches for 90 yards in Iowa's 48-7 win against Northwestern.
TE Jake Duzey (SR., 6-4, 248)
Career Games Played/Starts: 37/13
Senior TE Jake Duzey had 36 receptions, a single-season career high and tied for the second most by a Big Ten tight end this season.
Duzey in 3-2-1:
• Three touchdown receptions in 2014 tied for the team lead (Damond Powell, Ray Hamilton, Tevaun Smith).
• Suffered a knee injury in the final week of spring practice and is currently not available for game action.
• 85-yard TD reception at Ohio State in 2013 is ninth longest scoring reception in school history.
ROOKIE TACKLES
Iowa starting tackles LT Boone Myers and RT Ike Boettger enter 2015 with one combined career start (Boettger started as a second tight end against Wisconsin in 2014). The sophomores replace a pair of NFL lineman — 2014 Outland Trophy winner LT Brandon Scherff (Washington Redskins) and RT Andrew Donnal (St. Louis Rams). Myers joined the program as a walk-on and was put on scholarship prior to the 2014 season. He saw action in four games last season. Boettger joined the team as a tight end but was moved to offensive line in 2013. He saw action in seven games as a redshirt freshman in 2014.
FIND THE NFL-ER
Since 1999, Kirk Ferentz's first year as UI head coach, the Hawkeyes have had a future NFL player start on the offensive line in every season. In each of the last eight years, an eventual NFL first-round draft pick started on the offensive line. Brandon Scherff, selected by the Washington Redskins fifth overall in 2015, was Iowa's left tackle from 2012-14. Riley Reiff, selected 23rd overall by the Detroit Lions in 2012, started at left tackle from 2010-11. Bryan Bulaga, selected 23rd overall by the Green Bay Packers in 2010, started at left guard in 2007 before moving to left tackle in 2008-09. From 2005-06, Baltimore Ravens All-Pro Marshal Yanda shared time at tackle and guard for the Hawkeyes. Mike Elgin, a seventh round selection of New England, was Iowa's starting center in 2004. Pete McMahon, drafted by Oakland in 2005, was Iowa's right guard in 2003. Oakland's first round pick in 2004, Robert Gallery, was Iowa's left tackle from 2001-03. Eric Steinbach (Cincinnati) started at guard for Iowa from 2000-02, and Bruce Nelson (Carolina) was a four-year starter from 1999-02. Both players were second round draft picks in 2003.
PAULSENS ARE A FAMILIAR FACE
Freshmen Landan and Levi Paulsen are the sixth set of twins to play football at the University of Iowa. The offensive linemen from Woodbury High School in Northwest Iowa join the company of Leo and Lloyd Jensvold (1929-30), Harold and Herbert Shoener (1946-47), Kent and Kevin Ellis (1977-80), Aaron and Evan Kooiker (1992), and Shane and Shaun Prater (2008). The Paulsens are one of three sets of brothers on Iowa's 2015 roster, joining DB Kevin Ward and OL Ryan Ward, and OL James Daniels and RB LeShun Daniels.
TURN ON THE LIGHTS
For the first time in program history Iowa plays two night games at Kinnick Stadium. The Hawkeyes' host Pittsburgh on Saturday, Sept. 19, and Minnesota on Saturday, Nov. 14. Both games are televised live on BTN beginning at 7 p.m. (CT). Iowa has not played a night game at Kinnick Stadium since entertaining Penn State in October, 2012. Iowa has hosted 10 evening games in Kinnick Stadium, with five of those starting after 7 p.m. Iowa is 6-4 in night games in Kinnick Stadium. Iowa has wins over Northwestern (2011), Penn State (2010), Michigan (2009), Syracuse (2007), Arizona State (2003), and Northern Illinois (1999), and losses to Penn State (2012), Ohio State (2006), Iowa State (2002), and Miami, Florida (1992).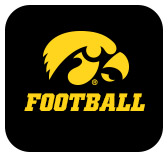 GLANCE AT THE SCHEDULE
• The Hawkeyes open Big Ten play at Wisconsin on Oct. 3. This marks the 13th time in Kirk Ferentz's 17 years at Iowa that the Hawkeyes open the conference season on the road.
• For the first time in program history Iowa plays more than one night game at Kinnick Stadium. Home games against Pitt (Sept. 19) and Minnesota (Nov. 14) kickoff at 7 p.m. (CT). Both games are televised on BTN.
• The Hawkeyes open the season Sept. 5 against Illinois State. The Redbirds lost to North Dakota State in the 2014 FCS title game. Iowa opens the 2016 season hosting North Dakota State.
• Iowa will face Maryland on Oct. 31 in Iowa City. It marks Maryland's first football game in Iowa City. It also marks the 16th time in Iowa program history the Hawkeyes play on Halloween (6-8-1).
• The Hawkeyes do not face Big Ten opponents Michigan, Michigan State, Ohio State, Penn State, and Rutgers.
• Iowa's Homecoming game is Oct. 10 against Illinois at 11 a.m. Iowa is 56-42-5 all-time in Homecoming contests, and has won five of its last Homecoming games. Illinois is visiting Kinnick Stadium for the first time since 2007.
• Three of Iowa's nonconference opponents are led by coaches who have been assistants in the Big Ten, including Illinois State's Brock Spack (Purdue), Pitt's Pat Narduzzi (Michigan State), and North Texas' Dan McCarney (Iowa, Wisconsin). Iowa State's Paul Rhoads was a graduate assistant under John Cooper at Ohio State.
• North Texas head coach Dan McCarney and North Texas quarterback Andrew McNulty are Iowa City, Iowa, natives. McNulty was North Texas' leading passer in 2014.
• North Texas head coach Dan McCarney is the second Iowa City native in the last three seasons to coach in Kinnick Stadium (Terry Allen, Missouri State, 2013). McCarney, a Hawkeye assistant from 1977-89, will make his seventh appearance on the opposing sideline at Kinnick. He was 3-3 as a visitor as Iowa State's head coach.
• Iowa has four trophy games on its schedule in 2015: Iowa State (Cy-Hawk), Minnesota (Floyd of Rosedale), Wisconsin (Heartland), and Nebraska (Heroes).
HAWKEYES AT THE HEAD OF CLASS IN COACHING LANDSCAPE
The University of Iowa has produced more active FBS head coaches than any other school. Bret Bielema (Arkansas), Bob Diaco (UCONN), Dan McCarney (North Texas), Bob Stoops (Oklahoma), and Mark Stoops (Kentucky) all earned undergraduate degrees from the University of Iowa. Bielema, Diaco, Bob Stoops, and Mark Stoops played for former UI head coach Hayden Fry. McCarney played on teams coached by Frank Lauterbur and Bob Commings. All five head coaches served as assistants under Fry. Bielema played on the defensive line from 1989-92. He was team captain his senior season, played in the 1991 Rose Bowl, and served as an assistant coach on the Iowa staff from 1993-2001. Diaco played linebacker from 1992-95 and was a graduate assistant on the staff from 1996-97. The Hawkeyes advanced to the Alamo Bowl in both seasons. Bob Stoops was a defensive back from 1979-82. He was named team MVP in 1982, and played in the 1982 Rose Bowl and 1982 Peach Bowl. He served on the Iowa staff from 1983-87. Mark Stoops was a defensive back from 1987-89. He played in the 1987 Holiday Bowl and 1988 Peach Bowl, and served as a graduate assistant coach from 1989-91. McCarney played on the offensive line from 1972-74. He was named team captain his senior season, and eventually joined Fry's staff in 1977. He was an assistant coach at Iowa from 1977-89.
ALL ABOARD TO KINNICK STADIUM!
The Hawkeye Express, the passenger train that transports fans from Coralville to Kinnick Stadium, is once again available for fans traveling to Kinnick Stadium on Iowa Football game days. The Hawkeye Express enters its 12th season. Adults can ride the train for $12, round trip, while children (12-and-under) ride for free. Tickets can be purchased in advance at the UI Ticket Office or on game day at the Hawkeye Express depot located near the boarding ramp. Media credentials are accepted as well. Free parking is located in lots near the Comfort Suites and Coral Ridge Mall. Fans can begin boarding the train three hours prior to 11 a.m. kickoffs, and four hours prior to the start of afternoon and night games. Return trips begin at the start of the fourth period and run 90 minutes after the game. The Hawkeye Express is owned by the Iowa Northern Railway Company and operates on the Iowa Interstate Railroad.
FERENTZ SECOND IN LONGEVITY
Kirk Ferentz enters his 17th season as Iowa's head football coach and ranks second in longevity among FBS head coaches. Ferentz is first among Big Ten coaches and nationally ranks behind Virginia Tech's Frank Beamer (28). Ferentz is tied for second with Bob Stoops of Oklahoma.
FERENTZ AMONG TOP 10
Head coach Kirk Ferentz has 115 wins as a member of the Big Ten Conference, the ninth most in conference history. He has 68 Big Ten wins, also the ninth most in conference history. He is 1-of-8 coaches to rank among the top 10 in both categories. The others include Woody Hayes (OSU), Amos Alonzo Stagg (CHI), Bo Schembechler (MICH), Hayden Fry (IOWA), Robert Zuppke (ILL), Lloyd Carr (MICH), and Barry Alvarez (WIS). Ferentz also has six bowl wins as a member of the Big Ten, tying Fry and Carr for No. 2 all-time. Only Alvarez has more (9).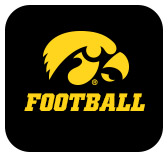 IOWA PROGRAM NOTES
• The Hawkeyes have earned bowl eligibility in 13 of the last 14 seasons.
• Iowa earned Big Ten Conference championships in 2002 and 2004 and placed second in 2009. Iowa (8-0, 2002) is one of four Big Ten teams to post a perfect mark in conference play since 1998 (BCS era).
• Iowa has ranked in the top 10 in the final Associated Press and CNN/USA Today coaches polls in four times since 2002, including a ranking of seventh in both polls at the conclusion of the 2009 season. Iowa ranked eighth in 2002, 2003 and 2004 and the Hawkeyes were also 20th in 2008.
• Since 1936 when the first AP poll was released, Iowa has appeared the poll 297 times, the fifth highest total in the Big Ten (Ohio State, Michigan, Wisconsin, MSU). Iowa has been the top-ranked team in the country 11 times.
• Iowa established a school record with 11 wins in 2002 (11-2) and matched that record in 2009. In 2009, Iowa started 9-0 and won 10 regular season games for just the fourth time in school history.
• Iowa won 10 or more games in three consecutive years (2002-04) for the first time in school history.
• Kirk Ferentz has been named Big Ten Coach of the Year three times (2002, 2004 & 2009) and he was named National Coach of the Year in 2002. Ferentz joins Michigan's Bo Schembechler (four), Iowa's Hayden Fry (three) and Penn State's Joe Paterno (three) as the only coaches to be honored in more than two seasons.
• Iowa has had national award winners in: Robert Gallery (2003 Outland, Top Lineman); Brad Banks (2002 Davey O'Brien, Top Quarterback; 2002 Associated Press National Player of the Year); Dallas Clark (2002 Mackey, Top Tight End); Nate Kaeding (2002 Groza, Top Kicker); Shonn Greene (2008 Doak Walker, Top Running Back); Brandon Scherff (2014 Outland, Top Lineman).
• Iowa's football record in the 2000 decade was 80-45 (.640), a record that ranks as the best decade in Iowa football history, based on total wins. Iowa posted a record of 77-40-4 (.652) during the 1980's and the Hawkeyes were 62-53-2 (.538) in the 1990's.
• Part of the Hawkeyes' long term success is due to the stability in the program. Iowa has had just two head coaches since 1979. Hayden Fry took over prior to the 1979 season and coached through the 1998 season, posting a record of 143-89-6. Current coach Kirk Ferentz replaced Fry, leading the program for the 17th season. Ferentz also served as Iowa's offensive line coach from 1981-89 under Fry.
CALVIN JONES NAMED TO FWAA ANNIVERSARY TEAM
Former University of Iowa offensive lineman Calvin Jones was named to the Football Writers Association of America (FWAA) 75th Anniversary All-America Team. Jones was named as a second team offensive lineman as the FWAA selected three teams on both offense and defense, along with specialists. The FWAA released the teams Aug. 20. Jones was a three time first team All-Big Ten guard. He made 22 All American teams during his career, including a record 15 in 1954. The two way guard was part of the "Steubenville Trio" (along with Frank Gilliam and Eddie Vincent) to come to Iowa from Steubenville, Ohio, in the mid-1950s. As team captain in 1955, Jones earned the prestigious Outland Trophy, given to the nation's top interior lineman. He was a consensus All American twice, one of only two Hawkeyes to earn the honor in more than one season. Jones is an elected member of the National Football Foundation and Helms Athletic Foundation Halls of Fame. His No. 62 is one of two retired numbers at Iowa (No. 24, Nile Kinnick).
56 AND COUNTING
The Hawkeyes have played 56 consecutive games without a missed or blocked PAT, the longest streak of any school in the nation. Iowa has converted on 168 consecutive PATs during the streak.
HAWKEYE HISTORY
Iowa has played 1,193 games since beginning football in 1889. Iowa's overall record is 613-541-39 (.530). That includes a 386-213-16 (.641) record in home games, a 227-328-23 (.413) record in games away from Iowa City, a 306-366-25 (.457) mark in Big Ten games and a 269-177-15 (.600) record in Kinnick Stadium.
HOME GROWN HAWKEYES
Iowa's roster of 115 players includes 50 players from Iowa. The roster includes 14 players from Illinois; nine from Texas; seven from Maryland; six from Missouri, five from Ohio; four from Michigan; three from Florida, Nebraska, and New Jersey; two from South Dakota, Wisconsin, and Canada; one from Alabama, Minnesota, New York, Oklahoma, and Tennessee.
IOWA WILL RECEIVE
Iowa received the opening kickoff in 12-of-13 games last season (not Maryland). In 16 seasons as Iowa's head coach, Kirk Ferentz and the Hawkeye received the opening kickoff in 161-of-200 games (95-67). Iowa has started the game on defense in 38-of-200 games under Ferentz (20-18). Iowa started the game on defense one time last year (loss at Maryland, 38-31).
IOWA AMONG TOP 25 IN WINS, 2002-14
Iowa has posted 104 wins since the start of the 2002 season, tied for the 21st highest total in Division I football. The list includes the following: Boise State (148); Ohio State (143); Oklahoma (137); USC (135); LSU (134); Georgia (128); Alabama (127); Texas (126); TCU (126); Oregon (126); Florida State (124); Virginia Tech (123); Wisconsin (122); Auburn (117); Florida (117); West Virginia (114); Virginia (111); Utah (112); Nebraska (110); Miami, FL (105); Iowa (104); Texas Tech (104); Michigan (102).
IOWA BOWL NOTES
Iowa has appeared in 28 bowl games with a record of 14-13-1 (.518). The Hawkeyes have competed in the Rose (five times), Outback (four), Alamo (four), Holiday (three), Orange (two), Peach (two), Sun (two), Insight (two), Gator/TaxSlayer (two), and the Capital One, and Freedom bowls once. Iowa has played 12 bowl games under Kirk Ferentz (6-6).
• Iowa has been bowl eligible 13 of the last 14 seasons under head coach Kirk Ferentz and his staff.
• Iowa ranks third in Big Ten bowl appearances. Ohio State has received a conference-best 45 bowl bids, followed by Michigan (43), Iowa (28) and Wisconsin (26).
• During the BCS bowl era (1998-2013), the Big Ten qualified 27 teams for BCS bowls, more than any other conference. Eight different Big Ten programs played in BCS bowl games, including two appearances by Iowa (1-1).
• For just the second time in league history, 10 Big Ten Conference teams competed in bowl games in 2014 (2011). Ohio State won the inaugural College Football Playoff, while Michigan State won the Cotton Bowl, another College Football Playoff bowl.
Kirk Ferentz RADIO SHOW
Iowa Coach Kirk Ferentz is featured on "Hawk Talk with Kirk Ferentz" each week beginning Wednesday, Sept. 2. The 90-minute radio call-in show is hosted by Gary Dolphin, the play-by-play voice of the Iowa Hawkeyes. The show airs each Wednesday evening at 7 p.m. from Carlos O'Kelly's in Iowa City.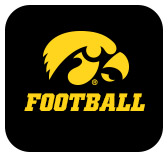 IOWA LEADERSHIP GROUP
The University of Iowa football program has 16 players on its 2015 Leadership Group, including 13 seniors, two juniors, and one sophomore. The purpose of the group is to assist in formulating policies, and being involved in team decision-making matters regarding the upcoming season. Players are selected by a team vote. The seniors are OL Austin Blythe, RB Jordan Canzeri, DL Darian Cooper, FB Adam Cox, TE Jake Duzey, WR Jacob Hillyer, PK Marshall Koehn, DB Jordan Lomax, DE Nate Meier, DE Drew Ott, LB Travis Perry, FB Macon Plewa and WR Tevaun Smith. The junior class is represented by QB C.J. Beathard and RB LeShun Daniels, Jr., and LB Josey Jewell represents the sophomore class.
RETURNING STARTERS
Based on its usual starting lineup from a year ago, Iowa is expected to return 14 starters for the 2015 season, including five on offense and seven on defense, plus K Marshal Koehn and P Dillon Kidd. The returning starters on offense include OL Austin Blythe, FB Macon Plewa, WR Tevaun Smith, OL Jordan Walsh, and OL Sean Welsh. The returning starters on defense include LB Bo Bower, LB Josey Jewell, DB Desmond King, DB Jordan Lomax, DB Greg Mabin, DL Nate Meier, and DL Drew Ott.
ALL IN THE FAMILY
Iowa coach Kirk Ferentz has two of his three sons involved in the Iowa program again in 2015. Brian, a former Hawkeye letterman and captain (2003-05), is in his fourth season as Iowa's offensive line coach. Steven is an offensive lineman who is in his fourth season as a redshirt junior. James Ferentz was a three-year starter on the Hawkeye offensive line and a team captain before graduating in May 2013.
MORE THAN ONE
Eleven high schools have contributed more than one player to the current Iowa football roster. Dowling Catholic HS in West Des Moines, Iowa; Providence Catholic HS in Homer Glen, Illinois; and Solon HS in Solon, Iowa, all graduated three current Hawkeyes. The schools with two current Hawkeyes include DeMatha Catholic HS (Washington, D.C.), Harding HS (Warren, Ohio), Regina HS (Iowa City, Iowa), Waukee HS (Waukee, Iowa), West Branch HS (West Branch, Iowa), West Lyon HS (Inwood, Iowa), Williamsburg HS (Williamsburg, Iowa), Woodbury Central HS (Moville, Iowa).
THE HAWKEYES, SIZE WISE
Redshirt freshman WR Brandon Bishop and freshman WR Emmanuel Ogwo are the lightest Hawkeye players at 170 pounds. Junior DL Jaleel Johnson is the heaviest at 310 pounds. A total of seven Hawkeye players are listed at 300 pounds or more. The tallest player at 6-8 is redshirt freshman DE Matt Nelson. The shortest player, at 5-8, is sophomore WR Jonathan Parker. The average Hawkeye player is 6-2 and weighs 232 pounds. That is the one inch taller and two pounds heavier than the average Iowa player in 2013.
FATHER'S FOOTSTEPS
Iowa has nine players on its 2015 roster whose father played for the Hawkeyes. WR Brandon Bishop (Willie in 1986), QB Drew Cook (Marv in 1985-88), OL Cole Croston (Dave in 1984-86), OL Mitch Keppy (Myron in 1986-87), LS Tyler Kluver (Todd in 1986-87), TE George Kittle (Bruce in 1977-80), WR Anthony Nelson (Jeff in 1990-92), TE Peter Pekar (Jim in 1980-81), and QB Ryan Schmidt (Rick 1984-85).
PURCHASE TICKETS
Tickets remain for all seven Iowa home games. Tickets can be ordered online at hawkeyesports.com, by calling 1-800-IAHAWKS, or in person at the UI athletics ticket office located in Carver-Hawkeye Arena.
IOWA FOOTBALL AND THE NFL
• There are 38 Hawkeyes currently active in the NFL (As of Aug. 17, 2015).
• At least one Iowa Hawkeye has been selected in every NFL Draft since 1978.
• Kirk Ferentz has produced seven first-round draft picks, tied for ninth most among active college coaches.
• Since 2011, Iowa has had 22 players drafted in the NFL. Among Big Ten teams, only Ohio State matches Iowa's NFL total. Iowa has had five first round picks in the last six NFL drafts, tying Wisconsin (5) for the league lead.
• Iowa had 22 players drafted from 2010-15, including four first round picks (OL Bryan Bulaga, 2010; DE Adrian Clayborn, 2011; OL Riley Reiff, 2012; OL Brandon Scherff, 2015).
• Iowa and Alabama were the only two college football programs to have a first round draft selection following the 2009, 2010 and 2011 seasons.
• Iowa had six players drafted in the 2012 NFL Draft, which tied for the most in the Big Ten and tied for fourth in the country.
• Former Hawkeye Marshal Yanda (Baltimore OL) is a four-time Pro-Bowler (2011-14) and was named NFL All-Pro in 2012, 2013, and 2014.
• In NFL 2011 regular season statistics, former Hawkeye linebackers Chad Greenway (Minnesota) and Pat Angerer (Indianapolis) finished third and fourth, respectively, in tackles. Greenway was named to the Pro Bowl in 2012 and 2013.
• Three former Hawkeyes were involved in the 2012 Super Bowl. DB Tyler Sash played for the Super Bowl champion New York Giants, while LB Jeff Tarpinian was on the injured reserve roster of the New England Patriots. Former Iowa center Brian Ferentz, now is his fourth year as Iowa's offensive line coach, was New England's tight ends coach.
• Former Iowa DB Sean Considine and OL Marshal Yanda won Super Bowl rings with the 2012 Baltimore Ravens in the 2013 Super Bowl.
• Former Iowa LB James Morris (injured reserve) earned a Super Bowl ring with the New England Patriots in 2015. Former TE Tony Moeaki played for the Seattle Seahawks in the same game.
• Every Iowa senior starting tight end (11) under Kirk Ferentz has been drafted in the NFL or made an NFL team in his first year as a rookie (including 2015 rookie Ray Hamilton).
• All 11 members of Iowa's starting defensive unit in 2008 were either drafted or signed to NFL free agent contracts following the drafts.
• Over the past 13 years, 123-of-137 (90 percent) of Iowa's senior starters have been drafted in the NFL or signed NFL free agent contracts.
FRY fest
FRYfest, presented by MidWestOne Bank on Sept. 4, is in its seventh year of celebrating all that is Hawkeye. The event, named after legendary UI football coach Hayden Fry, kicks off the UI football season each year at Coralville's Iowa River Landing. This year, FRYfest celebrates the 30th anniversary of Coach Fry's introduction of ANF. Events will include panel discussions/autograph sessions within the World's Largest Hawkeye Tradeshow, BAGGO tournament, Small FRY Zone, Ultimate Hawkeye Trivia Challenge, mini Farmer's Market and more. Also returning to FRYfest this year is the Pep Rally, featuring the UI Spirit Squads and Hawkeye Marching Band. All activities are FREE and open to the public with the exception of the concert and BAGGO tournament. Beginning Friday at 7 p.m. (CT), The Rumours open for rock stars Joan Jett and the Blackhearts. Tickets are on sale immediately for $15, but the price increases to $20 beginning Aug. 31. Tickets are available at FRYfest.com. For more information on FRYfest: A Celebration of All that is Hawkeye, please visit FRYfest.com.