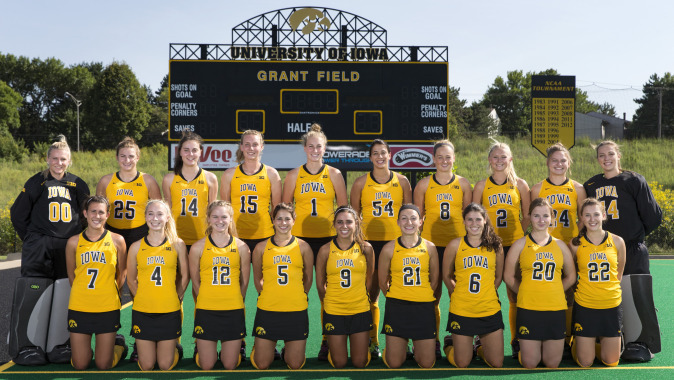 Aug. 29, 2015
Editor's Note: The following first appeared in the University of Iowa's Hawk Talk Daily, an e-newsletter that offers a daily look at the Iowa Hawkeyes, delivered free each morning to thousands of fans of the Hawkeyes worldwide. To receive daily news from the Iowa Hawkeyes, sign up HERE.
By SAM STYCH
IOWA CITY, Iowa —In order to be the best, you must play the best. That has been a staple for the University of Iowa field hockey program throughout its rich history.
The Hawkeyes are scheduled to face eight opponents ranked in the National Field Hockey Coaches Association Preseason Poll throughout the 2015 regular season. Among them are this weekend's ACC/Big Ten Challenge opponents, No. 11 Wake Forest and No. 2 North Carolina.
"Wake Forest and North Carolina are both outstanding opponents," said UI head coach Lisa Cellucci. "It's going to be tough, but we're going to put our best foot forward and try to do everything we can to get the result we want."
Not only are the Hawkeyes young, but they are also without reigning Big Ten Offensive Player of the Year and first-team All-American Natalie Cafone. The senior will redshirt during the 2015 season because of injury. That doesn't mean the Hawkeyes won't compete on a day-in-and-day-out basis.
"We're not conceding the season because Natalie isn't available or because we're young," said Cellucci. "It will test our character every week, but depending on the work this team puts in every week, that will show how close we're going to get to accomplishing our goals."
This past weekend the Hawkeyes got their feet wet in a pair of exhibition contests against No. 12 Louisville and Indiana. There were bright spots in both games, but there was also room for improvement.
"It was a great experience," said Cellucci. "We have a lot of young players who have not played some positions before, so it was good to get them experience (in a game setting). We have a lot to improve on, but we did get better from day one to day two. We took a lot away from the exhibitions, and it will help us going into this weekend."
Junior Stephanie Norlander, a 2014 NFHCA second-team All-American, concurs.
"We have a lot of room to grow," said Norlander. "There were some good things we put on the field, but we all know we need to do better."
The Hawkeyes open the 2015 regular season Saturday against the Demon Deacons at 10:30 a.m. (CT). Iowa will face the second-ranked Tar Heels on Sunday at 10:30 a.m. Both contests will be played on a neutral site in Ann Arbor, Michigan.
"All of us are roaring to go," said Norlander. "It is going to give us a lot of momentum heading into what is going to be a tough weekend. We will be ready when we take the field."