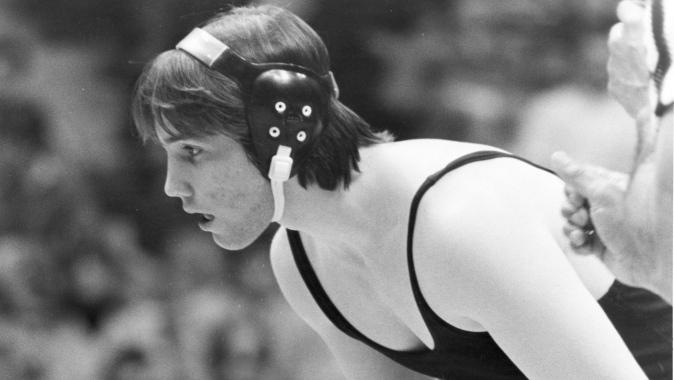 Sept. 2, 2015
Editor's Note: The following first appeared in the University of Iowa's Hawk Talk Daily, an e-newsletter that offers a daily look at the Iowa Hawkeyes, delivered free each morning to thousands of fans of the Hawkeyes worldwide. To receive daily news from the Iowa Hawkeyes, sign up HERE.
By DARREN MILLER
hawkeyesports.com
IOWA CITY, Iowa — In less than a week in 1982, the courtship between Jim Heffernan and the University of Iowa wrestling program made a 180 degree turn.
"I used to know the exact date," said Heffernan, a four-time Big Ten Conference champion and three-time NCAA finalist.
The exact date was Sunday, Jan. 31, 1982. Hawkeye head coach Dan Gable phoned Heffernan, a two-time state champion at St. Edward High School in Lakewood, Ohio, with disappointing news.
"We think you're a really good wrestler," Gable told Heffernan. "But we don't think you're going to be at a weight class we need. I think you should look at other schools."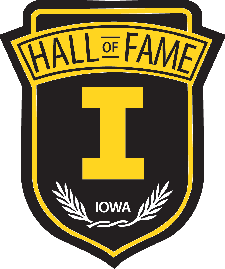 Heffernan hung up the phone and huddled with his father, Jim, and high school wrestling coach, Howard Ferguson. They created a new list of potential college destinations, but they didn't have much time to brainstorm.
Five days later — on Feb. 5 — the Hawkeyes tied Oklahoma, 19-19, in a dual that featured a Sooners win by fall at 150 pounds.
"Coach Gable called me from the Loyd Noble Center (in Norman, Oklahoma) and said `Do you think you can wrestle 150?'" Heffernan said. "I said yes. He said, `I changed my mind. We're going to keep recruiting you.'
"In a matter of a couple days it changed the course of my wrestling career."
Heffernan was a Hawkeye from 1982-87, compiling a record of 131-18-2 (tied for seventh-most wins at Iowa with Jim Zalesky and Royce Alger). He became the ninth wrestler in Big Ten history to win four conference titles (all at 150 pounds) and was an All-American four times. Heffernan was fourth in 1983, runner-up in 1985, NCAA champion in 1986, and runner-up in 1987.
His brother, John, was a Big Ten champion and two-time All-American for the Hawkeyes from 1984-89.
"There was a real pride in not only carrying on the tradition, but also the history of the guys who built it and turned it over to us," Heffernan said. "It is not hard to wrestle with a group of guys like we had. Early in my career, I didn't have a heck of a lot of pressure on me to the point they needed me to win every match. There was Barry Davis, Ed Banach, Lou Banach, Jimmy Zalesky, Duane Goldman — all really good guys in the lineup."
During Heffernan's tenure, the Hawkeyes won 70 of 74 dual meets with four Big Ten championships and three NCAA championships. Iowa was runner-up to Iowa State in 1987.
Heffernan remains involved in wrestling, nearly 30 years after graduating from Iowa. He enters his seventh season as head coach at the University of Illinois, where he has a record of 61-36-2. Last season the Illini were 13-5 and 12th at the NCAA Championships. Illinois freshman 157-pounder Isaiah Martinez won 35 consecutive matches on his way to individual conference and national titles. Heffernan spent 17 seasons as an assistant coach for the Illini, two at Oregon State, and two at Lehigh.
"It has been so long since I have had people from Iowa cheer for me it will feel like a new experience. It has been fun thinking about it and talking about it. Those were great days. The University of Iowa was great to me, the University of Iowa wrestling program was great to me."

Jim Heffernan
Hawkeye Hall of Famer
"There is hardly a day that goes by where I don't think of similar situations of when I was at school and how coach Gable would have dealt with those situations or how he handled them," Heffernan said. "I have been lucky with the mentors I have had."
Heffernan laughs often when thinking back on interactions with his former coach, like the moment Gable offered a scholarship. The conversation took place in Gable's office in the Field House, a place Heffernan described as a broom closet with enough room for a desk; he had to turn sideways to sit in a chair.
"I sat across this desk from Gable and he is a get-to-the-point type of guy," Heffernan said. "He looks at me and asks, `Are you going to come to Iowa?'"
Heffernan wanted to first fly home and talk things over with family to make sure it was a good fit.
That wasn't the answer Gable wanted to hear.
"(Gable) looks at me and said, `I can tell you two things. If you don't come here, I'm going to find someone to beat you; and when you come to your senses and tell me you want to commit to Iowa, give me a call," recalled Heffernan.
Heffernan signed and he assembled a career worthy of becoming a National Iowa Varsity Club Hall of Famer. Other members of the Hall of Fame Class of 2015 are Don Norton (football), Neil Schmitt (men's gymnastics), Lori Cole (women's gymnastics), Karen Jackson (softball), Tom Roemer (men's swimming and diving), and Bill Brashier (football coach).
"It's nice to be remembered," Heffernan said. "I felt I contributed to the program when I was there, the program means a great deal to me. The older I get, the more I understand that being part of a team like those Iowa wrestling teams doesn't happen very much in the history of any sport. I take a great deal of pride in having been part of the program and being part of the history."
The 2015 class was inducted into the National Iowa Varsity Club Athletics Hall of Fame on Sept. 4– the night prior to the Iowa football team's season opener against Illinois State. Heffernan and the six other inductees will be recognized at halftime of the Iowa-Illinois State football game Sept. 5.
"It has been so long since I have had people from Iowa cheer for me it will feel like a new experience," Heffernan said. "It has been fun thinking about it and talking about it. Those were great days. The University of Iowa was great to me, the University of Iowa wrestling program was great to me."