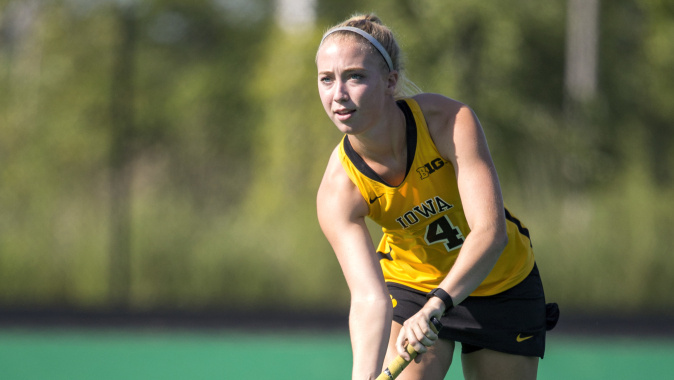 Sept. 9, 2015
Editor's Note: The following first appeared in the University of Iowa's Hawk Talk Daily, an e-newsletter that offers a daily look at the Iowa Hawkeyes, delivered free each morning to thousands of fans of the Hawkeyes worldwide. To receive daily news from the Iowa Hawkeyes, sign up HERE.
By SAM STYCH
hawkeyesports.com
IOWA CITY, Iowa — University of Iowa freshman Makenna Grewe is playing beyond her years for the Hawkeyes' field hockey program.
Through four games the San Diego, California, native ranks second among all freshmen in the Big Ten in goals (three) and points scored (seven), tying her for fourth and fifth in the conference overall.
Grewe got Iowa on the board in 2015, scoring her first career goal against No. 11 Wake Forest in the season opener on Aug. 29.
UI head coach Lisa Cellucci knew Grewe would contribute, but she didn't expect her to be playing at the level she is so soon. The second-year head coach isn't the only one surprised.
"I didn't expect to have this type of impact so early," said Grewe. "When I came in I was nervous. The team has helped bring everyone in and that has helped me perform on the field. Knowing that everyone has my back keeps me composed when I'm on the field."
Cellucci attributes Grewe's early success to being so well prepared physically prior to arriving on campus.
"What sets her apart from other freshmen and why she is excelling so much is how physically prepared she was when she came in," said Cellucci. "Her fitness was already at a high level so she was able to jump right into everything from the early going."
"That was a big thing for me," said Grewe. "I knew my stick skills wouldn't be with everyone else, so I thought that if I worked on my fitness and was in the best shape possible that would help me. It definitely has."
Playing at a high level and having success will certainly boost one's confidence, which is something Cellucci has noticed.
"Every day you can see her confidence growing," said Cellucci. "It has already grown a lot since she arrived on campus; and ever since she was inserted into the starting lineup and began having some success she has gained even more.
"Her teammates and coaches have all been impressed with her and we're going to continue to give her the green light to continue to do anything she can to help the team."
Grewe has become a vital contributor to the Iowa offense, and with 2014 NFHCA All-American Natalie Cafone sidelined this season because of injury, the freshman's early surge has been most impactful.
"She is helping us fill a big gap right now," said Cellucci. "For her to be able to get this type of experience and have this type of impact this early on is only going to bode well for her and the team in the future."
The Hawkeyes host fifth-ranked Stanford on Thursday at Grant Field in their home opener at 4 p.m. (CT).