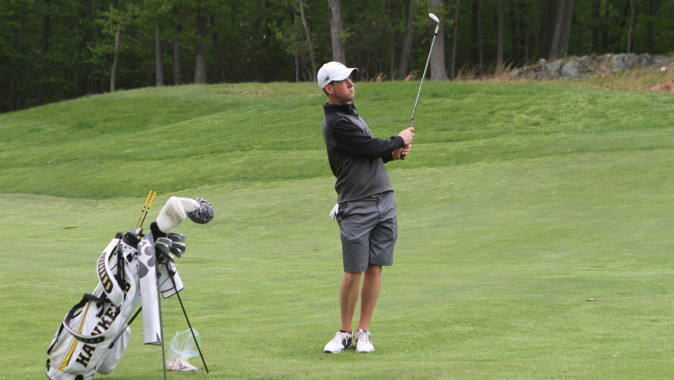 Sept. 13, 2015
MINNEAPOLIS — Junior Raymond Knoll paced the University of Iowa men's golf team in the opening rounds of the Gopher Invitational on Sept. 13.
With three groups left on the course, round two was suspended due to darkness and will conclude tomorrow at 7:15 a.m. (CT). With all five Hawkeyes finishing the round, Iowa is currently tied for ninth-place (two-round 599; +31).
Knoll led the way for the Hawkeyes, posting a two-round 144 (+2). The junior posted one-under-par 70 in round two, with birdies on three, 11, and 16. "Raymond played outstanding," said UI head coach Tyler Stith. "He was mentally strong and solid all day."
Senior Nate Yankovich followed, finishing the day with a two-round 150 (+8) and junior Carson Schaake posted a 10-over-par 152. Freshman Matthew Walker (154, +12) and sophomore Sam Meuret (164, +22) rounded out the day for the Hawkeyes.
"Everyone played well in stretches, but we dropped too many shots on the last nine holes," Stith added. "We need to learn from today and look forward to tomorrow."
The Gopher Invitational continues tomorrow with a shotgun start beginning at 9:15 a.m. (CT).