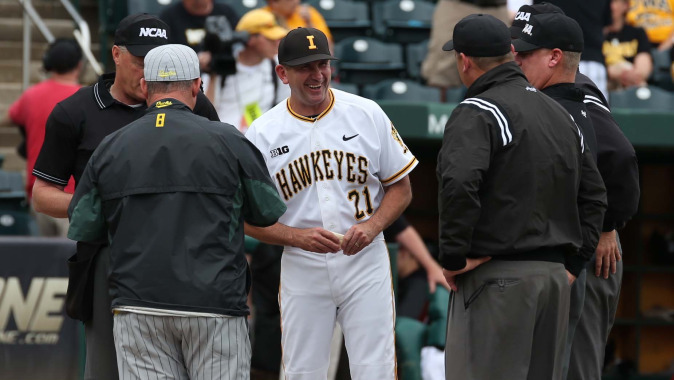 Sept. 22, 2015
IOWA CITY, Iowa — University of Iowa head baseball coach Rick Heller released the details of the Hawkeyes' 2016 spring schedule Tuesday. Iowa will play 24 home contests at Duane Banks Field this season.
Iowa will open the season with three straight road trips — at Dallas Baptist (Feb. 19-21), Snowbird Baseball Classic (Feb. 26-28) in Port Charlotte, Florida, and Southern Illinois (March 4-6) in Carbondale, Illinois. Dallas Baptist was an NCAA Regional host in 2015.
Weather permitting; the Hawkeyes will face an opponent to be determined in their home opener on either March 8 or March 9 before traveling to Atlanta for four games at the Perfect Game Tournament from March 11-14.
From March 18-20, Iowa returns to Springfield, Missouri, for a three-game series at Missouri State. The Bears eliminated Iowa from regional play in 2015 to advance to Super Regionals.
The Hawkeyes will host a loaded Big Ten schedule in 2016, hosting three-game series against Maryland (March 25-27), Illinois (April 8-10), Michigan (April 22-24), and Michigan State (May 13-15). Maryland and Illinois were NCAA Super Regional teams, and Michigan was an NCAA Regional qualifier.
Iowa's Big Ten road slate includes series at Minnesota (April 1-3), Indiana (April 15-17), Ohio State (May 6-8), and Penn State (May 19-21). Indiana was a 2015 NCAA Regional qualifier.
The Hawkeyes midweek slate includes home games against NCAA Regional qualifier Bradley (March 23), Northern Illinois (March 30), Milwaukee (April 5), Air Force (April 12-13), Grand View (April 26), Nebraska Omaha (April 27), and Western Illinois (May 3).
Iowa will host Big 12 Conference foe Kansas State for a three-game weekend series from April 29-May 1. The Hawkeyes' two road midweek contests will be Bradley (April 20) and Western Illinois (May 17).
The 2016 Big Ten Tournament will be held at TD Ameritrade Park in Omaha from May 25-29. NCAA Regional play will be June 3-6 at campus sites across the country.