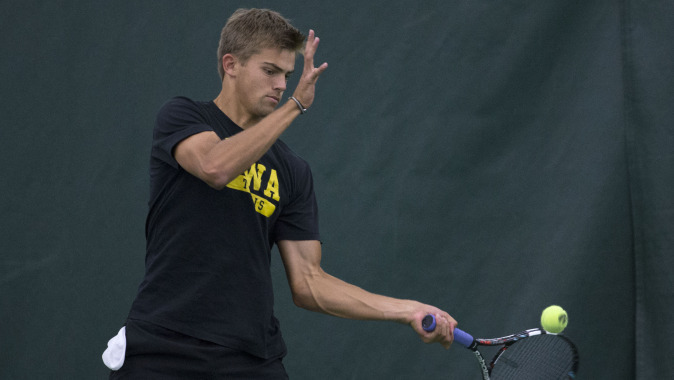 Sept. 25, 2015
Day 1 Results

KALAMAZOO, Mich. — The University of Iowa men's tennis team wrapped up day one action at the Western Michigan Invitational, Friday afternoon. Three Hawkeyes saw action, including junior Nils Hallestrand who highlighted the day for Iowa.
Hallestrand, playing in Flight D Singles, defeated Dylan Steffens of Illinois State in straight sets, 6-4, 6-2 (2). His win against Steffens in Round Two advanced him to the championship.
Also, in action for Iowa was freshman Tony Leto. The native of Downers Grove, Illinois, saw his action in Flight E Singles, where he won his first match in three set tie-breaker, 7-5, 4-6, 10-7, against Garret Gardner of Valparaiso. Leto fell short of a championship run in Round Two where he lost, 6-1, 6-2, against Eric Olivarez of host-school Western Michigan.
Jonas Larsen, also a Hawkeye freshman, participated in Flight C Singles, where he faced Charlie Emhardt of Valparaiso. Larsen lost in a three-set tiebreaker, 3-6, 6-4, 7-10. He then moved to the consolation bracket where he defeated Daniel Loebel of Western Michigan in straight sets, 6-4, 7-5.
Hallestrand and Larsen also took part in doubles action Friday morning. Hallestrand/Larsen competed in in the Flight B bracket. The duo won their opening match against the Western Michigan pair of Ruben Greiner and Daniel Loebel, 7-6.
Hallestrand/Larsen's doubles semifinals match will begin tomorrow at 8 a.m. (CT), followed by singles competition at the Sorensen Courts.
Flight C Singles
Charlie Emhardt (Valparaiso) def. Jonas Larsen (UI): 6-3, 4-6, 10-7
Flight D Singles
Nils Hallestrand (UI) def. Kyle Dunn (Valparaiso): 7-5, 6-3 (retired)
Nils Hallestrand (UI) def. Dylan Steffens (Illinois St.): 6-4, 6-2
Flight E Singles
Tony Leto (UI) def. Garret Gardner (Valparaiso): 7-5, 4-6, 10-7
Eric Olivarez (WMU) def. Tony Leto (UI) 6-0, 6-3
Flight B Doubles
Hallestrand/Larsen (UI) def. Greiner/Loebel (WMU): 7-6