Box Score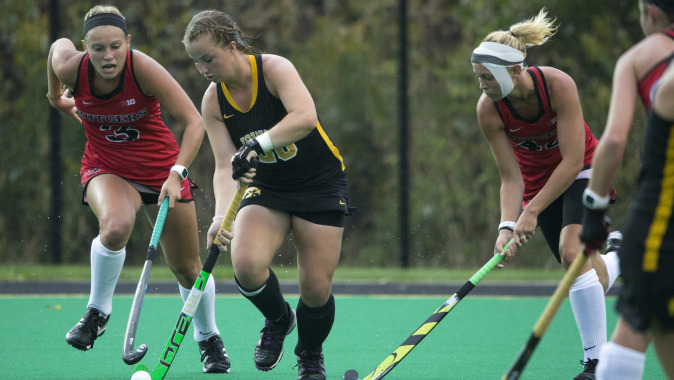 Sept. 27, 2015
MUNCIE, Ind. — Junior Stephanie Norlander and sophomore Veronique Declercq combined to score four goals to propel the University of Iowa field hockey team to a 6-1 victory over Ball State on Sunday afternoon. The win moves the Hawkeyes to 7-4 on the year.
"We played a complete game today," said UI head coach Lisa Cellucci. "The team executed the gameplan well and we controlled the tempo, which was necessary against a very aggressive Ball State team."
Three first half goals off the sticks of Declercq, sophomore JoElla Guagliardo, and Norlander gave the Hawkeyes a 3-0 lead over the Cardinals heading into the break. Declercq's first goal of the day came in the ninth minute, while Guagliardo's and Norlander's came at the 16 and 24 minute marks, respectively.
The Hawkeyes continued to attack in the second half, scoring three more goals off 10 shots. Declercq scored again in the 45th minute, marking the first two-goal game of her career. Both of Declerq's goals on Sunday came via penalty corners.
Ball State junior Mikayla Mooney scored the Cardinals' lone goal of the game in the 56th minute.
The Hawkeyes tacked on two more goals late in the game. Junior Chandler Ackers scored her fifth goal of the season after being awarded a penalty stroke in the 59th minute. Fellow junior Stephanie Norlander scored her second goal of the game and conference leading 13th goal of the season in the 61st minute.
The Hawkeye defense limited the Cardinals to six shots on the day. Junior goalkeeper Alexandra Pecora picked up her seventh win of the year, notching four saves in the process.
Sophomore Melissa Progar tallied three assists in today's contest, while freshman Makenna Grewe recorded two. Grewe (10) and Progar (9) rank first and second in the Big Ten in assists.
The Hawkeyes remain on the road next week when they head to Evanston, Illinois, to take on 14th-ranked Northwestern on Oct. 2. Game time is scheduled for 2:30 p.m. (CT).