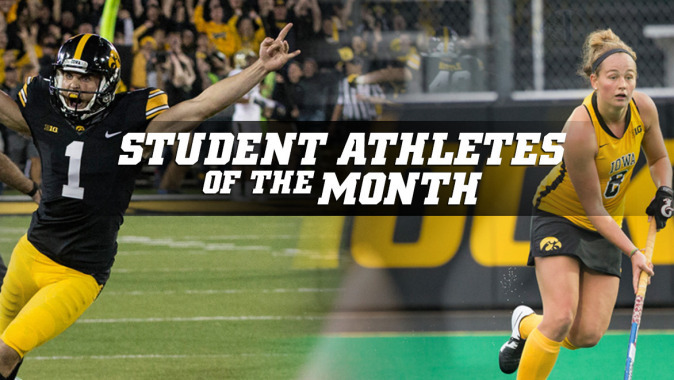 Oct. 7, 2015
IOWA CITY, Iowa — The University of Iowa's Student-Athlete Academic Services has recognized University of Iowa football's Marshall Koehn and field hockey's Stephanie Norlander as September's male and female Student-Athletes of the Month.
Voted on by their peers, this honor recognizes those student-athletes who have excelled not only in their sport, but in the classroom as well.
Koehn, a senior from Solon, Iowa, has connected on five of his six field goal attempts in helping the 22nd-ranked Hawkeyes to five straight wins. He became the 36th player in school history to score 100 points after hitting six of his seven PAT attempts in a win over North Texas on Sept. 26 — his 108 career points are tied for 28th in career scoring.
Koehn was named Big Ten Special Teams Player of the Week on Sept. 21 for his performance against Pittsburgh, where he delivered the game-winning field goal as he booted a 57-yarder as time expired. The kick ties the Kinnick Stadium record for longest field goal (Lee Pistor, Arizona, 1977) and ranks as the second longest in Iowa history (58 yards, Tim Douglas at Illinois, 1998). The placekicker also recorded his first punt attempt of his career against Pittsburgh, a 64-yard bomb that pinned the Panthers at their own 4-yard line. He is averaging 56.5 yards on two punts this season.
Off the field, Koehn has lent a helping hand around the Iowa City community in numerous ways, including volunteering time at the UI's annual Dance Marathon in each the past four years and the Ronald McDonald House in 2014. Koehn was also a blood drive participant and has participated in the UI's Day of Caring.
Norlander, a junior from North Vancouver, Canada, has led 20th-ranked Iowa to a 7-5 overall record. In those 12 games, she has recorded four multiple-goal games, including her third career hat-trick in a 7-0 shutout victory over Saint Louis on Sept. 13. She scored the game-winning goal in Iowa's season opening 2-1 overtime victory over No. 11 Wake Forest on Aug. 29.
The forward's 13 goals and 29 points scored each rank fourth nationally. Her average of 2.42 points per game ranks sixth in the country and first in the Big Ten.
Like Koehn, Norlander has also done her fair share to help around the Iowa City community, including participating in the UI's annual Day of Caring and reading to students at local Iowa City elementary schools.