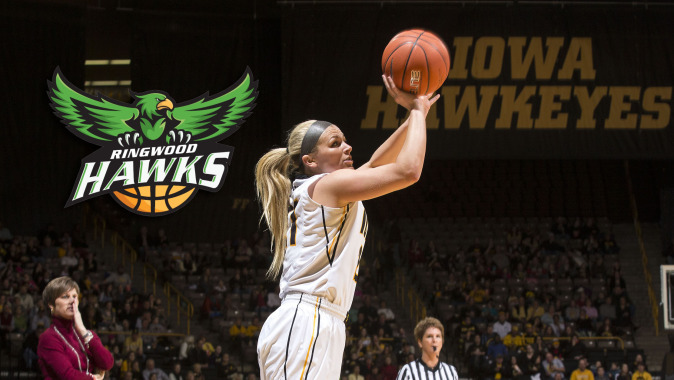 Oct. 13, 2015
By JIL PRICE
IOWA CITY, Iowa — University of Iowa graduate Melissa Dixon signed a professional contract today, and will continue her basketball career with the Ringwood Hawks in Melbourne, Australia.
"The coach contacted me and it seemed like the perfect situation," Dixon said. "Australia is a place that I wanted to go. I'm really excited about the opportunity I have to play basketball and see the world. "I'm so thankful. I had such a positive experience playing at Iowa, and I wasn't ready to hang it up. I'm grateful for the opportunity."
Dixon will report to her new team in January and prepare for the regular season, which begins in March.
"I am happy Melissa has signed a contract to be a professional basketball player in Australia," UI head coach Lisa Bluder said. "Melissa is excited to experience a new country and a new profession. Australia just gained themselves a fabulous shooter and basketball player."
Dixon helped guide the Hawkeyes to four NCAA Tournament berths in her career, culminating with the team's Sweet Sixteen appearance in 2014-15. The sharp-shooter broke several records at Iowa, including career 3-pointers (334), 3-pointers made in a season (124), and 3-pointers made in a game (10). In her senior season alone, she tied or broke arena records for most 3-pointers in a game in at least five venues (Drake, Rutgers, Illinois, Northwestern, Iowa) and became the first NCAA statistical champion in 3-pointers (3.65) per game in the Big Ten conference since 1988.
The Johnsburg, Illinois, native earned several conference awards, garnering Big Ten Sixth Player of the Year honors in 2013 and second team All-Big Ten and Big Ten Sportsmanship Award recognition in 2015. Dixon ends her career 12th all-time in scoring (1,480) at Iowa, leading the Hawkeyes in points on 14 occasions in her senior season alone.
Dixon was invited to compete in the 2015 State Farm 3-Point Championship after shooting 45.1 percent from 3-point range (124-of-275) to rank sixth nationally and second in the Big Ten. It marked the fourth-best single season 3-point percentage in program history. With 334 career 3-pointers made, Dixon ranks 26th in NCAA history.
Dixon is the third 2014-15 graduate to ink a professional contract, joining Samantha Logic and Bethany Doolittle. Logic played her first season in the WNBA with the Atlanta Dream and San Antonio Stars before joining Doolittle overseas. The pair is currently playing together for COB Calais in Calais, France.