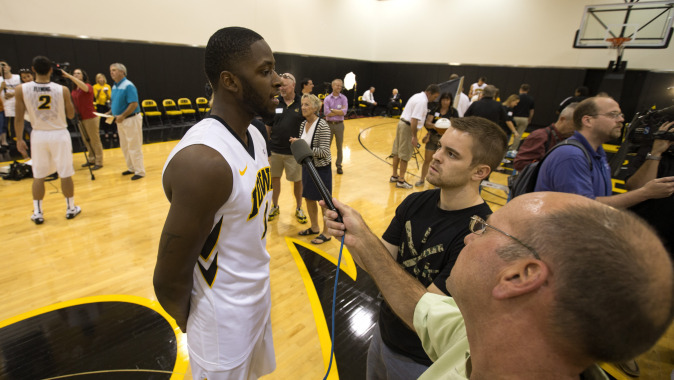 Oct. 14, 2015
Editor's Note: The following first appeared in the University of Iowa's Hawk Talk Daily, an e-newsletter that offers a daily look at the Iowa Hawkeyes, delivered free each morning to thousands of fans of the Hawkeyes worldwide. To receive daily news from the Iowa Hawkeyes, sign up HERE.
By JAMES ALLAN
hawkeyesports.com
IOWA CITY, Iowa — Offense isn't a question for junior-college transfer Dale Jones heading into his first season with the University of Iowa men's basketball program.
Jones joins the Hawkeyes after three seasons at Tyler (Texas) Junior College. He averaged 9.2 points and 6.1 rebounds as a freshman and 16.9 points and 8.3 rebounds per game last season. Jones missed 2014 because of injury.
The 6-foot-7 forward made 99-of-218 attempts from 3-point range and shot 84 percent from the free throw stripe to earn NJCAA honorable mention All-America and first-team all-region honors as a sophomore.
Now in his first season at the Division I level, Jones is turning his complete attention to defense.
"I am not focusing on my offensive ability because I know that's always going to be there," said Jones. "That's going to get me through a lot. I am focusing on my defense and providing an impact on defense.
"I can rebound; I just have to keep guys in front of me. Being the longest guy on the team, I can cause a lot of problems and use that to my advantage."
The challenge for Jones is adjusting to man-to-man defense in Iowa's system.
"Coming in from Tyler JC, we only ran 2-3 and 1-3-1 zones for two years," said Jones. "I wasn't taught many man-to-man concepts. Coach is breaking it down for me and what they need from me — rebounding, containing shooters.
"It's a lot, but I am focused in and am trying to get better every day."
UI head coach Fran McCaffery likes Jones' potential. Jones has the versatility to play at the small forward position or as a stretch four with his shooting ability.
"He's a long arm scorer who rebounds," said McCaffery of Jones, who has a team-best 7-0 1/2 wing span. "Those are two things you have to love about him. Defensively, he has some improving to do, but with that length, he could be a good defender if he positions himself where he needs to be.
"He's a guy that with minutes is going to put rebounds and points on the board."
After spending three years in the Lone Star State, Jones is happy to get back to his roots. Jones is a Waterloo, Iowa, native who attended Waterloo West High School. He was an all-state selection in 2012.
"I am getting a lot of love here," said Jones. "That's one of the reasons I came back was to give some of the kids back home someone to look up to. I was away for three years, so they've been wondering where I've been. I came back to show them I am back and ready to play."
Jones says he is fitting in well with his new teammates and is working hard to make a seamless transition to Division I basketball.
"Everybody knows what I can bring to this team," said Jones. "I'm starting to get it… once the defense clicks, I will be a great asset to this team."
The Hawkeyes will play the first of two exhibition contests Oct. 29 when they host Sioux Falls at 7 p.m. (CT) on Mediacom Court inside Carver-Hawkeye Arena. Iowa's regular season opener is Nov. 13 against Gardner-Webb.