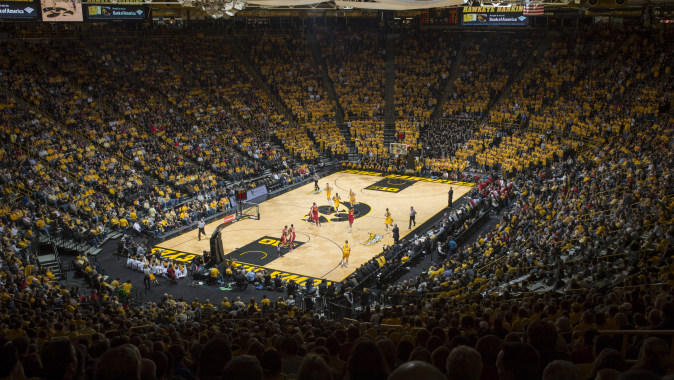 Oct. 15, 2015
By JACK ROSSI
IOWA CITY, Iowa — In a class of six newcomers on the University of Iowa men's basketball team, two of them share the same story — Steven and Michael Soukup are identical twins who transferred to Iowa after two years at Southeastern Community College.
Both players started 31 games for the Blackhawks in 2014-15, but the the Danville, Iowa, natives were willing to leave playing time behind for the chance to play collegiate basketball at a Division I program.
"It was the opportunity to get to play at the highest level and to experience it first hand," Steven said. "It has always been a dream of mine growing up and living so close to Iowa City to play for the Hawkeyes."
While Steven and Michael are new to the program and still learning how the team operates, the UI coaches are a bit more familiar, having kept an eye on them while they were in high school.
"We watched them quite a bit when they were in high school and they're skilled basketball players with high basketball IQ," assistant coach Kirk Speraw said. "We would have taken them (two years ago) as preferred walk-ons but they wanted to pursue some other things. Now this time around they want to be Hawkeyes."
Now two years later, the twins come to Iowa City with more polish to their games, but still have to learn UI head coach Fran McCaffery's system. The hardest part right now for the coaches is telling the two apart.
"That is a work in progress. I'm getting closer," Speraw said. "It's unique that you have twin brothers and even more unique when they are so hard to tell apart. Not only the way they look, the way they talk, and their games are somewhat similar."
Their likeness is not the only thing they have in common. The Soukup's share the same major in accounting, have the same classes and live together, which begs the question — what don't they have in common?
"That's a tough question," Michael said. "We have a lot of the same interests. I would say Steven is a numbers guy, he's a little better with numbers."
As for basketball, the plan is for the brothers to fill Kyle Denning's spot of running the scout team. In their first taste of Division I basketball talent, Steven and Michael competed in the Prime Time League. Steven teamed up with Mike Gesell and Michael was teammates with Peter Jok. The short summer league proved to be very helpful for their transition.
"It was a good experience getting to play with a veteran guy like Mike," Steven said. "I was able to learn some things from him that helped me get an edge so that I wasn't so far behind."
"(Playing with Jok helped me learn) different ways to be able to score the basketball," Michael said. "Paying attention to detail and giving 100 percent when you're out there."
The Soukup's Division I dream becomes reality when Iowa hosts Sioux Falls on Oct. 29 at Carver-Hawkeye Arena.