Box Score
Oct. 17, 2015
Final Stats | Quotes | Notes | Photo Gallery

| USATSI Photo Gallery

By JAMES ALLAN
hawkeyesports.com
EVANSTON, Ill. — The 17th-ranked University of Iowa football team made a statement Saturday in the Big Ten Conference West Division.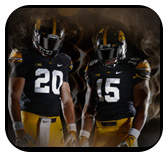 In a battle of top 25 teams, the bruised and battered Hawkeyes posted a 40-10 victory over No. 20/21 Northwestern at Ryan Field. The win moves Iowa to 7-0 for the first time since 2009 and 3-0 in the Big Ten heading into next week's bye.
"I am proud of our whole football team," said UI head coach Kirk Ferentz. "It was an unbelievable team effort. You throw that term around, but it was in every sense of the word — next guy in, next guy ready.
"We had a lot of moving parts, and it was tough to practice this week with a lot of guys injured. Through seven games, this team has proven to be resilient."
The Hawkeyes dominated the game, holding a 492-198 advantage in total offense. Take away Northwestern's two scoring drives in the second quarter and Iowa held the Wildcats to 100 yards. The Hawkeyes forced three turnovers — two fumbles and an interception — in the contest.
"We came out today, played hard, and executed what the coaches called," said senior defensive end Nate Meier. "We played great today."
In a game where senior Jordan Canzeri was knocked out in the first quarter because of injury, the Hawkeye rushing attack ran for 294 yards.
1st
2nd
3rd
4th
Final
3
13
14
10
40
0
10
0
0
10
Stat Comparisons
First Downs
24
13
Rushing Att.-Yds
51-294
26-51
Passing Yards
198
147
Passing (Comp.-Att.-Int.)
16-27-1
20-43-1
Total Offense
78-492
69-198
Punts-Avg.
5-39.2
9-38.2
Fumbles-Lost
1-0
2-2
Penalties-Yards
5-47
5-55
Time of Possession
37:22
22:38
3rd-Down Conversions
9-of-18
8-of-19
4th-Down Conversions
1-of-1
0-of-0
Northwestern Statistical Leaders
Passing
Comp.
Att.
Yards
TD
Clayton Thorson
17
35
125
1
Rushing
Carries
Yards
Avg.
TD
Justin Jackson
10
30
3.0
0
Receiving
Rec.
Yards
Avg.
TD
Justin Jackson
5
17
3.4
0
Defense
S-A
Total
Sacks
Int.
Jaylen Prater
5-6
11
1
0
Sophomores Akrum Wadleyand Derrick Mitchell, Jr., more than made up for Canzeri's loss. Wadley followed Canzeri's 256-yard outburst against Illinois with 204 yards on 26 carries against Northwestern. He tied Iowa's school record with four touchdowns. Mitchell, Jr., had 79 yards on 10 carries with one score.
"We hoped to piece anything together (offensively), and when Jordan came out that was concerning," said Ferentz. "I can't say enough about Akrum and Derrick Mitchell, they came up big when we needed them to. The guys up front were a makeshift lineup, and we keep doing good things."
Iowa's rushing dominance took the pressure off a hobbled C.J. Beathard, who became Iowa's first quarterback to win the first eight starts of his career. He completed 15-of-25 passes for 176 yards, but threw one interception. Junior Matt VandeBerg caught eight passes for 79 yards.
After Northwestern scored the final 10 points of the first half to cut its deficit to 16-10, Iowa's defense flexed its muscles over the final 30 minutes. The Hawkeyes held the Wildcats scoreless, limited NU to 80 yards, and forced two turnovers.
The Hawkeyes limited the Wildcats to 51 yards rushing — 15 in the second half — on 26 attempts. Northwestern entered the game second in the Big Ten, averaging 213 yards per game.
Senior linebacker Cole Fisher had a team-high 10 tackles, and Meier had seven tackles, a sack, and 1/2 a tackle for loss. Sophomore Josey Jewell had six tackles, two sacks, 2 1/2 tackles for loss and a forced fumble, while Desmond King had his sixth interception of the season.
"We lost momentum at the end of the half and allowed them to get their confidence," said Ferentz. "We started over and talked about the points that were important before the game — they were important at halftime.
"It was about doing all we could for the last 30 minutes, playing our best football, and going from there."
On offense, it was ground and pound over the final 30 minutes, and it led to a Hawkeye rout.
On its first drive of the second half, Iowa rode its horses — Wadley and Mitchell, Jr. — to the tune of 10 rushes on a 12-play, 80-yard scoring drive. Wadley had a 24-yard burst on the first play and his 2-yard touchdown run at the 6:42 mark made the score 23-10.
Iowa got the ball right back when Northwestern fumbled an exchange on a read option and junior Jaleel Johnson pounced on the ball at the NU 21. Three plays later, Wadley crossed the goal line, scoring on a 4-yard run to push the lead to 30-10 with 5:26 left in the third quarter.
With Northwestern moving the ball to midfield, Jewell forced the Wildcats' third turnover. The linebacker came free on a delayed blitz and leveled NU quarterback Clayton Thorson for a sack and forced a fumble in the process. Redshirt freshman Parker Hesse pounced on the ball, giving Iowa possession at the NU 38.
Beathard hooked up with Mitchell, Jr., for a 23-yard gain on third-and-5 coming out of the backfield to the 12. Iowa moved down to the 4 before settling on a Marshall Koehn 22-yard field goal, pushing the lead to 33-10.
Wadley and Mitchell rumbled their way to Iowa's final touchdown drive. Wadley started the series with a 41-yard burst into Northwestern territory before Mitchell, Jr., followed with a 24-yard run to the 13. The latter scored from 13 yards out on the next carry, which ended with a spin move and a leap for the goal line, to make the score 40-10.
A Desmond King interception — his sixth in seven games — led to Iowa's first points of the game in the opening quarter. King picked off Thorson on NU's second offensive play of the game, giving Iowa the ball at the 21. The Hawkeyes moved just three yards before settling on a 36-yard Koehn field goal.
Iowa pushed its lead to 9-0 on the first play of the second quarter, but not before the injury bug hit with Canzeri's ankle injury. The Hawkeyes proceeded to move the ball 70 yards on the drive, which culminated with a Wadley 35-yard touchdown run, sprung open by a seal block from senior Jacob Hillyer.
The Hawkeyes' final touchdown of the opening half came on the heels of a 28-yard punt, where redshirt freshman Brandon Snyder got a piece of Hunter Niswander's punt. After starting the drive on the NU 36, Beathard connected with VandeBerg for 14 yards to the 22 before Wadley finished off the series with an 18-yard burst to the 4 before scoring on the next play to give Iowa a 16-0 lead.
After gaining 29 yards on its first five series, Northwestern found its footing to get on the scoreboard. The Wildcats put together a 76 yard scoring drive over 12 plays. Thorson scrambled for 13 yards on a third-and-10 from his own 38 and the big play came on a 34-yard pass to Mike McHugh on third-and-15. Christian Jones caught a 4-yard touchdown pass in the middle of the end zone to cut the lead to 16-7 with 6:18 left in the half.
Beathard made a costly mistake on the first play of Iowa's ensuing series. Beathard targeted Hillyer on a seam route into triple coverage, where safety Traveon Henry had an interception and returned it 20 yards to the Iowa 25. Northwestern advanced the ball to the 1, but Iowa's defense held. Jack Mitchell connected on a 20-yard field goal, cutting the lead to 16-10.
Iowa (7-0, 3-0) returns to action Halloween Day, hosting Maryland at Kinnick Stadium. The game time has yet to be announced.