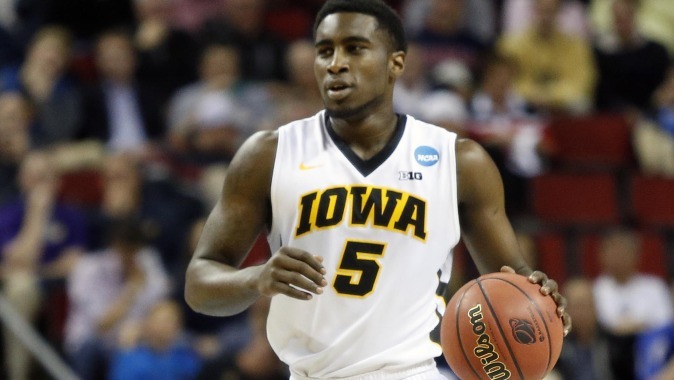 Oct. 20, 2015
Editor's Note: The following first appeared in the University of Iowa's Hawk Talk Daily, an e-newsletter that offers a daily look at the Iowa Hawkeyes, delivered free each morning to thousands of fans of the Hawkeyes worldwide. To receive daily news from the Iowa Hawkeyes, sign up HERE.
By JAMES ALLAN
hawkeyesports.com
IOWA CITY, Iowa — The best is yet to come says University of Iowa men's basketball senior Anthony Clemmons.
Clemmons, a guard who has played in 103 career games, is expecting a breakout season in 2015-16 in his final collegiate go-round.
"I am bound to have a consistent, great season because I haven't put one together," said Clemmons. "Everybody has seen flashes, and I am going to put that whole season together. I have the confidence. I know what I am going to do this year; it's going to be a big story."
Clemmons has been through peaks and valleys.
He started 13 games as a freshman, where he played arguably his best game in a 90-81 victory over Iowa State in the 10th game of his career. He finished with 14 points, eight assists, and zero turnovers.
| | |
| --- | --- |
| | "People haven't seen what I can really do. I am going to have a bigger role than in past seasons, and I am ready for the challenge. I know I have the confidence, and I am going to hold myself accountable." |
Clemmons' sophomore season began with promise before his minutes waned because of the play of All-Big Ten selection Roy Devyn Marble. Clemmons averaged just 11.3 minutes per game. Last year, Clemmons had his best collegiate season, averaging 4.8 points and shooting a team-best 37.3 percent from 3-point range.
It's his body of work — and wide range of experiences — that has Clemmons looking toward big things this season.
"I have been through the highs and lows," he said. "I've played a lot and not played. I've played a minute and played 30 minutes… I've done just about everything. For this to be my last year, the confidence I have in myself, and the work I have put in this year and the previous year, I know this is going to be the year (it all comes together)."
Clemmons isn't caught up in being a starter versus a non-starter. He knows he'll get his minutes, and he'll make an impact when he's on the floor, most likely on the defensive end.
The Hawkeyes don't lack offensive weapons with preseason All-Big Ten selection Jarrod Uthoff, senior Mike Gesell, and junior Peter Jok returning. Iowa also has a skilled passing big man in center Adam Woodbury to run the offense through in the post.
Clemmons wants to make his mark on the defensive side of the ball. His goal is to be a member of the Big Ten All-Defensive team at season's end.
"I take the challenge of guarding anybody," said Clemmons. "I want to guard the best player on the other team. What's unique about me is I can lock you down defensively or I can score 20 if I want to.
"It all comes down to what my team needs; it's not about what I can do. At the end of the day, it's all about winning."
Clemmons says his job is to defend and to keep things from spiraling out of control.
"If we come down and take three shots that we miss, I need to make sure the next shot is a great shot — a layup or open 3-pointer," he said. "I need to make sure everybody is glued together and be aggressive myself.
"People haven't seen what I can really do. I am going to have a bigger role than in past seasons, and I am ready for the challenge. I know I have the confidence, and I am going to hold myself accountable."