Oct. 26, 2015
Game Notes in PDF Format

THE RECORDS
Iowa is 7-0, 3-0, with wins over Illinois State (31-14), at Iowa State (31-17), Pittsburgh (27-24), North Texas (62-16), at Wisconsin (10-6), Illinois (29-20), and at Northwestern (40-10). Maryland (2-5, 0-3) has defeated Richmond (50-21) and South Florida (35-17). The losses have been to Bowling Green (48-27), at West Virginia (45-6), Michigan (28-0), at Ohio State (49-28) and Penn State (31-30).
THE SERIES
Maryland leads the series 1-0, taking a 38-31 decision last season in College Park. Maryland is in its second season as a member of the Big Ten Conference.
COACHING RECORDS
Kirk Ferentz is in his 20th year as a college head coach and his 17th year as Iowa's head coach. His career record is 134-106 and he is 122-85 at Iowa. He is tied for eighth in the Big Ten Conference in coaching wins.
Mike Locksley was named Maryland's interim head coach after six games. Locksley is 0-1 with the Terrapins following the 31-30 loss to Penn State. Locksley has been the Maryland offensive coordinator since 2011. He served as the head coach at New Mexico from 2009-11. He was an assistant coach at Florida when the Hawkeyes defeated the Gators in the 2004 Outback Bowl.
7 GOING ON 8
Iowa is trying to improve to 8-0 for just the second time in school history. The Hawkeyes were 7-0 in 1985, 1922, and 1921, and opened the season 9-0 in 2009, its best start in school history.
POWER OF 3
Three different Hawkeyes have rushed for over 100 yards in a game this season: Jordan Canzeri (4x), and LeShun Daniels and Akrum Wadley once each. The last time the Hawkeyes had three different players rush for over 100 yards in a game in the same season was 2005: Albert Young (8x), and Shonn Greene and Damian Sims once each. The Hawkeyes also have three receivers with 100-yard receiving games: Matt VandeBerg (1), Tevaun Smith (1), and Jerminic Smith (1). It is the first time since 1995 three different Hawkeyes recorded 100-yard receiving games: Tim Dwight (2x), Demo Odems (1), Scott Slutzker (1).
MAKING HISTORY
For the first time in school history, Iowa had a different running back rush for 200 yards in consecutive games (Akrum Wadley at Northwestern and Jordan Canzeri vs. Illinois). Wadley recorded career highs in carries (26), rushing yards (204), and touchdowns (4) against the Wildcats on Oct. 17. Canzeri amassed 256 yards rushing on a school-record 43 attempts against the Fighting Illini on Oct. 10. The feat is the first time an FBS school had two different running backs eclipse 200 yards rushing in a game since 1996. SHINING AT AWARDS SEASON
Iowa has been honored with five Big Ten weekly awards this season. QB C.J. Beathard earned the offensive award following Iowa's win at Iowa State, PK Marshall Koehn was the special teams winner following Iowa's last-second victory over Pittsburgh, DB Desmond King earned co-defensive honors for his play in Iowa's win at Wisconsin, RB Jordan Canzeri earned the offensive honor for his play in a win over Illinois, and RB Akrum Wadley earned the offensive honor following Iowa's road win at Northwestern. Iowa's three offensive award winners are the most for the program since 2002, when QB Brad Banks was recognized three times and TE Dallas Clark was honored once. The last time three different offensive players earned weekly conference honors was 1997 (Tavian Banks, Tim Dwight, and Rob Thein).
KING NAMED SEMIFINALIST FOR JIM THORPE AWARD
DB Desmond King is one of 16 semifinalists for the 2015 Jim Thorpe Award, given to the top defensive back in college football. The junior leads the Big Ten Conference and ranks second in the nation with six interceptions (0.9 per game). King has multiple interceptions in two games, with two thefts in wins over Pittsburgh and Wisconsin. King has recorded 22 solo tackles and nine assists, with one tackle for loss. He leads the Hawkeyes with seven pass break-ups. Iowa ranks third in the nation in rushing defense (74.1), 10th in scoring defense (15.3), 12th in total defense (294.3), and 20th in pass efficiency defense (107.75). King was named the Jim Thorpe national Defensive Player of the Week and Big Ten Defensive Player of the Week following Iowa's win at Wisconsin. His six interceptions are the most for a Hawkeye in a season since Tyler Sash had six in 2009. He is also the first Hawkeye with multiple multi-interception games in a season since Sash in 2009.
MARYLAND SAFETY NET
Both of Iowa's starting safeties are Maryland natives. Senior FS Jordan Lomax attended DeMatha Catholic High School and is a native of Upper Marlboro. Lomax recorded a career-high 11 tackles in the Iowa-Maryland game in 2014. Sophomore SS Miles Taylor attended Gonzaga College High School in Silver Spring, Maryland. He saw action but recorded no statistics in the 2014 Iowa-Maryland game.
IOWA/MARYLAND NOTES
• Saturday is the second ever football game between the two schools.
• Maryland is playing in Iowa City for the first time in program history.
• Iowa has seven players from the state of Maryland on its roster, including DL Darian Cooper (Elkridge), LB Eric Grimm (Damascus), RB Marcel Joly (Hyattsville), FS Jordan Lomas (Upper Marlboro), LB Steve Manders (Crofton), SS Miles Taylor (Silver Spring), and DB Omar Truitt (Fort Washington). Maryland has no native Iowans on its roster.
• Iowa (214.4) and Maryland (186.7) rank second and third, respectively, in the Big Ten in rushing offense. Iowa also ranks second in rush defense (74.1), while the Terps rank 13th (175.6).
• Maryland averages a Big Ten-best 19.9 yards on punt returns. The Hawkeyes yield 3.2 yards per punt return.
• Iowa P Dillon Kidd ranks third in the Big Ten, averaging 44.8 yards per punt. Maryland returner Will Likely leads the conference with 19.9 yards per return, including a pair of touchdowns.
• Iowa is 6-8-1 all-time in games played on Halloween.
IT'S IOWA AND EVERYONE ELSE
Iowa allowed a rushing touchdown for the first time this season in Week 6 against Illinois. It is the only rushing touchdown allowed by the Iowa defense this season. The Hawkeyes are the only team in the country to allow just one rushing touchdown. The Hawkeyes yield an average of 74.1 rushing yards per game, second best in the Big Ten and third nationally. Iowa limits its opponents to 2.5 yards per carry (519 yards on 211 attempts), third best in the country. Iowa has held six of seven opponents to under 100 yards rushing (North Texas, 183).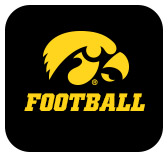 JOE MOORE AWARD COMES KNOCKING
Iowa's offensive line is one of 14 across the country to be named to the Joe Moore Award Honor Roll, which honors offensive line units that display a high level of toughness, effort, teamwork, physicality, tone setting and finishing. The foundation announced its second quarterly honor roll on Oct. 21. Semifinalists will be announced Nov. 16, with five finalists determined Nov. 30. The Joe Moore Award winner will be announced after the conclusion of the regular season. The Hawkeyes earned a "Game Ball" from the Joe Moore Award following wins at Iowa State and against Pitt. At Iowa State, Iowa's offense rushed for 260 yards, averaging 5.8 yards per rushing attempt. Iowa controlled the fourth quarter with 10:55 in possession time, scoring two touchdowns in the final 2:14 to earn the road win. Against Pitt, the Hawkeyes owned more than a five minute advantage in time of possession and allowed just one sack, allowing QB C.J. Beathard to throw for then-career bests in completions (27), attempts (40), and yards (258). Iowa's offensive line has been a center Austin Blythe, tackles Boone Myers and Ike Boettger, and guards Sean Welsh and Jordan Walsh. Blythe and Walsh are seniors, while Myers, Boettger and Welsh are sophomores. True freshman James Daniels has rotated in at the guard positions. The Joe Moore Award is named after Joe Moore, widely regarded as one of the best offensive line coaches in college football history, and is the only major college football award to honor a unit.
6 THE OTHER WAY
Iowa is tied for the Big Ten lead with nine interceptions. The Hawkeyes returned two interceptions for touchdowns in Week 4 against North Texas. LB Josey Jewell recorded the first interception of his career, returning it 34 yards for a touchdown. LB Bo Bower returned an interception 88 yards for a touchdown in the fourth quarter. It is the seventh longest interception return in school history. Iowa has at least one interception return for a touchdown in each of the last eight seasons, and 13 of the last 15 seasons.
ALL ABOARD TO KINNICK STADIUM!
The Hawkeye Express, the passenger train that transports fans from Coralville to Kinnick Stadium, is once again available for fans traveling to Kinnick Stadium on Iowa Football game days. The Hawkeye Express is in its 12th season. Adults can ride the train for $12, round trip, while children (12-and-under) ride for free. Tickets can be purchased in advance at the UI Ticket Office or on game day at the Hawkeye Express depot located near the boarding ramp. Media credentials are accepted as well. Free parking is located in lots near the Comfort Suites and Coral Ridge Mall. Fans can begin boarding the train three hours prior to 11 a.m. kickoffs, and four hours prior to the start of afternoon and night games. Return trips begin at the start of the fourth period and run 90 minutes after the game. The Hawkeye Express is owned by the Iowa Northern Railway Company and operates on the Iowa Interstate Railroad.
PURCHASE TICKETS
Tickets remain for all three Iowa home games. Tickets can be ordered online at hawkeyesports.com, by calling 1-800-IAHAWKS, or in person at the UI athletics ticket office located in Carver-Hawkeye Arena.