Box Score
Final Stats | Photo Gallery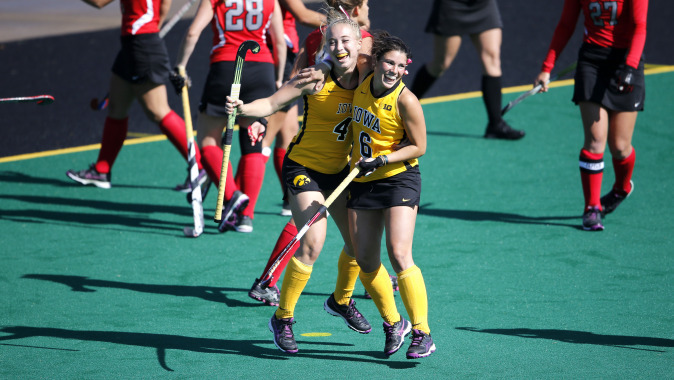 Oct. 31, 2015
IOWA CITY, Iowa — The University of Iowa field hockey team battled toe-to-toe with sixth-ranked Maryland at Grant Field on Friday afternoon before falling 2-1 in double overtime. Iowa finishes the regular season with a 10-10 record overall, and 2-6 mark in conference play.
"I'm proud the team's effort today," said UI head coach Lisa Cellucci. "We showed a lot of intensity and unfortunately we didn't end up on top."
Though the Hawkeyes outshot the Terrapins, 6-3, and held a 4-1 advantage in penalty corners in the first half, they found themselves trailing 1-0 at the break. Maryland's Anna Dessoye scored in the 19th minute of play.
Maryland looked to take a 2-0 lead in the 51st minute after earning a penalty stroke, but Iowa's junior goalkeeper, Alexandra Pecora, came away with the huge save to keep the game within reach for the Hawkeyes. Pecora recorded five saves on the day.
"Whenever a goalkeeper can make a save on a penalty stroke, that gives the team a lot of momentum," said Cellucci. "AP has been working really hard on those, so it was great to see her make the save."
The momentum shift proved to be beneficial. In the 53rd minute, The Hawkeyes tied the game at one, with a goal from sophomore Mallory Lefkowitz — her fifth of the season. Lefkowitz volleyed a shot from close range after fellow sophomore Veronique Declercq's initial shot was saved by the keeper.
Neither team would score another goal in regulation, forcing the game into overtime.
The Hawkeye defense came up huge in the first overtime, not allowing a goal on five Maryland penalty corner opportunities. Iowa had a solid chance to win the game in the 83rd minute when Lefkowitz and Declercq charged down the field in a 2-1 breakaway, but Lefkowitz's shot sailed wide.
One minute and 42-seconds into the second overtime, Maryland won the game after a Lein Holsboer goal.
"The fact that we know we can play against a team that has a lot of speed and stretches the field gives us confidence and momentum heading into the Big Ten Tournament," said Cellucci. "We just need to find a way to capitalize and find a way to finish."
Iowa begins postseason play on Nov. 5 when they travel to Bloomington, Indiana, for the first round of the 2015 Big Ten Tournament. Iowa's quarterfinal matchup (opponent TBA) will be streamed live online on BTN Plus.