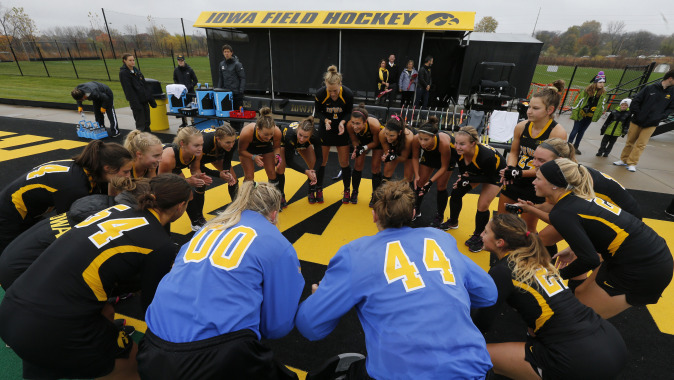 Nov. 4, 2015
Editor's Note: The following first appeared in the University of Iowa's Hawk Talk Daily, an e-newsletter that offers a daily look at the Iowa Hawkeyes, delivered free each morning to thousands of fans of the Hawkeyes worldwide. To receive daily news from the Iowa Hawkeyes, sign up HERE.
By SAM STYCH
hawkeyesports.com
IOWA CITY, Iowa — Sitting at 9-9 overall and 2-6 in Big Ten Conference play, it hasn't been the season the University of Iowa field hockey team was hoping for. Some teams would give up and call it a year, but don't expect anything like that from this Hawkeye squad.
Heading into this week's Big Ten Tournament, Iowa is ready to show it is a force to be reckoned with and that its regular season record doesn't show just how good this team actually is.
"This team has the mindset that they can compete with anyone," said UI head coach Lisa Cellucci. "There were five or six games that got away from us that should have been wins. This is a dangerous team to face in the Big Ten Tournament because our record does not reflect the talent that we have."
The Hawkeyes have a chance to prove just how dangerous they are in a rematch with second-seeded and 10th-ranked Michigan in Thursday's quarterfinal matchup; a rematch that Iowa is eagerly awaiting. The Wolverines defeated Iowa, 4-0, earlier in the regular season.
"We want another crack at them," said junior Stephanie Norlander, the Big Ten's leading goal scorer with 16. "We didn't play very well the last time we played Michigan and I think Thursday's game will be completely different."
"We played poorly the first time and we were sort of caught off guard with their physicality and speed," said Cellucci. "We're excited about our game plan and how much we have progressed since then."
Since 2010, Michigan has had Iowa's number, winning eight of the last nine games between the two teams. Iowa's last win against Michigan came in the quarterfinals of the 2013 Big Ten Tournament. Will history repeat itself at this year's tournament?
The Hawkeyes sure hope so.
"We know that it's do or die right now," said junior Chandler Ackers. "We need to come out ready to play because if we don't, the season is over. This is potentially our last game, and we don't want it to be."
The Hawkeyes know they will have their hands full in facing Michigan, but that is nothing new to them. Of Iowa's 18 opponents this season, seven are currently ranked in the Nov. 3 NFHCA Division I Poll. Four of those seven games ended in one goal defeats and two went to overtime, including Iowa's season opening victory over then No. 11 Wake Forest.
"We need to put together a complete 70 minutes if we want to have a shot at advancing Thursday," said Cellucci. "We have put ourselves in some unfortunate situations throughout the year, but if we can stay focused on what we're doing and if everyone stays engaged for a full 70 minutes then we will be fine."
The Hawkeyes and Wolverines square off at 2 p.m. (CT) on Thursday at the Indiana Field Hockey Complex. BTN is providing live coverage throughout the tournament.