Nov. 7, 2015
USATSI Gallery | Stats | Notes |

Photo Gallery
By JAMES ALLAN
hawkeyesports.com
BLOOMINGTON, Ind. — The ninth-ranked University of Iowa football team improved to 9-0 for the second time in school history with a 35-27 victory at Indiana on Saturday afternoon at Memorial Stadium.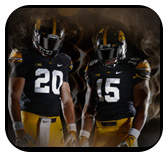 "I am proud of our guys, they played hard and did a lot of great things and responded," said UI head coach Kirk Ferentz. "There was a lot great effort by a lot of individuals and a lot of good responses when things started swinging one way; we brought it back the other way."
Indiana trailed 21-17 at the half and closed the gap to 21-20 with 13:22 remaining in the game with momentum in its favor. But the Hawkeyes took control, scoring 14 straight points to open a 35-20 lead.
1st
2nd
3rd
4th
Final
7
14
0
14
35
3
14
0
10
27
Stat Comparisons
First Downs
26
26
Rushing Att.-Yds
44-234
39-227
Passing Yards
233
180
Passing (Comp.-Att.-Int.)
19-31-0
16-37-1
Total Offense
75-467
76-407
Punts-Avg.
5-41.6
5-41.8
Fumbles-Lost
0-0
0-0
Penalties-Yards
5-55
3-35
Time of Possession
34:30
25:30
3rd-Down Conversions
7-of-14
8-of-17
4th-Down Conversions
0-of-1
2-of-2
Indiana Statistical Leaders
Passing
Comp.
Att.
Yards
TD
Nate Sudfeld
16
37
180
1
Rushing
Carries
Yards
Avg.
TD
Jordan Howard
22
174
7.9
2
Receiving
Rec.
Yards
Avg.
TD
Ricky Jones
4
39
9.8
0
Defense
S-A
Total
Sacks
Int.
Marcus Oliver
5-6
11
0
0
With Iowa clinging to a one point lead early in the fourth quarter, junior quarterback C.J. Beathardmade the play of the day. Facing a third-and-11 from the Iowa 44, Beathard scrambled to his left and threw a side arm pass to his right to hit Matt VandeBerg for a 12-yard gain to keep the drive alive and move into Indiana territory.
Beathard followed with an 11-yard completion to Henry Krieger Coble and a 30-yard pass to VandeBerg to the 3. Two LeShun Daniels, Jr., rushes later, including a 1-yard touchdown run, the Hawkeyes led 28-20 with 10:07 to play.
After forcing a three-and-out, the Hawkeyes doubled down, stretching their lead to two scores. On third-and-10, Beathard hit Krieger Coble for 10 yards to midfield before Daniels, Jr., carried a pile of Hoosiers for a 14-yard rush to the 36. Beathard hooked up with VandeBerg for a 24-yard gain and George Kittle closed out the drive by leaping across the goal line on a 10-yard touchdown catch, pushing the lead to 35-20 with 6:03 remaining.
The Hawkeyes forced the game's first turnover on the next possession on junior Desmond King's NCAA-leading and school-record tying eighth interception of the season, but Indiana kept battling. King's interception ties Lou King and Nile Kinnick for the Hawkeye record.
The Hoosiers kept their hopes alive, going 76 yards over 10 plays. Sudfeld opened the drive with a 28-yard completion to Mitchell Paige to midfield before taking advantage of a pass interference penalty that brought the ball to the Iowa 33. Sudfeld closed the gap to 35-27 by converting a fourth-and-9, connecting with Michael Cooper for an 11-yard touchdown pass with 2:24 left.
Indiana nearly came away with the onside kick. The ball bounced through two Hawkeyes hands, but Krieger Coble won the scramble. The Hawkeyes needed one first down to seal the victory, and it came via Beathard's legs. On second-and-9, Beathard ran for 11 yards on a naked boot to seal Iowa's ninth victory.
"That was the run coordinator's (Brian Ferentz') call," said Ferentz with a laugh. "In honor of being in Indiana, it was that Purdue game two years ago when we were not trying to score and (C.J.) went ahead and ran it in. It was a great play by him. We have to work on his sliding a little bit; I don't know where his Pete Rose slides are coming from."
The Hawkeyes had a 467-407 advantage in total offense, finishing with a balanced attack of 234 yards rushing and 233 yards passing. Beathard was 19-of-31 for 233 yards with one touchdown. Sophomore Akrum Wadley had 120 yards on 12 carries and a touchdown, while Daniels, Jr., ran 23 times for 78 yards with two scores. VandeBerg caught a team-high five passes for 68 yards.
"In a perfect world I love to play balanced," said Ferentz. "We had some key third down conversions — C.J. throwing the ball well, Matt, Henry. When you can play balanced football it gives you a shot. You can say that about the way the defense is playing as well."
Defensively, sophomore Josey Jewell had a career-high 15 tackles, including 11 solo stops. The Hawkeyes held the Hoosiers scoreless in the third quarter and held Indiana eight points below its season scoring average.
"Isn't that something," Ferentz said of Jewell's performance. "He missed a couple (of tackles), too. He has been playing well, is a tremendous leader and is tough-nosed. That's a tremendous combination."
The two teams traded points on their opening possession. Wadley went 65 yards on a draw on the game's second play to give the Hawkeyes a 7-0 lead before Indiana rode its rushing attack to a 60-yard scoring drive, which ended with a Griffin Oakes 32-yard field goal, making the score 7-3.
The Hawkeyes then pushed their lead to 14-3, courtesy of an 11-play, 95-yard scoring drive early in the second quarter. Beathard completed all five of his passes on the series for 76 yards, and the drive ended with a 6-yard Daniels, Jr., touchdown run.
Indiana followed with 14 straight points to take a 17-14 lead. Jordan Howard had long touchdown runs on both series, going 37 yards on a sweep for the first score and 29 yards on the second drive to give the Hoosiers a three point lead with 3:52 left in the first half. Iowa entered the game allowing one touchdown run all season.
As good teams do, Iowa had an answer, going 65 yards on 10 plays. With a field goal staring the Hawkeyes in the face, Beathard connected with Jacob Hillyer for an 11-yard gain to convert a third-and-9 in the red zone. Two plays later, Beathard did it himself, scrambling for a 7-yard touchdown run, where he leaped over a pile at the goal line to give Iowa a 21-17 lead with 17 seconds left in the half.
Iowa returns to action Nov. 14, hosting Minnesota at 7 p.m. (CT) inside Kinnick Stadium in a battle for Floyd of Rosedale.