Nov. 9, 2015
Game Notes in PDF Format

THE RECORDS
Iowa is 9-0, 5-0, with wins over Illinois State (31-14), at Iowa State (31-17), Pittsburgh (27-24), North Texas (62-16), at Wisconsin (10-6), Illinois (29-20), at Northwestern (40-10), Maryland (31-15), and at Indiana (35-27). Minnesota (4-5, 1-4) has defeated Colorado State (23-20, OT), Kent State (10-7), Ohio (27-24), and Purdue (41-13). The Gophers have lost to TCU (23-17), Northwestern (27-0), Nebraska (48-25), Michigan (29-26), and Ohio State (28-14).
THE SERIES
Minnesota holds a 62-44-2 advantage in the series that began with Minnesota's 42-4 win in 1891 in Iowa City. The Golden Gophers won 51-14 last season in Minneapolis. Iowa won at home in 2012 (31-13) and in Minneapolis in 2013 (23-7). Minnesota won in both 2010 and 2011 — both times at home. Iowa holds a 28-23-1 advantage in games played in Iowa City.
FLOYD OF ROSEDALE
The Floyd of Rosedale traveling trophy is at stake Saturday. The bronze pig currently resides in Minneapolis as a result of Minnesota's 51-14 win a year ago. The teams have battled for Floyd of Rosedale since a bet between the governors of the two states in 1935. Minnesota holds a 43-36-2 advantage with Floyd of Rosedale on the line.
COACHING RECORDS
Kirk Ferentz is in his 20th year as a college head coach and his 17th year as Iowa's head coach. His career record is 136-106 and he is 124-85 at Iowa. He ranks eighth in the Big Ten Conference in coaching victories.
Tracy Claeys has coached the most recent two games at Minnesota's interim head coach. He previous held positions as assistant head coach and defensive coordinator as a member of the Minnesota staff since 2011. His is 0-2 as the interim head coach.
THREE PHASES OF @HawkeyeFootball
Iowa has matched its best start in program history (9-0) by excelling in all three phases of the game.
OFFENSIVE:
• Iowa has the third most balanced offensive production in FBS. The Hawkeyes have 3,708 total yards — 1,845 yards rushing, 1,863 yards passing. (Kent State 1,323/1,323; Auburn 1,700/1,712).
• Iowa has 25 rushing touchdowns, second in the Big Ten (Ohio State, 26) and ninth nationally.
• Iowa ranks second in the Big Ten with 13 scrimmage plays of 40-plus yards. The Hawkeyes had 12 scrimmage plays of 40-plus yards all of last season, and 13 such plays in 2012 and 2013 combined.
DEFENSIVE:
• Iowa has allowed just three rushing touchdowns; No. 1 nationally.
• Iowa leads the Big Ten in takeaways (20), interceptions (13) and turnover margin (+11).
• Iowa allows 16.6 points per game. Among the five other unbeaten FBS schools, only Ohio State allows fewer points (15.0).
SPECIAL TEAMS:
• Marshall Koehn's 57-yard game-winning field goal vs. Pitt is the second longest in school history and the second longest in FBS this season.
• Iowa's two-man punt team of Dillon Kidd (43.3) and (46.2) rank fourth in the Big Ten averaging 42.6 yards per punt.
• Desmond King averages 12.9 yards per punt return, No. 3 in the Big Ten, and 23.6 yards on KO returns, No. 6 in the Big Ten.
SCHEDULE STRENGTH
Iowa has won two road games over ranked opponents (#18 Wisconsin; #20 Northwestern), joining Alabama as the only programs in the nation with two road wins over ranked foes. Among the six remaining unbeaten FBS teams, only Clemson has a higher strength of schedule rating than Iowa's (Sagarin Ratings).
OVER 100,000 EXPECTED ON SATURDAY
The Minnesota at Iowa football game on Saturday night is sold out, with a crowd of 70,585 expected. Earlier on Saturday, the Iowa wrestling program will host Oklahoma State in a dual meet in Kinnick Stadium to start the season. Over 31,000 tickets have been sold in advance of the 11 a.m. wrestling event.
IOWA/MINNESOTA NOTES
• Fans are encouraged to wear black clothing for Iowa's annual "Blackout" Saturday at Kinnick Stadium. The Hawkeyes will unveil their alternate all black alternate uniforms against the Gophers.
• Iowa and Minnesota compete for Floyd of Rosedale Saturday. Iowa is 2-0 in trophy games in 2015. The Hawkeyes defeated Iowa State, 31-17, in the battle for the Cy-Hawk Trophy on Sept. 12, and Wisconsin, 10-6, for the Heartland Trophy on Oct. 3.
• Minnesota is led by interim head coach Tracy Claeys. He is the third interim head coach that Iowa has faced this season (Bill Cubit, Illinois; Mike Locksley, Maryland).
• Iowa ranks second in the Big Ten in red zone defense, allowing only 15 scores in 20 trips. Minnesota has made just 26 trips to the red zone, the second fewest in the Big Ten.
• Iowa has a Big Ten-best 20 takeaways. The Golden Gophers have 15 giveaways, fourth most in the Big Ten.
• Iowa, ranked eighth by the Associated Press, is the third straight ranked opponent Minnesota has faced (lost to No. 15 Michigan, at No. 1 Ohio State).
• WR Connor Keane, a native of St. Paul, is the only Minnesota native on the Iowa roster. Minnesota has one Iowa native on its roster, LS Trey Hansen, Cedar Falls, Iowa).
• Saturday will be Minnesota's second consecutive primetime road game; the Golden Gophers lost at top-ranked Ohio State last Saturday night in Columbus, Ohio.
• Iowa is 7-4 all-time in night games played at Kinnick Stadium.
TWO-SPORT ATHLETES
The fourth-ranked University of Iowa wrestling team hosts top-ranked Oklahoma State on Saturday at 11 a.m. (CT) in the "Grapple on the Gridiron." More than 32,000 tickets have been sold to the never-before-seen-event. It marks the first time in NCAA history two programs wrestled outdoors at a Division I football stadium. The Iowa football team has 17 players that wrestled in high school, including state champions OL Austin Blythe (Iowa, 3x), DL Nathan Bazata (Nebraska), DL Brady Reiff (South Dakota, 2x), DL Daniel Gaffey, (Iowa), OL Levi Paulsen (Iowa), and OL Landan Paulsen (Iowa).
START FAST, FINISH STRONG, PLAY WITH THE LEAD
The Hawkeyes have outscored their opponents 50-16 in the first quarter, and 37-0 in the final two minutes of the first half. Iowa has trailed just five times this season, never by more than seven points. The Hawkeyes trailed by seven at Iowa State on two occasions, 10-3, 17-10. Iowa trailed 3-0 at Wisconsin, 7-6 against Illinois, and 17-14 at Indiana. In 540 minutes played, Iowa has trailed for 55:15.
NUMBER OF THE WEEK: 8
Head coach Kirk Ferentz ranks eighth in league history with 124 wins as a member of the Big Ten Conference. He also ranks eighth with 73 Big Ten wins. Only eight coaches rank in the top 10 in both categories: overall wins as a member of the Big Ten, and conference wins. The others include Woody Hayes (OSU), Amos Alonzo Stagg (CHI), Bo Schembechler (MICH), Hayden Fry (IOWA), Robert Zuppke (ILL), Lloyd Carr (MICH), and Barry Alvarez (WIS). Ferentz also has six bowl wins as a member of the Big Ten, tying Fry and Carr for No. 2 all-time. Only Alvarez has more (9).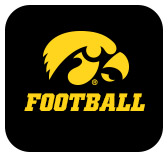 IT'S IOWA AND EVERYONE ELSE
The Hawkeyes lead the country in rushing touchdowns allowed. Iowa has allowed three rushing scores, one through the first eight weeks of the season, and two in Week 9 at Indiana. Iowa yields an average of 101.4 rushing yards per game, third best in the Big Ten and ninth nationally. Iowa limits its opponents to 3.2 yards per carry — second in the Big Ten and 14th best in the country.
6 THE OTHER WAY
Iowa leads the Big Ten and ranks 13th nationally with 13 interceptions. The Hawkeyes have returned three interceptions for touchdowns (Josey Jewell, 34; Bo Bower, 88; Desmond King, 88). The 88-yard interception returns by Bower and King tie for the seventh longest interception returns in school history. Iowa ranks 11th in the country with three defensive scores this season. Iowa has at least one interception return for a touchdown in each of the last eight seasons, and 13 of the last 15 seasons.
Kirk Ferentz RADIO SHOW
Iowa Coach Kirk Ferentz is featured on "Hawk Talk with Kirk Ferentz" each week. The 90-minute radio call-in show is hosted by Gary Dolphin, the play-by-play voice of the Iowa Hawkeyes. The show airs each Wednesday evening at 6:30 p.m. from Carlos O'Kelly's in Iowa City.
ALL ABOARD TO KINNICK STADIUM!
The Hawkeye Express, the passenger train that transports fans from Coralville to Kinnick Stadium, is once again available for fans traveling to Kinnick Stadium on Iowa Football game days. The Hawkeye Express is in its 12th season. Adults can ride the train for $12, round trip, while children (12-and-under) ride for free. Tickets can be purchased in advance at the UI Ticket Office or on game day at the Hawkeye Express depot located near the boarding ramp. Media credentials are accepted as well. Free parking is located in lots near the Comfort Suites and Coral Ridge Mall. Fans can begin boarding the train three hours prior to 11 a.m. kickoffs, and four hours prior to the start of afternoon and night games. Return trips begin at the start of the fourth period and run 90 minutes after the game. The Hawkeye Express is owned by the Iowa Northern Railway Company and operates on the Iowa Interstate Railroad.