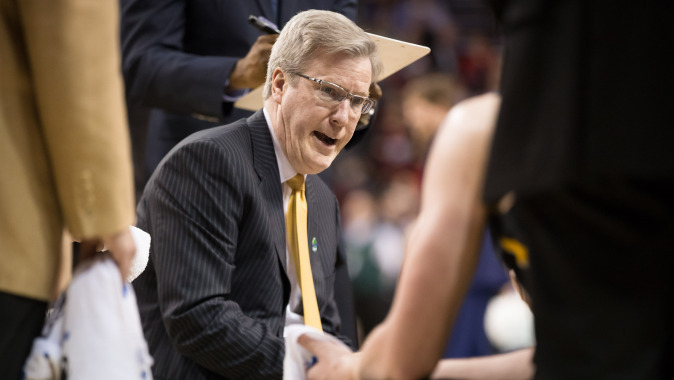 Nov. 11, 2015
Complete Transcript

Q. Big day for the future, Fran. Let's start with Tyler Cook. That was kind of a big recruit for you. What did you like about him, and how long have you known?
COACH MCCAFFERY: We've been recruiting Tyler for quite some time. He's special in a lot of different ways, starting with his character. He comes from a phenomenal family and he really understands how to play. He understands how to be great. What I see in him is as great as he is; I see even greater potential, because he's played primarily the power forward position most of his life.
You take one look at him, and you know that's why he's there, but there's a lot more in his game. He can handle the ball, he can run, he can make plays off the dribble, he can shoot the ball, and that's the kind of player that I envisioned. Somebody that has the flexibility to play in transition and play on the perimeter, play in the post, and impact the game in so many different ways.
Q. He's a kid that I understand you guys really were trying to establish a relationship with him, which is obviously very important in recruiting. But does that become even more important that you have to start those relationships even younger than you did?
COACH MCCAFFERY: I think the younger the better. It's often hard when you look at the amount of time that it's going to take you, but this was an easy one. He is as delightful and his family is as delightful a family as you'd ever want to meet.
So he came to our Ohio State game last year, and we sat in my office for probably four-and-a-half hours after that game and just visited with each other. So those kinds of things are somewhat unique in this business. But they're just really good people and they appreciated that we identified him early as our guy and continued with that consistency and really made the effort to maximize recruiting opportunities that the NCAA gives us to be there to show him. He's been here a number of times, so we're just thrilled with him.
Q. You mentioned versatility, and that's something I know you always try to get in players. Is it easier to find versatile players, or are players not so much now a pigeon holed for from one position as you thought? Are there more versatile players?
COACH MCCAFFERY: I think everybody wants to be versatile. Everyone considers themselves versatile. As you well know they're not all versatile, but the game has changed in terms of spacing the floor and use a lot more drive and kick. There's less dominant big men because of the three-point shot and the speed of the game. But it's still nice to have some big, strong guys in there who can score the ball when they need a basket, and he can do that too.
Q. Kriener, what do you like about him?
COACH MCCAFFERY: Ryan is a guy that we started watching early. I saw him when he was young, and we always liked him. Thing that's impressed me about him is he just keeps getting better, and the way he performed this summer really elevated himself in our eyes because he always had great size and he also has versatility.
So when you have a five-man who can play the four position, but can also make threes, and he can dribble and pass, that's a game changer when you have big, strong guys that can do that. You have to have, in my opinion, five guys that can dribble the ball and pass the ball and catch the ball today in our game. Otherwise you're going to see a lot of different kinds of defenses.
That's really what we love about him. The other thing is he wanted to be here. He wanted to be a Hawkeye, so we're thrilled that he is.
Q. How important was Tyler Cook in the essence of you had a lot of kids from Iowa come to you, sign, and you have a couple more coming, but to get a kid, not the cherry on the top, but the kind of guy to hold this group together, is that kind of what Tyler is?
COACH MCCAFFERY: No, I look at Tyler as just a player that we identified as one of the best players in the country, and you can't always get those guys. I don't care where you coach, to be able to attract someone of his caliber, the impact that that has on our program, it's just immense. I mean, it's a game changer.
So I don't look at it like where he's from versus where other guys are from. I never really look at that, to be honest with you. I just try to get the best players that we can.
Q. But you have made a concerted effort to keep the best players in the state?
COACH MCCAFFERY: There is no question about that. I think whoever the coach is here should do that. You have opportunities, if you think about it, you've got unofficial visit opportunities, and it's hard to get a guy from Florida to visit you unofficially. It's going to be at his own expense.
So we have Iowa kids, we're going to invite them down. We are going to invite young kids and get them on our campus, get them to our practice, get them to our football games, get them to know our players.
In some cases we already know we want them and in others we're still evaluating. But when we evaluate them successfully and decide we want them, then there's a relationship there. Because when it's all said and done, nobody's going to see us no matter what unless there is a relationship.
Q. Cordell committed really early, and he's had a series of I guess some knee injuries over the years. What is your comfort level with that, and what kind of player can he be if he's healthy?
COACH MCCAFFERY: Again, another guy who is big and strong, but he can score inside and he's very gifted and he's a tremendous rebounder, but he can really dribble and pass. He likes to play on the perimeter. He can score outside perfect, I think, in our style.
With regard to his injury, it was something that we didn't know about when he first committed to us. Obviously, he didn't have any problems and then subsequently has had them. But I think it's been rectified. He's in a great place right now. He had a surgery that I think will correct any future problems. Of course, you never know, but it really looks like he's in a good place physically right now, and there is no doubt in my mind that he's going to have a great impact for a long time.
Q. How do you see the pieces, you've got five freshmen in the current class and now four coming in behind them. That's a huge part of your roster?
COACH MCCAFFERY: It is. But I think if you look at the different pieces, I think they fit. We'll get it figured out which ones sort of rise to the top and which ones are still solid for us. I mean, we've got to get productivity out of everybody that we sign, in essence. And sometimes you have in your mind this guy's going to be ahead of that guy, and it doesn't work out that way. But they're all good players, and most importantly, they're all terrific people.
Q. Peter Jok seems to have found a new level of confidence above last year. Are you seeing that too?
COACH MCCAFFERY: There is no question. I mean, he was never really afraid to shoot the ball. We went overseas the summer before his freshman year, and if I'm not mistaken, he was our second leading scorer on that trip. Nobody knew who he was, so they didn't scout us and then as we rolled into the season, he was getting scouted and his defense was not up to par and he figured that out and became an impact player for us last year on a really good team.
But you're right. He's got to take that next step, and I think you're seeing that. He's scoring the ball. He's way more active. His stamina and his defense are greatly improved. And we need him thinking the way he's thinking, and that is as an aggressive offensive scorer.
Q. As of last weekend, little chippy at times, not afraid to stick his nose in there?
COACH MCCAFFERY: He's a tough kid. The thing for him is going to be extended minutes. We're going to him. He's taking a lot of shots. Well, you've still got to run back and lock down whoever it is you're guarding because that person is going to be typically very good. You go to a two or a three, and that's going to be a scorer at that position, usually. So that's really the challenge for him is to be just as good at both ends of the floor. As an offensive player, he's elite.
Q. How did your freshmen respond to exhibition loss?
COACH MCCAFFERY: Well, the two guys that stepped up in that game were new, but they're not freshmen. Ellingson, and obviously Dale Jones. Fleming didn't get a lot of minutes, Dom Uhl didn't get a lot of minutes. Christian Williams didn't get a lot of minutes.
But I think your question is, after that game was over, how did they respond in practice? How did they respond in meetings? I thought exactly as you would hope, and as you know, it doesn't always go that way. There can be pouting, there can be confusion. There can be feelings of uncertainty. But they came back, and they were getting after it, and that's what you want.
What you're seeing is they're figuring it out because the reason they don't play more is they don't have it figured out yet. That's why we played Augustana. If we would have played somebody else and drilled them, we chose not to do that. Because you don't see your holes unless you play somebody good, and somebody experienced, and we were able to find our holes and try to address them before we play a game that counts.
Q. Before the game you announced that Isaiah would red-shirt. Have you decided on anybody else?
COACH MCCAFFERY: No. That's it.
Q. You dominated at the free-throw line. You only got there five times, is that —
COACH MCCAFFERY: Yeah, we shot a few too many jump shots. We've got to mix up our offer. We've got to penetrate more and obviously throw it inside more. Jarrod's going to have to step up and be one of those guys. But Dale's a jump shooting forward. Dom's not really a post-up guy.
I think Ahmad could be that guy. He could post up strong. He's had a little bit of a shoulder issue that we're trying to get figured out, so we'll see where that goes.
Q. Your veterans have been through Big Ten wars over the years and a lot of games. How did they respond from a leadership perspective to the loss to kind of helping the newer guys come along?
COACH MCCAFFERY: I thought in particular, Jarrod was not pleased with his performance in that game. I can tell him I'm not pleased. You guys can ask him questions like, hey, what's wrong? Bottom line is he has to be able to come to grips with how did I play and what can I do differently? And he said to me point blank, he said, "Coach, that won't happen again. I wasn't what I should have been, but I'm going to get it corrected and you'll never have that problem again." Okay. "That sounds good to me, Jarrod."
That's what a leader, a veteran is supposed to do, and he's been phenomenal in practice the last couple days, so that's good to see.
Q. How has recruiting changed for you, in the fact that you've kind of gotten back into national attention. You've been to the tournament a couple of years and had some success in the Big Ten. Has it changed from a couple years ago?
COACH MCCAFFERY: I don't think so. Maybe I'm underestimating. You would think it would be a lot easier. We've just got a high-profile guy, would he have come had we been a sub-.500 team? I don't know. Probably not. So maybe you're right.
But we've gone after some other guys that we thought we would get and we didn't get them. It's not like okay, we just roll in now and we can scoop up who we want. It's not like that. We still have to, like you said, get in early, develop a relationship, create a vision that makes sense for he and his family, and then they're going to study it. They're going to take their time.
So in terms of our approach, nothing has changed. But it's not like all of a sudden, we can zero in on five guys in the top 50 and say we're going to get three of them. It doesn't work that way.
Q. You look at your opponent this is weekend. Both are pretty high-scoring teams. Gardner-Webb won 20 games last year, has a guy in the post who is a really good player. How are they going to challenge you especially on the defensive end?
COACH MCCAFFERY: Well, they're athletic. They're quick and they're powerful. They're deep. They don't have a lot of experience back. They've got a handful of quality players that have put up some numbers. Nelson is clearly one of them. But they've got some guys sitting out, and they've got some guys coming in, and they're pretty talented.
Like you said, you're playing a team that won 20 games last year. So they can score the ball. You look at their scoring numbers, very impressive. They make threes. When we played them a couple years ago nobody knew where they were from and who they were, well, they got our attention pretty quick. We were down 38-18 at halftime. They beat Purdue last year by 5 at Purdue.
So I think it's clear to say that they have our full attention, and we have to play well.
Q. How has Dom Uhl responded in the last few days?
COACH MCCAFFERY: Very good.
Q. Is he in an uncomfortable vibe or is he just not playing well?
COACH MCCAFFERY: I don't think he has fully comprehended how hard we need him to play, but he's figuring it out gradually. And he's been terrific since that game. We've seen it in spurts. He'll bust it pretty good, and you know, if you play him he's pretty solid, he's not a big mistake guy. He'll rebound, post defend. What I'm trying to get him to do is more.
Now we all want guys to do more, but you have to be realistic. Is he capable of doing more or not? Sometimes you want more out of a guy and he's giving you everything he's got. You have to be smart. Otherwise you're going to do nothing but frustrate him. Dom's got more in there, there's more there. And I think he had to get the message that I wasn't happy with what was being performed on the floor. It was reflected in his minutes.
I think he's got — okay, I've got the message, and I'll take care of it. He's a great kid. I think if he revs it up, he'll be pretty good. And if he doesn't, he'll just be okay, and then his minutes will be where they end up and probably not to his liking.
Q. He changed his body in the off-season and gained 20 pounds. Has that had any impact on his performance?
COACH MCCAFFERY: I don't think so. But maybe. It's going to be harder to run consistently when you're heavier, but he's a guy who has speed. He can move his feet. He can run. He does tire a little easier than he used to. But what I need him to do is bust it hard when he is out there. Whenever you're out are there, I need everything you've got.
You look at Nicholas Baer, that's what he does, and he runs out of gas, you've got to get him out. He hits the wall. He gives it to you, and there is literally nothing in the tank and you have to get him out because he can't move any more. That's kind of what you want from everybody when it's all said and done.
Q. Mike Gesell really seems to have been more productive in more parts of the game than in the past. Is that accurate?
COACH MCCAFFERY: I think it should be. He's a senior. He's started for us most of the time that he's been here. He had that foot problem and we had to bring him off the bench, but basically has been a starter since he got here. I think you're right, he's doing what you said, but we expected it as coaches. He expected it of himself. You expected to see it. He's more aggressive offensively, and I think that's a good thing too.
Q. How serious is Wagner's injury? Is it something that can sideline him for a while?
COACH MCCAFFERY: I hope not. He doesn't think so. The doctors don't think so, but it could. He's been hurting a couple days, and I think he's going to try to play today so we'll see how that goes and play the weekend. If it goes away, it goes away. Hopefully it will.
Q. You talked about wanting guys to emerge, especially the new guys. Is that happening yet?
COACH MCCAFFERY: I do. I think Fleming has really figured it out. I've been really impressed with him. I thought Wagner had it all figured out. Then he got in foul trouble in the first game and didn't really get in a flow in the second game. And Dale was on fire, and we played Baer because of the experience of the other team. So I think he's a guy that would be right in the mix. Then he gets the hurt shoulder, so that affects it a little bit.
But I think Christian Williams, we look at him, he's certainly our third string point guard. But oftentimes he's better on the wing, so we're trying to get him minutes in both spots so we can play him in both spots. I think that will help his confidence and help his understanding. But as you know it's harder to learn two spots when you're a freshman. You have nowhere to go and it's not easy sometimes.
Q. You look at Brandon and he only played a couple minutes in the first exhibition. Was he a candidate to be a red-shirt or did he ultimately decide he didn't want to do that?
COACH MCCAFFERY: No, that's not typically a decision that a player makes. If one came in and said when Baer was a freshman, before he decided to come here, he said he wanted to red-shirt. Okay, fine. But normally we'll make the decision or the recommendation. The player ultimately will decide what he wants to do. They never want to force it down somebody's throat if they really don't want to do it.
He was iffy one way or the other. He's a little bit behind, but you start red-shirting too many guys, you need your bodies that you brought in. You never know what you're going to need. It's a long season. So we have to get to March. We need our guys.
Q. He's a guy that really wanted to be a staunch defender. Has that kind of length and toughness and grit that you probably want. Is he the type of kid that maybe in two months down the road all of a sudden —
COACH MCCAFFERY: That's what we're all hopeful. Two months, maybe it's a year. What you're talking about with Brandon Hutton who is a young guy with unbelievable athletic capability and character. He hasn't figured it out yet. He's behind, and he's got a lot of work to do. But it's not for lack of effort or concentration or determination in his case.
Q. There's too much pressure on freshmen right away in basketball in general, but sometimes you see a D'Angelo Russell come in, and boom, blow it up. Then guys sometimes maybe in football, for instance, the red-shirting is part of the ballgame. But basketball, you don't come in and play right away. You're almost looked at.
COACH MCCAFFERY: I think there is a lot of pressure on some guys. I think most people have it in perspective. Most players pick schools where there's opportunity to at least play some as a freshman to eventually develop. They're not usually walking into a log jam.
We have a little bit of a log jam because there are so many new guys and two guys sitting out last year, that is a little different. But there is playing time there. They've all got to figure out how to go get it.
Q. You had mentioned Mike stepping up his level this year. Earlier he said largely because Clemmons brings that out in practice. He demands it.
COACH MCCAFFERY: Well, it's really good when they go against each other, but a lot of times we put starters so he's playing with Clemmons, it's a little bit different. But he puts pressure on the ball and they attack each other. The important thing is that we get Clemmons reps at both spots. If you're playing the point all week long and he goes against Mike, that's great for Mike, but then he's going to start at the two spot when you have a game and how smart is that?
It's smart in a sense because he's also going to play one, but you better get him ready to play the two.
Q. Is the shooting the first thing that you fell in love with Jordan Bohannon or is it his savvy on the floor or what?
COACH MCCAFFERY: It's both. I've been watching Jordan play since he was in middle school, so I have a different perspective of him. I felt like he started to get national recognition this summer, and I thought it was long overdue, personally. I have had the luxury of seeing him more than most people because he ends up playing against my sons at times that would be a dead period.
But I can be at the game because my son's playing. They play against each other, and they play together in Las Vegas when they were in 8th grade. He's an unbelievable shooter, and that's a good place to start. But for us to make the decision to sign him here, because I'm looking at him as an impact guy. It had to be the total package. He's a really good passer. He's got unbelievable savvy on the floor, and he's got a great mind for the game. He thinks the game. You can see that at an early age that he thought the game. At a unique level that would prepare him to be successful at the Big Ten level.
Q. Kind of crazy to have a former quarterback to have four sons to play Division I basketball?
COACH MCCAFFERY: Yeah, apparently Gordy was a pretty good basketball player in high school, a terrific athlete, obviously. So he would tell you that it's really not that unique because he loved basketball and he grew up in California, played a lot of basketball and then his kids obviously went in that direction. They've all been very special in their own way.
Q. He has a quick release?
COACH MCCAFFERY: He does. He pulls it right in your face. I don't like to make a ton of comparisons, but kind of like Steph Curry does. You don't think he's going to shoot, and he shoots it right in your face. Which is important, because he doesn't have great size. He's got good size, but doesn't have great size. And that quick trigger and the threat of it sets up his drive, and he's got great decision making skills once he gets by you, whether to shoot, whether to shoot the pull-up, whether to dump it off or just survive and move on.
Q. His handle is pretty good?
COACH MCCAFFERY: His handle is good.
Q. The character component for him has to be off the charts, right?
COACH MCCAFFERY: Yeah, he's a guy you don't worry about. You bring him in, teach him the offense, and he'll have it in 15 minutes and have it all figured out. Then you can go to work, watch a lot of film, and he'll need to get in the weight room a little bit with Coach Maxwell and get a little bit stronger. He's got a good frame, but a little bit stronger would help him. It would help him endure the long season.
Q. You have Mike and Adam coming together who had played together in AAU, and now you have Jordan with Cordell and Ryan that have played together. Is that an added bonus to this whole thing?
COACH MCCAFFERY: Well, I think in a lot of ways the relationship thing is important. They all wanted to be here. They all are comfortable with each other. They know each other's games. Yeah, so I think that will be a bonus, no question.