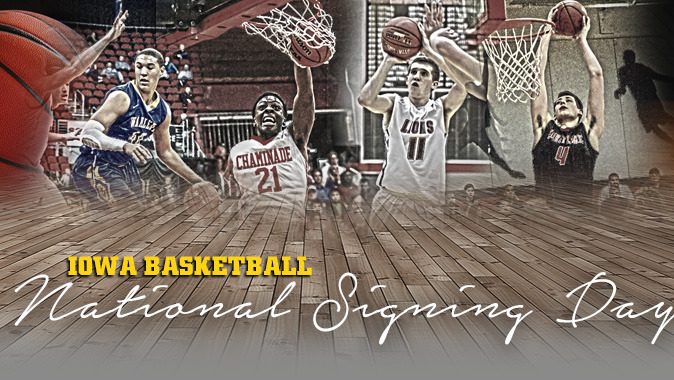 Nov. 11, 2015
IOWA CITY, Iowa — University of Iowa head men's basketball coach Fran McCaffery announced today that Jordan Bohannon, Tyler Cook, Ryan Kriener, and Cordell Pemsl have signed a National Letter of Intent to attend the University of Iowa.

Tyler Cook
6-foot-9, 240 pounds
St. Louis, Missouri (Chaminade College Prep School)
"It was sophomore year when I received the call from coach McCaffery. He talked about what he thought of my play, the player he envisioned me developing into, and how he could help me reach my dreams. His plans and expectations for me were almost exactly the ones I had for myself. When he offered me that day, and after my first conversation with coach Dillard, I felt like I was a part of a new family, and still do. Since then, Coach McCaffery, and the rest of the staff have been in constant contact. We built a relationship that I didn't have with any other coaching staff. On my official visit, the players and fans welcomed me and made me feel at home. When I left campus, I knew I was going to commit. I am extremely excited to start my career at The University of Iowa. I believe that with the talented guys that are coming in alongside me, and the guys that are already there, we can be special. Go Hawkeyes!"
? Three-year varsity starter and team captain last year and this season
? 2015 All-State honoree while averaging 13 points and six rebounds
? Nike Global Challenge and Nike Skills Academy participant
? Ranked as the No. 51 player in the 2016 class according to ESPN
? Averaged 10 points and six rebounds with the St. Louis Eagles, who finished runner-up at the 2015 Peach Jam
? Registered a 65 percent field goal percentage during the EYBL in 2015
McCAFFERY ON COOK
"Tyler has a chance to be really special. When you look at him physically, you can see that he will have an immediate impact. The thing that not everybody fully understands is how much of a complete player he is. He primarily played the power forward position in high school and in AAU, but if you spend as much time with him as we have with him you can see he is extremely versatile. I like his game moving forward more of an inside-outside player. He is so powerful; we're going to go to him inside. He is ambidextrous and can score with either hand, but he is good in the open floor as well. I want to see him be a player that is effective at any place on the floor and we'll give him the freedom to do that."

Ryan Kriener
6-foot-10, 240 pounds
Spirit Lake, Iowa (Spirit Lake HS)
"Signing to be a Hawkeye is a dream come true. I cannot express how excited I am to play for and represent my state's program, to play for the name on the front of my jersey. I would like to thank my mother Nancy, my father Rich, Dr. David Smith, Hank Huddleson, Chad Sweitzer, Therin Rentschler, and the rest of the people who have pushed me and encouraged me to reach this point in my basketball career. I'm excited to play for coach McCaffery and the rest of the Iowa staff, because I know they care about who I am as a person, will push me to be my very best, and will fight for my teammates and me throughout my years as a Hawkeye. The fans in Iowa City are my favorite fans of all because growing up I was one. Going from a Hawkeye fan to an Iowa student and having the chance to represent the university as an athlete is truly a blessing."
? 2015 all-conference and second-team all-state
? Two-time All-Region team for state tournament
? Averaged 19.8 points, while shooting at a 71 percent (204-of-286) clip from the field, and 8.5 rebounds as a junior
? Amassed 761 total points and 333 total rebounds from 2013-15
? Averaged 18 points and 15 rebounds on the 2015 AAU National, State, and Elite 28 Premier League Champion Martin Brother's squad
? AAU teammates with Jordan Bohannon and Cordell Pemsl
? Member of the 2014 AAU State Champion Barnstormers team
? 2015 Big Shots All-American and named to Big Shots All-Tournament team
? 2015 state track qualifier in the high jump
McCAFFERY ON KRIENER
"We clearly need someone of Ryan's size and his skillset. He is a running big man, who scores and rebounds inside, but can also shoot the ball outside and stretch the floor. He can be a stretch-5 or a stretch-4 because he can shoot the ball. Ryan is another Iowa native who wanted to be a Hawkeye. We watched him closely for the last three years and ultimately we felt like he established himself as somebody who would help our program for a long period of time."

Jordan Bohannon
6-foot-1, 170 pounds
Marion, Iowa (Linn-Mar HS)
"I am blessed and honored to have the opportunity to fulfill a lifetime dream of becoming an Iowa Hawkeye. I am excited to continue my career playing for a phenomenal coaching staff with great teammates, while attending an elite academic institution in the city where I was born. I would like to thank everyone who has helped me throughout my life, especially my parents."
? Led his high school team in team in scoring (17.7), assists (4.5), rebounds (4.5), and tied for steals while being named first team All-Metro and All-Conference, second team All-State, Metro Player of the Year
? Four-year letterman on the basketball team and competed three years on varsity golf team
? Three-time basketball team captain
? Averaged 16 points and six rebounds on the 2015 AAU National, State, and Elite 28 Premier League Champion Martin Brother's squad
? AAU teammates with Ryan Kriener and Cordell Pemsl
? Academic All-Conference as a senior on the golf team
McCAFFERY ON BOHANNON
"I've been watching Jordan play since he was in eighth grade. I've always been impressed with his overall skillset, mention toughness, basketball intellect, and his ability to play well late in games. He has more than enough speed, he makes shots, makes plays, is a terrific passer, sees the floor, is of the attack-mentality, and he's a perfect fit for our style of play.
"We're thrilled to have him in an Iowa uniform. I've gotten to know his father, Gordy who played quarterback at Iowa. The Bohannon's are a terrific family with great athletes; he's going to have a tremendous impact on our program."

Cordell Pemsl
6-foot-8, 240 pounds
Dubuque, Iowa (Wahlert HS)
"It has been a dream of mine since I was a little kid and I can't wait to make it my reality. I have worked extremely hard for this day and I can't wait to make this state proud."
? Averaged 15.2 points and 8.75 rebounds his first three seasons at Wahlert High School
? Two-time first-team all-state and all-conference selection
? Led Wahlert to two straight state championships
? Team captain as a sophomore, junior, and senior
? Averaged 17.3 points per game as a junior before missing the final seven games due to injury
? Did not compete on the AAU circuit the summer of 2015 due to injury
? AAU teammates with Jordan Bohannon and Ryan Kriener
? Also competed on the Wahlert High School golf and baseball teams for four and three years, respectively
? Named to the Iowa State Baseball Tournament All-Tournament team in 2014
McCAFFERY ON PEMSL
"Cordell is another player I saw when he was in eighth grade. He was pretty much a double-double machine as a freshman and he has kept getting better and better. He played a lot inside, but he's another player who can really handle and pass the ball; he has an impressive skillset as a perimeter and post player. He is another young man of impeccable character. We're thrilled that he is going to be a Hawkeye."
2016 Iowa Men's Basketball Recruiting Class
Jordan Bohannon
G
6-1/170
Marion, Iowa (Linn-Mar HS)
Tyler Cook
F
6-9/240
St. Louis, Mo. (Chaminade Prep)
Ryan Kriener
F
6-10/240
Spirit Lake, Iowa (Spirit Lake HS)
Cordell Pemsl
F
6-8/240
Dubuque, Iowa (Wahlert HS)