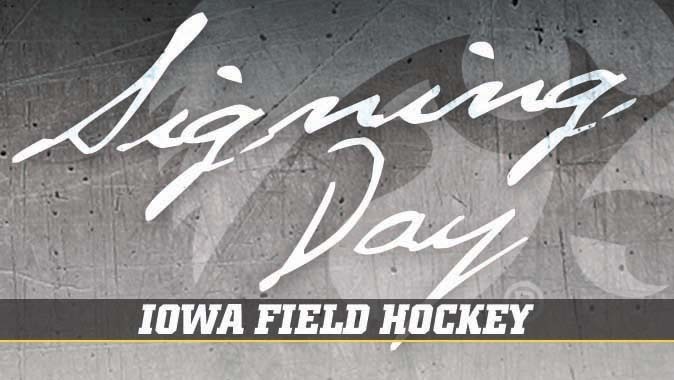 Nov. 13, 2015
IOWA CITY, Iowa — Ryley Miller, Isabella Solaroli, and Leslie Speight have signed National Letters of Intent to attend the University of Iowa next fall, UI head coach Lisa Cellucci announced Friday.
"We are extremely excited to add three outstanding people and field hockey players to our program," said Cellucci. "This class is determined and extremely passionate about being a part of the Iowa Field Hockey program. Their competitiveness, work rate, and eagerness to improve will be a great addition to our returning group."
The incoming class joins a program that has 22 NCAA Tournament appearances, 11 Final Fours, 12 Big Ten Championships and has produced 87 national All-Americans.
2016 Recruiting Class
Name
Pos.
Ht.
Hometown
Ryley Miller
MF
5-6
Edwardsville, Illinois
Isabella Solaroli
MF
5-6
Yorktown, Virginia
Leslie Speight
GK
5-5
Poquoson, Virginia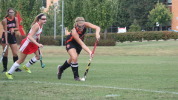 Ryley Miller
5-6, Midfielder
Edwardsville, Illinois — Edwardsville High School
Miller, a midfielder from Edwardsville, Illinois, attends Edwardsville High School where she is coached by Julia Tyler. Miller is a four-year letterwinner for the Tigers, tallying 32 goals and 33 assists. The team captain earned first team All-Suburban Division I Conference honors in 2014 and 2015 and was named second-team All-Metro as a sophomore and junior. As a senior, Miller was named the team's Most Valuable Player for the second consecutive year. Miller was also a member of the Gateway Field Hockey Club where she played for four years. She competed at the AAU Junior Olympic Games and the National Futures Tournament in 2013 and 2014, and was part of the USA Futures — USA Field Hockey's Olympic development program — from 2012-15.
**senior season statistics NOT final**
Cellucci on Miller:
"Ryley will bring solid distribution skills and a great defensive presence to our backfield. She has a contagious work rate and a great sense for the game. We look forward to adding another solid player to our young backfield line."
Miller: Why Iowa?
"I chose Iowa because from the very first time on campus I knew it was the place for me. The coaching staff and players were all very welcoming and friendly. I came to camp and Junior Olympics the summer before my junior year which gave me a lot of time to get to know the campus, coaches, and players. I knew it was the perfect school to develop as a student and as an athlete. The program holds a tradition of excellence that I can't wait to be a part of."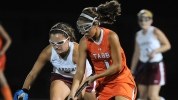 Isabella Solaroli
5-6, Midfielder
Yorktown, Virginia — Tabb High School
Solaroli, a midfielder from Yorktown, Virginia, attends Tabb High School — the same high school that current Hawkeyes Taylor Omweg and Melissa Progar attended — where she plays under head coach Wendy Wilson. Solaroli was a three-year letterwinner at Tabb, where she scored 15 goals and tallied 23 assists. A three-time All-Conference selection and Conference 27's Player of the Year in 2015, Solaroli led Tabb to two conference titles (2013, 2014) and a state championship in 2014. Solaroli will leave Tabb, holding the school record for career assists, most career goals, and most assists in a season. Solaroli was a three-time USA National Futures Championship selection and participated in the Disney Showcase and National Indoor Tournaments from 2013-15.
**senior season statistics NOT final**
Cellucci on Solaroli:
"Izzy is an extremely gifted athlete. She is very quick and has great speed with and without the ball. She is a high energy player who will add much needed to depth to our midfield line."
Isabella: Why Iowa? "I considered a number of schools during my recruiting process, but Iowa was by far the best. The University of Iowa has a pre-med program and my ultimate goal is to make it into med school. In taking my tour of the UI, I learned how well student-athletes are treated. I have heard only positive and respectable things about Iowa. Athletically, I am extremely competitive and so is Iowa field hockey. The coaches push their players, set high standards, and avoid complacency in the sport. My favorite aspect of Iowa field hockey is that the team cares for each other and acts as one big family. I'm looking forward to spending the next four years of my life as a part of the Hawkeye family."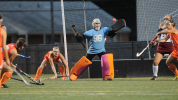 Leslie Speight
5-5, Goalkeeper
Poquoson, Virginia — Poquoson High School
Speight, a goalkeeper from Poquoson, Virginia, attends Poquoson High School where she plays under head coach Darcy Chiappazzi. The three-year letterwinner was a second team All-Conference selection as a sophomore and garnered first team All-Conference honors as a junior. During Speight's sophomore and junior years, she recorded 328 saves, while posting a 1.63 goals against average, a .861 save percentage, and 17 shutouts. In 2014 Speight led Poquoson to a conference title and was named Conference 25's Player of the Year. She holds school records for saves in a game (30), saves in a season (182), and saves in career (+400). Speight was a member of the Focus Field Hockey Club for four years, leading the club to first and second place finishes at the Regional Club Championship in 2012 and 2014. She was also a member of the Gold Medal U16 and U19 teams at the Focus Showcase in 2014 and 2015.
**senior season statistics NOT final**
Cellucci on Speight:
"Leslie is a competitor which you absolutely need in a goalkeeper. She has solid technical skills and her quickness and overall athleticism will give her a great start to add to our outstanding goalkeeper lineage."
Speight: Why Iowa?
"The University of Iowa offered me the chance of a lifetime to play Division I field hockey, which has been a dream of mine since eighth grade. I grew up in a small town and when I visited Iowa last February, I got that small town feeling. Iowa's numerous undergrad choices were one thing that enticed me. It was very easy for me to picture myself going to school and playing field hockey there. The support that the community gives to its athletes was another major factor in my decision. The coaches have all been so helpful through this next step in my life and they all continue to guide and support me. I know that I have made the right decision and I am excited to be a Hawkeye."