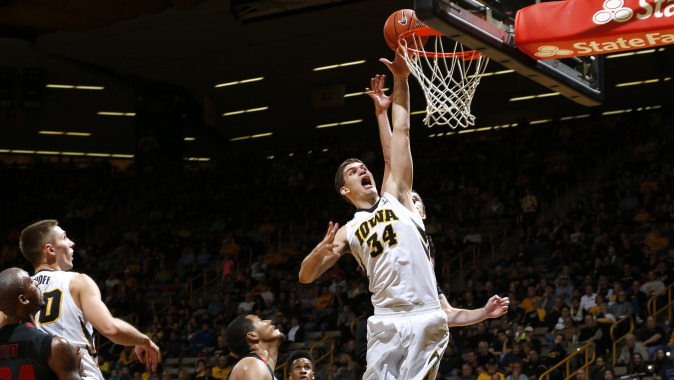 Nov. 14, 2015
THE SETTING
Iowa (1-0) will play its second game in three days on Sunday when the Hawkeyes host Coppin State (0-1). Tipoff is set for 4:01 p.m. (CT) on Mediacom Court at Carver-Hawkeye Arena.
ON THE AIR
Radio: Iowa games are broadcast on the Hawkeye Radio Network. Gary Dolphin handles the play-by-play, along with color commentator Bob Hansen. The network includes more than 40 stations that blanket the state of Iowa and include portions of Illinois, Nebraska, Minnesota, Missouri and Wisconsin. The Hawkeye Radio Network coverage includes a 60-minute pregame show.
TV: Sunday afternoon's game will be televised nationally on BTN (BTN2GO). Jeff Levering and Shon Morris will call the action.
SUNDAY PROMOTIONS
? Anthony Clemmons Bobblehead Day — free for the first 1,500 fans in attendance
? Veterans/Military Appreciation Day
GAME #2 OPENING TIP
? Tickets can be purchased at the UI Ticket Office. Tickets are $18 for adults and $5 for youth and UI students. Sunday is a women-men's doubleheader with the women hosting Tennessee-Martin at 1 p.m. Fans with a men's ticket are welcome to attend the women's game with their men's ticket.
? Iowa notched a 76-59 win over Gardner-Webb Friday night in the season opener. The Hawkeyes' starting frontcourt of Jarrod Uthoff and Adam Woodbury combined for 32 points and 12 rebounds.
? Iowa has won 33 of its last 34 nonconference home games, dating back to November 2011.
? Sunday will be the fourth meeting between Iowa and Coppin State, with the Hawkeyes winning the previous three meetings — all in Iowa City.
? Sunday will be Iowa's second game in three days. It will also be the Hawkeyes' final home game until Dec. 2 when hosting Florida State in the Big Ten/ACC Challenge.
? Senior Jarrod Uthoff was selected as one of 10 players on the Preseason All-Big Ten team.
? Iowa is 39-6 when scoring 80 points or more, the last five seasons. The Hawkeyes are 56-2 when holding opponents to fewer than 61 points, the last five years.
SCOUTING COPPIN STATE
? Coppin State dropped its season opener at Eastern Kentucky Friday evening, 107-80. The Eagles were outscored 58-41 in the second half. Coppin State had three players reach double figures: Christian Kessee (18), James Sylvester (17), and Terry Harris (13.0). Harris also pulled down a game-high 10 rebounds to post a double-double.
? The Eagles return two starters (Christian Kessee and Jerimyjah Batts) from last year's team that posted an 8-23 record. Kessee, a junior guard, averaged 9.6 points and two rebounds. Batts, a sophomore forward, averaged two points and 1.3 rebounds.
? Coppin State has nine newcomers, seven of which are transfers in their junior year of eligibility, on this year's roster.
? The Eagles led the Mid-Eastern Athletic Conference (MEAC) in scoring (71.6) and 3-pointers made per game (9.5) a year ago.
? Michael Grant is in his second season as head coach at Coppin State. Grant came to Coppin State from Stillman College, where he was the head coach for the last six years.
ALL-TIME SERIES RECORD
Sunday will be the fourth overall meeting between Iowa and Coppin State. The Hawkeyes won the previous three meetings — all in Iowa City — with Iowa winning the most recent contest, 80-50, on Dec. 22, 2012. Iowa is 15-0 all-time against school from the MEAC.
McCAFFERY APPROACHES MILESTONES
Fran McCaffery coached in his 600th career game as a head coach in Iowa's regular season opener against Gardner-Webb Friday evening. He has compiled a record of 348-252 in 20 seasons as a head coach. Also, he has amassed 97 wins as an Iowa head coach in six seasons; McCaffery is three wins from notching win No. 100 as a Hawkeye.
HAWKEYES BEAT GARDNER-WEBB IN SEASON OPENER
? Iowa won its fifth straight season opener, recording a 76-59 triumph over Gardner-Webb Friday in Iowa City.
? Iowa had the advantage on the glass, pulling down seven more rebounds (46-39). Iowa freshman Ahmad Wagner corralled a team-high eight rebounds, six offensive, in only nine minutes of action.
? Senior Jarrod Uthoff poured in a game-high 21 points, while also collecting six rebounds, two blocks, and two steals.
? Senior Mike Gesell tied a career high with nine assists, to go along with three steals, four rebounds, and two points.
? Iowa earned 28 free throws, sinking 21 (.750). Jarrod Uthoff made all seven of his attempts, while Adam Woodbury made 5-of-7 of his attempts and Anthony Clemmons sank 6-of-8.
? Iowa's newcomers, includes redshirts, combined to score 20 points. Nicholas Baer and Ahmad Wagner each scored six points. Brady Ellingson tallied four points, Dale Jones had three, while Andrew Fleming added one.
INCREASED WORK LOAD
The last couple seasons, Adam Woodbury split time at the center position with Gabriel Olaseni. With Olaseni having graduated, expect Woodbury's minutes to increase according to coach McCaffery. The 7-foot-1, 250-pounder averaged 21 minutes per game a year ago alongside Olaseni. In his career when playing 28 minutes or more, Woodbury averaged 11.3 points and six rebounds per game.
THREE TIMES THE CHARM
Iowa posted a 22-12 record last season, reaching the 20-win plateau for the third consecutive season. For the first time in 15 years, Iowa won 20 or more games in three consecutive seasons. The last time Iowa won at least 20 games four straight seasons was 1995-1999 — Tom Davis' last five seasons as Iowa's head coach.
HAWKEYE FAST BREAKS
? Iowa returns seven letterwinners, including four starters, in 2015-16.
? Jarrod Uthoff was one of 10 players named to the Preseason All-Big Ten team as selected by a media voting panel.
? Iowa has competed in postseason play the last four years: NIT second round in 2012; NIT runner-up in 2013; NCAA first round in 2014; NCAA third round in 2015. The Hawkeyes tied for third place in the Big Ten last season — its best finish in nine years.
? Iowa won 21 regular season games last season, the most by a Hawkeye team since 2006 (22).
? Iowa has won at least 20 games in three consecutive seasons — its longest streak in 15 years.
? Iowa averaged 11.1 turnovers in 2015, which is the best average for fewest turnovers in program history since turnovers became an official stat in 1980.
? Iowa's free throw percentage a year ago (74.4 percent) was the fourth best in program history for a single season.
? Iowa was the first team in the country to post road wins over two ranked opponents last year: No. 12 North Carolina (60-55) on Dec. 3 & No. 18 Ohio State (71-65) on Dec. 30.
? The Hawkeyes won seven true road games last season, including winning its final six regular-season Big Ten games for the first time since 1955. The seven total road wins were the most by a Hawkeye team since 1987.
? Iowa's 12 conference wins last season are the most by a Hawkeye team since 1997. Also, its third place finish was its best in nine seasons.
? Junior guard Anthony Clemmons made 17 of his last 19 (.895) free throw attempts combined the last eight games.
? Mike Gesell's five assists against Gonzaga in last season's NCAA Tournament moved the point guard into a tie with Kenny Arnold (1979-82) for eighth place in career assists (352).
? Adam Woodbury collected six assists to go along with his 11 points at Michigan last season. Woodbury became just the third Big Ten 7-footer to post 10+ points and 6+ assists in a game since 1996-97.
? Iowa's 83-52 dominant performance over Davidson in the NCAA Second Round was the program's first tournament win since 2001. It also marked the largest margin of victory in an NCAA Tournament 7/10 match-up.
? Iowa has had a first-team All-Big Ten honoree in each of the last two seasons: Devyn Marble in 2014 and Aaron White in 2015.
? Iowa is 39-6 when scoring 80 points or more, the last five seasons. The Hawkeyes are 56-2 when holding opponents to fewer than 61 points, the last six years.
FLOCKING TO CHA
Iowa sold out 16 home games the last two seasons. The Hawkeyes ranked 20th in national attendance in 2015, averaging 14,101 fans. It is the second straight season and 21st time that Iowa has cracked the top 20 in the national attendance rankings. Additionally, Iowa played in front of 475,998 fans in its 34 games (home, away, and on neutral courts) throughout the season. That figure ranked 13th in the country. As a conference, the 14 Big Ten schools averaged 12,781 fans to lead in the nation in average attendance for a 39th consecutive season. More than three million fans witnessed Big Ten games in person throughout the course of the 2014-15 season. For the second consecutive year, Iowa was one of seven Big Ten schools to rank in the top 20 nationally.
WELCOME NEWCOMERS
Despite having four returning starters, plus another who has starting experience, Iowa welcomes 10 newcomers to its 2015-16 roster. The 10 newcomers includes two players who received redshirts last season (Nicholas Baer and Brady Ellingson). Iowa's 10 newcomers ties for third most among Division I schools: Portland State and Tennessee State have 11, followed by Iowa, UTEP, and Nebraska with 10. The Hawkeyes add five freshmen (Isaiah Moss, Andrew Fleming, Brandon Hutton, Ahmad Wagner, and Christian Williams), and three junior college transfers (Dale Jones, and Michael and Steven Soukup). The Soukups are identical twins.
DISTRIBUTOR AND PROTECTOR
Point guard Mike Gesell has done an outstanding job directing the Hawkeye offense his first three seasons. Gesell owns two of Iowa's top four assist-to-turnover ratio's since the 1996-97 season. His 3.05 ratio in 2013-14 ranks first, while his 2.21 ratio in 2014-15 ranks fourth. Dean Oliver's 2.75 ratio in 2000-01 is second, followed by Ryan Luehrsmann's 2.21 in 1997-98 ranking third. Gesell had nine assists and three turnovers (3.0) in Friday night's win over Gardner-Webb.
UTHOFF, GESELL, WOODBURY EARN ACADEMIC DISTINCTION
Mike Gesell and Jarrod Uthoff were named 2015 Capital One Academic All-District first team honorees for their combined performance athletically and in the classroom. Gesell was also tabbed third team Academic All-America, becoming the first Hawkeye to accomplish the national distinction since Adam Haluska (first team) in 2007. Gesell, a native of South Sioux City, Nebraska, earned his degree in finance in three years. He led the team in assists (135) and ranked sixth in the Big Ten in assist-to-turnover ratio (2.2). Gesell averaged 7.4 points per game. Last fall, Gesell earned invitation to Beta Gamma Sigma, the National Scholastic Honor Society for business students at the University of Iowa who have garnered GPA's that place them in the top 10 percent of their class. Uthoff, a native of Cedar Rapids, Iowa, graduated last May with a degree in economics. Uthoff ranked second in team scoring (12.4), rebounding (6.4) and steals (38), and was first in blocked shots (56) and 3-point shooting (54-of-145, .372). Additionally, Gesell, Uthoff, and Adam Woodbury were named 2015 Academic All-Big Ten.
UTHOFF PRODUCING ON THE WING
Jarrod Uthoff, who was named third-team All-Big Ten last season, ranked second in team scoring (12.4 ppg), and steals (1.1), and first in 3-point shooting (54-of-145, .372). He was the only Division I player to have 50+ 3-pointers, 55+ blocks and 35+ steals. Additionally, Uthoff was one of only two Big Ten players to average 12+ points, 6+ rebounds, and 1.5+ blocks (Wisconsin's Frank Kaminsky). Uthoff is one of 10 men's basketball players selected to the 2015 Preseason All-Big Ten team as selected by a media voting panel. The Hawkeye senior netted a game-high 21 points in Friday's opener against Gardner-Webb. His 56 blocks and 54 triples rank fourth and fifth best, respectively, by an Iowa junior in program history. Uthoff had two double-doubles in 2014-15 (North Florida and Michigan State). He had 10 points and a personal-best 12 boards against North Florida (Dec. 22), and 12 points and a team-best 10 rebounds versus Michigan State (Jan. 8).
FRESH START
Peter Jok made his first start of his career on Dec. 22, 2014, versus North Florida. The native of West Des Moines, Iowa, started 21 of the last 22 games last year. Jok is starting 2015 with a new number, changing from No. 3 last year to No. 14 this season. Jok averaged seven points per game in 2015, which ranked fifth on the squad. He made at least one triple in 18 of the last 25 games, including multiple 3-pointers in seven of the last 13 contests. Jok's 36 triples in 2015 rank as the sixth most by a Hawkeye sophomore in program history. His 19 steals, 44 assists, 83 field goals and 36 treys last season were single season bests. He scored 12 points in Iowa's win over Davidson, while grabbing five rebounds. Jok reached double figure scoring in two of three NCAA Tournament games played (Tennessee in 2014 and Davidson in 2015).
EXPERIENCED BACKCOURT
Iowa has two senior point guards (Mike Gesell and Anthony Clemmons) and a junior shooting guard (Peter Jok) on this season's roster. Clemmons, who has started 26 of 105 games, was named the team's Most Improved Player last spring after leading the team in 3-point accuracy (.373) and posting single-season bests in rebounding, steals, scoring average, and free throw percentage in 2014-15. Gesell is a four-year starter, who has 807 points, 361 assists, and 119 steals.
MUSCLE GAIN
Last season, freshman Dom Uhl was listed a 6-foot-8 and 195 pounds at the start of the season. After a year in the weight room, the sophomore forward checks in a 6-foot-9 and 215 pounds entering this season. Uhl earned the team's Newcomer Award last year. Uhl had a solid start to the 2015-16 season posting career highs in blocks (2), assists (3), and rebounds (6) while scoring six points in Iowa's opener against Gardner-Webb Friday night.
GESELL NOMINATED FOR GOOD WORKS TEAM
Senior Mike Gesell is a nominee for the 2016 Allstate NABC Good Works Team. This prestigious community service award recognizes a distinguished group of student-athletes who have demonstrated a commitment to enriching the lives of others and contributing to the greater good in their communities. College sports information directors and basketball coaches across the country nominated players who exhibit exceptional leadership skills and an unwavering commitment to volunteerism.
IN MEMORY…
Iowa's all-time leading scorer, Roy Marble, passed away on Sept. 11, 2015, at the age of 48. Marble led the Hawkeyes to four straight NCAA Tournament appearances, including advancing to the Elite Eight in 1987 and Sweet 16 in 1988, and led the team in scoring three consecutive seasons. In memory of Marble, RM23 is stitched on the upper right corner of Iowa's jerseys this season.
2 HAWKEYES SELECTED IN LAST 2 NBA DRAFTS
Roy Devyn Marble and Aaron White were selected in the second round of the NBA Draft each of the past two seasons — Marble in 2014 by Orlando and White in 2015 by Washington. The Hawkeyes are one of four Big Ten schools to have multiple players drafted by NBA teams the last two years.
HAWKEYEBASKETBALL.COM
Check out the Iowa basketball team's website, HawkeyeBasketball.com, devoted to everything on-and-off-the-court surrounding the program. HawkeyeBasketball.com, allows fans a chance to go behind the scenes with the Hawkeye basketball program on and off the court. The site is complete with exclusive videos, photo galleries and content featuring the basketball program.
McCAFFERY'S HONORED WITH FIGHTING SPIRIT AWARD
The American Cancer Society honored Fran and Margaret McCaffery with the Fighting Spirit Award, Sept. 30, in Troy, New York, at the 10th Anniversary Coaches vs. Cancer Basket Ball. The McCaffery's were honored for bringing attention and their tremendous amount of fundraising for cancer research. McCaffery was also honored with the Coaches vs. Cancer Champion Award during Final Four Weekend in Indianapolis last April. The honor is awarded annually to a college coach who has been engaged vigorously in the Coaches vs. Cancer program's fundraising, education and promotional initiatives and has demonstrated leadership in the fight to save more lives from cancer.
IOWA HISTORY
Iowa has played 2,675 games since beginning basketball in 1902. Iowa's overall record is 1,573-1,102 (.588). That includes a 1,004-353 (.740) record in home games, a 565-746 (.431) record in contests away from Iowa City, a 741-751 (.497) mark in Big Ten games and a 408-127 (.763) record in Carver-Hawkeye Arena.
COACHING EXPERIENCE
Fran McCaffery has the most experienced coaching staffs in the country. The Iowa men's basketball staff has 67 years of combined collegiate head coaching experience and more than 130 years of collegiate coaching under their belts — the most experience of any Division I college basketball program in the country.
HY-VEE BIG FOUR CLASSIC TICKETS ON SALE
The state's four NCAA Division I men's basketball teams will be in action in the same venue for the fourth consecutive year at Wells Fargo Arena on Saturday, Dec. 19. The first game of the doubleheader will feature Drake and Iowa beginning at 3:30 p.m. The game will be broadcast on ESPN3.com. Iowa State and UNI will play the second game at 6 p.m., with the game being broadcast on ESPNU. Tickets, which range in price from $25-70, are on sale exclusively through Hy-VeeTix.com, 844-55-HYVEE, 22 Hy-Vee Stores in Des Moines and Ames, or the Wells Fargo Arena Box Office. Tickets are good for admission to both games of the doubleheader. One of the marquee basketball events in the Midwest, the Hy-Vee Big Four Classic will look to grow its attendance for the fourth straight year. More than 13,000 fans have turned out for each year of the event, including a record 15,124 fans streaming through the Wells Fargo Arena turnstiles in 2014.
ON THE HORIZON
Iowa will travel to Milwaukee for the Gavitt Games and a contest against Marquette on Thursday. Tipoff is scheduled for 8 p.m. (CT) at the BMO Harris Bradley Center. The game will be televised nationally on FS1.