Box Score
Nov. 14, 2015
Final Stats | USATSI Gallery

| Photo Gallery

By JAMES ALLAN
hawkeyesports.com
IOWA CITY, Iowa — Floyd, come on home.
The eighth-ranked University of Iowa football team moved to 10-0 for the first time in school history with a 40-35 victory over Minnesota in front of a sellout crowd of 70,585 Saturday night inside Kinnick Stadium.
The win is Iowa's seventh straight over Minnesota in Iowa City and brings the coveted traveling trophy, Floyd of Rosedale, to the Stew and LeNore Hansen Football Performance Center after a year hiatus.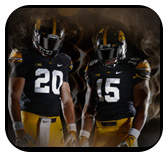 "We expected this to be a tough, hard-fought football game, and it was," said UI head coach Kirk Ferentz. "It was a physical football game, and at the end of the day it was a great team victory. The guys played off and complimented each other and did a lot of great things out there.
"As we move forward, that puts us one step closer to doing some good things. It makes us 2-0 in November, which we're thrilled about."
1st
2nd
3rd
4th
Final
7
7
7
14
35
7
17
3
13
40
Stat Comparisons
First Downs
24
27
Rushing Attempts-Yards
29-133
48-272
Passing Yards
301
234
Passing (Comp.-Att.-Int.)
20-28-0
19-27-0
Total Offense
57-434
75-506
Punts-Avg.
5-45.8
2-38.0
Fumbles-Lost
0-0
0-0
Penalties-Yds
12-87
4-50
Time of Possession
24:28
35:32
3rd-Down Conversions
5-of-10
10-of-15
4th-Down Conversions
0-of-0
0-of-0
Iowa Statistical Leaders
Passing
Comp.
Att.
Yds.
TD
C.J. Beathard
18
26
213
0
Rushing
Carries
Yds.
Avg.
TD
LeShun Daniels, Jr.
26
195
7.5
3
Receiving
Rec.
Yds.
Avg.
TD
Matt VandeBerg
6
74
12.3
0
Defense
Solo-Assists
TOTAL
Sacks
Int.
Josey Jewell
5-8
13
1
0
Minnesota Statistical Leaders
Passing
Comp.
Att.
Yds.
TD
Mitch Leidner
19
27
259
1
Rushing
Carries
Yds.
Avg.
TD
Shannon Brooks
14
86
6.1
1
Receiving
Rec.
Yds.
Avg.
TD
K.J. Maye
7
106
15.1
1
Defense
Solo-Assists
TOTAL
Sacks
INT.
Antonio Johnson
7-7
14
0
0
On a night when the defense was a little off, junior C.J. Beathardand the offense provided the pick-me-up. The Hawkeyes piled up a season-high 506 yards and scored on seven of their 10 offensive possessions, including all four possessions in the first half.
Iowa had an 11-plus minute advantage in time of possession (35:32-24:28), converted 10-of-15 third-down conversions, and scored each of the five times it reached the red zone. The Hawkeyes have scored 30 or more points in four consecutive Big Ten Conference games for the first time in school history.
"One thing about college football is you just never know how the game's going to play out," said Ferentz. "Today we gave up some big plays that were uncharacteristic. When something did happen, the offense responded.
"Nothing seems to get our guys down. They come back and take the next possession and go and try to do something with it. I am proud of the guys there."
Beathard completed 18-of-26 attempts for 213 yards, completing passes to seven different receivers. Junior Matt VandeBerg had six receptions for 74 yards — one coming from senior Tevaun Smith on a wide receiver pass early in the fourth quarter.
Iowa's rushing attack churned out 272 yards in the contest with junior LeShun Daniels, Jr., carrying the load to the tune of 195 yards on 26 attempts with three touchdowns. Beathard appeared to be as healthy as he has been since Week 6, rushing for 50 yards and two touchdowns, and senior Jordan Canzeri contributed 31 yards on 10 attempts.
"Today looked like the opening ballgame for C.J.," said Ferentz. "That's a really good thing."
Minnesota's offense nearly went toe-to-toe, compiling 434 yards and picking up 24 first downs despite running 18 fewer plays in the contest. Quarterback Mitch Leidner completed 19-of-27 attempts for 259 yards and a touchdown.
Iowa's offense provided punch-after-punch in the second half, but each time Minnesota answered.
The Hawkeyes opened up a 27-14 lead on a 38-yard Marshall Koehn field goal with 8:04 remaining in the third quarter, but the Gophers nickel and dimed the Hawkeye defense on a 75-yard scoring drive that ended with a 1-yard plunge from Roderick Williams to cut the deficit to 27-21.
Junior Desmond King set up the Hawkeyes' answer with a 58-yard kickoff return to set up a short field. On third-and-3 from the 30, Beathard hit senior Tevaun Smith for a 29-yard gain to the 1. Beathard pushed the lead to 33-21 with a 1-yard touchdown run on a sneak with 14:30 left.
Minnesota closed the gap to 33-28 with 5:32 left, courtesy of trickery. Tight end Brandon Lingen made a leaping catch on first down for 18 yards before Shannon Brooks took a handoff on a sweep, pulled up, and connected with Drew Wolitarsky for a 42-yard touchdown pass.
Daniels put a stranglehold on the Iowa win on the next series when Hawkeye fans held their collective breaths with Beathard laying on his back near midfield (he missed one play). Daniels rushed for 8, 1, 5, 4, and 4 yards to midfield before taking a handoff, bursting into the secondary, hopping to his left, and exploding for a 51-yard touchdown run to give Iowa a 40-28 lead with 2:01 left.
The Gophers wouldn't roll over as they needed just 45 seconds to find the end zone. Leidner completed passes five passes of 13 or more yards during the series before Brooks pounded his way into the end zone from 3-yards out to cut the deficit to 40-35 with 1:16 remaining.
Minnesota's hopes dwindled away when placekicker Ryan Santoso's got too much juice on his on-side kick attempt as it sailed out of bounds to seal the Hawkeye victory.
The two teams traded touchdowns on four straight possessions in the first half.
Iowa took a 7-0 lead on a 17-play, 91-yard scoring drive that ended with a 3-yard run from Daniels, Jr. Minnesota tied the game when Leidner capped off a 75-yard answer, scoring from 2-yards out with 1:54 left in the quarter.
Beathard put the Hawkeyes up 14-7, scoring on a naked boot to cap off a 78-yard scoring drive. Minnesota tied the game with a 75-yard drive of its own. It ended when Leidner rolled to his right and threw back to his left, hitting Lingen for a 40-yard touchdown strike.
The Hawkeyes seized the momentum before the half, scoring the final 10 points. Koehn hit a 47-yard field goal to give Iowa a 17-14 lead before the Hawkeyes went 97 yards on the final drive of the first half. On first-and-10 from his own 28, Beathard bought time in the pocket before hitting Henry Krieger Coble for a 32-yard pass to the 32.
Beathard brought the Hawkeyes into the red zone with his feet, scrambling for a 26-yard gain to the Minnesota 14. After a pass interference call moved the ball to the 2, Daniels, Jr., scored on the next play to stretch Iowa's lead to 24-14 with 44 seconds left in the half.
Iowa closes out its home schedule Nov. 21, hosting Purdue at 11 a.m. (CT). The Hawkeyes' seniors will be honored prior to kickoff.
"The fans were fantastic, the energy was present from the time we came up in pregame," said Ferentz. "I hope I see all 70,000-plus fans next Saturday to send these seniors off."