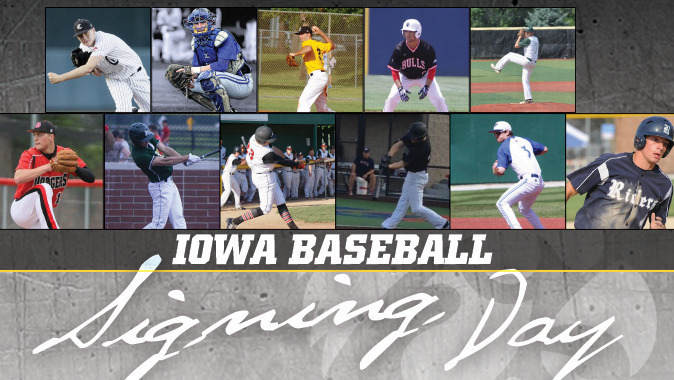 Nov. 16, 2015
IOWA CITY, Iowa — University of Iowa head coach Rick Heller announced the signing of an 11-player recruiting class that will join the Hawkeye baseball program in 2017. The class is the third-best in the Big Ten Conference by Perfect Game.
"We are excited about the talent coming in the 2016 class," said Heller. "This is position player dominated class since last year was such a pitching-heavy group. We were able to fill this year's needs with some talented players.
"Recruiting coordinator, Marty Sutherland and pitching coach, Scott Brickman did an amazing job locating and recruiting not only great players, but great kids. Those guys do an awesome job."
The class consists of two junior college recruits from NJCAA Division I power, Iowa Western Community College, and nine high school recruits. All nine prep recruits are top 500 players by Perfect Game.
Eight of the 11 players are Iowa natives while one recruit hails from South Dakota, Indiana, and Wisconsin. The class consists of eight positional players, two pitchers, and one dual-position player.
2016 Iowa Baseball Recruiting Class
Name
Pos.
Ht.
Wt.
Hometown (Last School)
Tyler Cropley
C/OF
5-11
180
McCook Lake, S.D. (Iowa Western CC)
Kyle Crowl
SS
6-2
180
Council Bluffs, Iowa (Abraham Lincoln)
Matt Hoeg
IF
6-0
175
Waukee, Iowa (Iowa Western CC)
Justin Jenkins
OF
6-0
175
Terre Haute, Ind. (Terre Haute South)
Grant Judkins
3B/RHP
6-3
190
Pella, Iowa (Pella)
Kole Kampen
LHP
6-1
185
Fort Dodge, Iowa (Fort Dodge)
Adam LaRock
SS/OF
6-0
175
Eau Claire, Wis. (Eau Claire North)
Connor Lindaman
1B
6-5
225
Davenport, Iowa (Davenport Assumption)
Kace Massner
OF
6-5
210
Burlington, Iowa (Burlington)
Ben Norman
OF
6-2
170
Des Moines, Iowa (Roosevelt)
Cole Pennock
LHP
6-7
215
Clinton, Iowa (Clinton)

Tyler Cropley
Tyler Cropley
5-11, 180, R/R, C/OF
McCook Lake, S.D.
Iowa Western Community College (Marc Rardin)
Bishop Heelan High School (Andy Osborne)
– Hit .511 with four doubles and four home runs during fall season at Iowa Western Community College… scored 18 runs, drove in 16, and had seven steals
– Finished with a .271 (23-of-85) average with six doubles, 21 runs, 19 RBIs, and three steals in 45 games as freshman at Iowa Western… helped Reivers to fifth place finish at NJCAA D1 World Series, finishing season with 56-11 record
– Three-time high school all-state selection
– Four-time all-conference and three-time all-district and All-Western Iowa honoree
– 2014 All-Iowa Super Team selection
– Played in Iowa All-Star Baseball Series
– Was an elite all-state and all-division honoree in football
Coach Heller on Cropley:
"Tyler isn't your status quo catcher. He is extremely athletic, can catch and throw, has some pop in his bat, and as a huge bonus, can really run. Tyler is a great leader on and off the field, and we feel he will be a great fit at Iowa. We couldn't be happier to have Tyler in our program."

Kyle Crowl
Kyle Crowl
6-2, 180, R/R, SS
Council Bluffs, Iowa
Abraham Lincoln High School
Perfect Game Select (Steve James)
– Ranked as the No. 367-best player nationally by Perfect Game
– 2014 and 2015 Underclass High Honorable Mention by Perfect Game
– First-team all-conference and all-district selection in 2015… was a Perfect Game Preseason All-American
– Hit .379 with 13 doubles, 21 runs, and 17 RBIs as a junior… also stole seven bases
– Also earned all-conference and All-Western Iowa honors in basketball, where he is the state record holder for 3-pointers made in a game with 13… is a two-time state qualifier in tennis, where he was a conference, district, and city singles champion
– Earned academic all-conference honors in all three sports and was a member of the Honor Roll
Coach Heller on Crowl:
"Kyle is an excellent defensive middle infielder, who can also really swing the bat. He always has a hop in his step and loves to play. Kyle's energy is contagious. He is a solid all-around player with tremendous upside. We are glad that Kyle will be a Hawkeye."

Matt Hoeg
Matt Hoeg
6-0, 175, R/R, IF
Waukee, Iowa
Iowa Western Community College (Marc Rardin)
Waukee High School (Dave Dirxx)
– Hit .340 with seven doubles and one home run during fall season at Iowa Western Community College… scored 12 runs, drove in 10, and had three steals
– Finished with a .311 (28-of-90) average with six doubles, two triples, and two home runs as a freshman at Iowa Western… drove in 21, scored 17 runs, and had a .489 slugging percentage… helped Reivers to fifth place finish at NJCAA D1 World Series, finishing season with 56-11 record
– Two-time first-team all-conference selection
– 2014 first-team all-state honoree
– 2013 elite all-state selection in football
Coach Heller on Hoeg:
"Matt is a solid all-around player who can defend at all the infield positions extremely well. He is an excellent hitter and plus runner. Matt is a good baseball player with all the intangibles you like to see. We are happy to have Matt in our program."

Justin Jenkins
Justin Jenkins
6-0, 175, L/L, OF
Terre Haute, Ind.
Terre Haute South High School (Kyle Kraemer)
Indiana Bulls (Sean Laird)
– Ranked as a top-500 player nationally by Perfect Game
– Three-time all-conference selection
– 2015 Underclass High Honorable Mention by Perfect Game
– Hit .383 with four doubles, three triples, and two home runs as a junior… scored 29 runs, drove in 10, and had 13 steals.
– First-team all-state selection as a receiver in football… broke the single-season receiving record in 2014
– Member of the National Honor Society and named to the Honor Roll from 2013-15
Coach Heller on Jenkins:
"Justin is an excellent defensive centerfielder who will bring good speed and savvy to our program. He is a leadoff-type hitter who runs the bases well. Justin is a great leader on and off the field and we are happy that he chose to be a Hawkeye."

Grant Judkins
Grant Judkins
6-3, 190, L/R, 3B/RHP
Pella, Iowa
Pella High School (Jesse Jablonski)
Perfect Game Select (Steve James)br>
– Ranked as the No. 226-best player nationally by Perfect Game
– 2015 IHSBA first-team all-state selection, elite all-state, and 2015 3A Player of the Year
– 2015 Underclass High Honorable Mention by Perfect Game
– Two-time first-team all-conference selection
– Went 11-1 with a 0.56 ERA as a junior… struck out 112 in 74 innings and issued just 10 walks
– Hit .520 with 14 doubles, nine triples, and 13 home runs… had 57 RBIs, scored 51 runs, and stole 15 bases
– Member of the National Honor Society
Coach Heller on Judkins:
"Grant is a legitimate two-way player. Defensively, he is an outstanding third baseman who can really swing the bat. We feel he is one of the best hitters in the Midwest, who has the ability to hit for average and power. On the mound, Grant made a big velocity jump last year and looks to come in and get some innings right away. He is an excellent student and leader, and we are happy Grant will be at Iowa next year."

Kole Kampen
Kole Kampen
6-1, 185, S/L, LHP
Fort Dodge, Iowa
Fort Dodge High School (Matt Elsbecker)
Perfect Game Select (Steve James)
– Ranked as the No. 449-best player nationally by Perfect Game
– 2015 IHSBCA first-team all-state honoree
– 2015 Underclass High Honorable Mention by Perfect Game
– First-team all-district, All-CIC Conference, and All-North Division in 2015
– Went 4-0 with a 0.42 ERA over 33 innings as a junior… had 57 strikeouts to eight walks and allowed just 20 hits
– Second-team all-conference in 2013 and 2014
– Four-year letterwinner in football, earning second-team all-conference and all-district honors in 2014 and 2015 and a CIC honorable mention distinction in 2013
– Also lettered in wrestling in 2012
Coach Heller on Kampen:
"Kole is one of the top pitchers in our state and we are glad that he has chosen to be a Hawkeye! He is a tough, left-handed pitcher who runs his fastball up to the low 90s with a good breaking ball. Kole really competes on the mound."

Adam LaRock
Adam LaRock
6-0, 175, S/R, SS/OF
Eau Claire, Wis.
Eau Claire North High School (Bob Johnson)
GRB Rays (Greg Reinhard)
– Ranked as the No. 427-best player nationally by Perfect Game
– 2015 Underclass High Honorable Mention by Perfect Game
– Two-time all-conference and two-time first-team all-area
– Has a .329 career average with six home runs, 32 RBIs, and 20 steals
– Three-year varsity starter in baseball, football, and basketball… school's all-time leader in passing yards, touchdowns and completion percentage
Coach Heller on LaRock:
"Adam is a talented middle infielder who can really run and throw. Offensively, he is a switch hitter with a lot of potential. Adam is a hard-nosed competitor. He has had to fight through some injuries the last few months, but because of his work ethic, he will bounce back. We are excited Adam has chosen Iowa."

Connor Lindaman
Connor Lindaman
6-5, 225, R/R, 1B
Davenport, Iowa
Davenport Assumption High School (Bill Argo)
Perfect Game Select (Steve James)
– Ranked as a top-500 player nationally by Perfect Game
– First-team all-state by the IHSBCA and media as a junior
– 2015 Underclass High Honorable Mention by Perfect Game
– First-team all-district, all-metro, and all-conference in 2015
– Led the conference in doubles (17) and RBIs (36) as a junior… hit .386 with three home runs and scored 34 runs
– Also was a first-team all-state selection in football
Coach Heller on Lindaman:
"Connor is a physical first baseman who will bring a power bat to our program. He moves well for his size and will be a solid defensively. Connor has a good arm and may be able to give us some innings on the mound as well. We are glad that Connor will be a Hawkeye."

Kace Massner
Kace Massner
6-5, 210, L/R, OF
Burlington, Iowa
Burlington High School (Brock Schneden)
Perfect Game Select (Steve James)
– Ranked as the No. 461-best player nationally by Perfect Game
– 2014 and 2015 Underclass High Honorable Mention by Perfect Game, achieving a 9.5 player rating on a 10-point scale
– 2014 All-American Games Under Class Team
– Named to Rawlings Top Prospect Team seven times
– Finished junior season with eight doubles and one triple… scored 26 runs, drove in 12, and had 13 steals
– Has 14 doubles, two triples, three home runs, 51 runs, 45 RBIs, and 22 steals in 22 attempts in first two high school seasons… has a .408 on-base and .421 slugging percentage
– Also a member of the varsity basketball and golf teams
– Three year Honor Roll selection and seven-time All-Academic Student-Athlete Award recipient
Coach Heller on Massner:
"Kace is a big, athletic outfielder who hits from the left side. He is one of the fastest players in the Midwest with a 6.4 60-yard dash. Kace has a big upside and strong work ethic. We are excited to work with him and happy he will be a Hawkeye."

Ben Norman
Ben Norman
6-2, 170, L/R, OF
Des Moines, Iowa
Roosevelt High School (Randy Wee)
Perfect Game Select (Steve James)
– Ranked as a top-500 player nationally by Perfect Game and as the No. 2 outfielder in Iowa
– First-team all-conference and all-district selection in 2014, honorable mention as a sophomore
– 2015 Underclass High Honorable Mention by Perfect Game
– Hit .331 with eight doubles and two triples as a junior… scored 29 runs, drove in 10, and stole 13 bases
– Also was a starter and varsity letterwinner in basketball
– Member of National Honor Society and Principal's List, carrying a 4.06 GPA
Coach Heller on Norman:
"Ben is an athletic outfielder who can run, throw, and hit. He can really swing it from the left side and we believe he will hit for both average and power. Ben plays the game the right way, and we are happy he has chosen to be a Hawkeye."

Cole Pennock
Cole Pennock
6-7, 215, L/L, LHP
Clinton, Iowa
Clinton High School (Kevin Cunningham)
– Ranked as a top-500 player nationally by Perfect Game
– Ranked as one of the top prospects in the nation by "The Scouting News" and as a five-star recruit and one of the top pitchers in Iowa by Iowa Preps
– 2015 Underclass High Honorable Mention by Perfect Game
– Currently recovering from Tommy John surgery
– All-conference, all-district, all-metro, and team's Most Valuable Pitcher in 2013, where he led Class 4A in wins as a freshman, going 11-3 with a 3.33 ERA with 56 strikeouts in 72 innings
– Three-year team captain in baseball
– Varsity letterwinner in basketball
– Recipient of the 2014 Dan Roushar Award for Leadership (basketball), three-year Future Business Leaders of America member
– Member of the National Honor Society
Coach Heller on Pennock:
"Cole is a big lefty with a huge upside. He has battled some injuries the last couple of years, but we believe he will develop into a big-time arm for us. Cole competes on the mound and is top student. I'm happy that Cole will pitch for us at Iowa."