Nov. 18, 2015
Notes in PDF Format

ON THE MAT
The second-ranked University of Iowa wrestling team hosts Maryland on Friday at 11 a.m. (CT) in advance of the Iowa City Duals. The Terps are making their first ever appearance at Carver-Hawkeye Arena. the enter the dual 1-2 overall. The dual is the Big Ten opener for both schools. Following the Maryland dual, the Hawkeyes host Grand Canyon (12:30 p.m.), Iowa Central (2 p.m.), and Cornell College (3:30 p.m.) in the eighth annual Iowa City Duals. Admission is $12 for adults, $8 for youth, and free for UI students and children five-years-old and younger. Times are subject to change.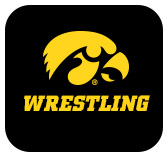 BIG TEN OPENERS
Friday's dual against Maryland is the Big Ten opener for both schools. The Hawkeyes have won 17 straight conference openers since losing to Penn State, 25-17, at home in 1997-98. The Hawkeyes have won or shared seven of the last eight Big Ten dual championships, and have won or shared the regular season title eight times since the conference started recognizing a dual meet champion in 1999. Iowa won the title outright in 2000, 2008, 2009, 2010, 2011, 2013, and 2015, and shared the title in 2003 and 2014.
THE SERIES — MARYLAND
Maryland is making its first ever trip to Iowa City. The teams have met three times previously, all Hawkeye wins. The Hawkeyes won 25-6 at Maryland in 1973, 33-3 in 2015, and 34-6 at a neutral site in 2009.
IOWA CITY DUALS
This season marks the eighth year of the Iowa City Duals. The Hawkeyes are 22-0 in the history of the duals, and Iowa wrestlers own a 212-8 record in the event. Iowa Central is making its seventh appearance in the duals. Cornell is making its sixth appearance and Grand Canyon is making its first.
IOWA CITY DUALS OPPONENTS
The Hawkeyes have a combined record of 15-3 against Friday's opponents. Iowa owns an 8-3 series advantage over Cornell. The Hawkeyes lost the first three meetings of the series beginning in 1930. The Rams scored consecutive victories in 1930 (17-13), 1932 (15.5-10.5) and 1933 (17-11). Iowa won its first series meeting, 22-11, in 1970. The Hawkeyes have since run their series win streak to eight with victories in 2007 (51-0), 2009 (57-0), 2010 (43-0), 2011 (42-0), 2012 (49-3), 2013 (50-3), and 2014 (55-0). The Hawkeyes own a 7-0 series advantage against Iowa Central. The Hawkeyes won the first series meeting, 49-0, in 2000, and own wins in 2007 (50-0), 2008 (52-0), 2010 (45-0), 2011 (37-6), 2013 (55-0), and 2014 (49-3).
CARVER-HAWKEYE ARENA DEBUTS
Four Hawkeyes in the probable lineup could make their Carver-Hawkeye Arena debuts Friday. Redshirt freshmen Logan Ryan (141), Skylar St. John (157), Burke Paddock (165), and Sam Stoll are in line to wrestle in the famed arena for the first time. Ryan and Stoll both made their home debuts Saturday, Nov. 14, against Oklahoma State at the "Grapple on the Gridiron" inside Kinnick Stadium. Ryan fell to top-ranked Dean Heil, 7-1, and Stoll lost, 6-1, to No. 5 Austin Marsden.
BROOKS EARNS WEEKLY HONORS
Junior Sammy Brooks was named Big Ten and USA Wrestling Athlete of the Week on Nov. 16. The Oak Park, Illinois, native used four takedowns and eight nearfall points to earn a 17-2 technical fall over Oklahoma State's Jordan Rogers at the "Grapple on the Gridiron" on Nov. 14. Brooks' bonus points at 184 pounds gave Iowa a 15-13 lead and proved to be the difference in the Hawkeyes' 18-16 win over the top-ranked Cowboys. Each week USA Wrestling selects an Athlete of the Week based upon performance within wrestling for that week. The selection committee will consider any level of wrestling, from youth programs through the senior level.
HAWKEYES AT HOME
The Hawkeyes are 224-22 all-time at Carver-Hawkeye Arena since moving from the UI Field House in 1983. The Hawkeyes have recorded 20 undefeated season in Carver-Hawkeye Arena, the most recent in 2012-13 (9-0). Carver-Hawkeye Arena has hosted three Big Ten Championships (1983, 1994, 2005) and four NCAA Championships (1986, 1991, 1995, 2001). The Hawkeyes have won five tournament titles on their home mat, including the 1983 and 1994 Big Ten Championships, and the 1986, 1991 and 1995 NCAA Championships. Carver-Hawkeye Arena is hosting the Big Ten Championships for the fourth time March 5-6.
THE ATTENDANCE GAME
The "Grapple on the Gridiron" on Nov. 14 set an NCAA dual attendance record, as 42,287 fans flocked to Kinnick Stadium to witness Iowa defeat Oklahoma State, 18-16. The dual shattered the previous NCAA dual attendance record of 15,996 set by Penn State in 2013 (vs. Pitt). Iowa and Oklahoma State have been involved in four of the top 25 attended duals in NCAA history. On Jan. 7, 2012, 15,400 fans watched Oklahoma State defeat Iowa, 17-16, based on tiebreak criteria. At the time, it was the third largest attended dual in NCAA history, and today it ranks fifth all-time. The Hawkeyes have led the country in attendance nine consecutive seasons. In 2014-15, Iowa averaged 8,358 fans in six duals and led the country in total attendance with 55,390 fans attending seven home dates (including Iowa City Duals). The Hawkeyes averaged at least 8,000 fans for the seventh consecutive season. Iowa was involved in the three highest attended duals last season, including at Penn State (15,967), at Minnesota (13,620) and at home against Iowa State (11,882).
HAWKEYE WRESTLING HISTORY
Iowa's overall dual meet record is 959-225-31 (.799) in 104 seasons. The Hawkeyes have won 23 national titles and 35 Big Ten titles. Iowa's 53 NCAA Champions have won a total of 81 NCAA individual titles, crowning six three-time and 16 two-time champions. The Hawkeyes' 109 Big Ten champions have combined for 195 conference titles. There have been seven four-time, 18 three-time, and 29 two-time Iowa winners. Iowa's 152 All-Americans have earned All-America status 313 times, including 18 four-time, 34 three-time and 40 two-time honorees.
DOMINANT SINCE NO. 1
Gary Kurdelmeier led Iowa to its first NCAA Championship in 1975, and in the 41 years since, the Hawkeyes have accumulated 23 team titles, more than any other school — Oklahoma State (7), Penn State (4), Minnesota (3), Iowa State (2), Ohio State (1) and Arizona State (1).
ALL-AMERICAN STREAK
Iowa returns four All-Americans this year — Thomas Gilman (125), Cory Clark (133), Brandon Sorensen (149), and Nathan Burak (197). The Hawkeyes had a tournament-high six All-Americans in 2015. Mike Evans (6th/174) and Bobby Telford (5th/285) won All-America honors for the third time, Nathan Burak (7th/197) and Cory Clark (2nd/133) became two-time All-Americans, and Thomas Gilman (4th/125) and Brandon Sorensen (4th/149) are first-time All-Americans. The Hawkeyes crowned at least one All-American for the 44th consecutive season, a stretch dating back to 1972. Iowa has totaled 267 All-America honors during that stretch.
CLARK EXTENDS RUN TO 26
Sophomore Cory Clark advanced to the finals at 133 pounds in 2015 to extend Iowa's streak of NCAA finalists to 26 consecutive years. Iowa has had at least one wrestler in the national finals every year since 1990, and in 40 of the last 41 seasons dating back to 1975.
TICKET INFORMATION
Season and single dual tickets are now available for purchase on hawkeyesports.com. Season tickets for seven home dates are available for $80. UI students and children five-years old and younger are admitted free to all wrestling events. Single dual tickets are $12 for the Iowa City Duals (Nov. 20), and duals against South Dakota State (Dec. 4), Rutgers (Dec. 10), Purdue (Jan. 22), and Indiana (Feb. 5). Adult tickets are $15 for the Minnesota dual (Jan. 29). Youth tickets (18 and younger) are $10 for the Minnesota dual, and $8 for all other duals. Iowa will host the National Duals on one of two dates yet to be determined (Feb. 21 or Feb. 22).
IOWA ON THE AIR
Iowa wrestling events are broadcast by KXIC and streamed online at Hawkeye All-Access throughout the 2015-16 season. Steven Grace and Mark Ironside will call the action for Hawkeye Sports Properties, a property of Learfield Sports.
PARKING INFORMATION
Parking for the Iowa City Duals will not be available in the vicinity of Carver-Hawkeye Arena throughout the entire day of competition. All parking lots and ramps will be screened and monitored to allow parking for University of Iowa employees in their respective assigned lots as well as being protected for UIHC patients and their visitors.
Those with reserved parking passes in Lots 46 and 75 WILL be able to park in those designated lots.
The only options for public parking near Carver-Hawkeye Arena during the entire day are as follows:
1) Softball Parking Lot — entrance off of Mormon Trek Drive
a. FREE wrestling parking within walking distance (15 minute walk)
2) Varsity Track Complex Lot (gravel & grass) — entrance off of Highway 6 (across from the Vine)
a. FREE wrestling parking within walking distance (15 minute walk)
3) Lot 65 (Finkbine Commuter) — ONLY entrance is off of Melrose Avenue @ Finkbine Golf Course entrance
a. Extremely limited FREE wrestling parking within walking distance (15 minutes)
4) Newton Road Parking Ramp — entrance off Newton Road across from the Medical Education & Research Facility
a. Limited public parking available at the normal hourly rate.
5) Hawkeye Commuter (Bus shuttle)(West Lot) — entrance off of Mormon Trek Drive or Melrose Avenue onto Hawkeye Drive (unlimited)
a. FREE Bus shuttle service from Hawkeye Commuter parking lot to CHA and return (15 minutes). The CAMBUS Hawkeye/Hospital route is also available, which stops on Elliott Drive.