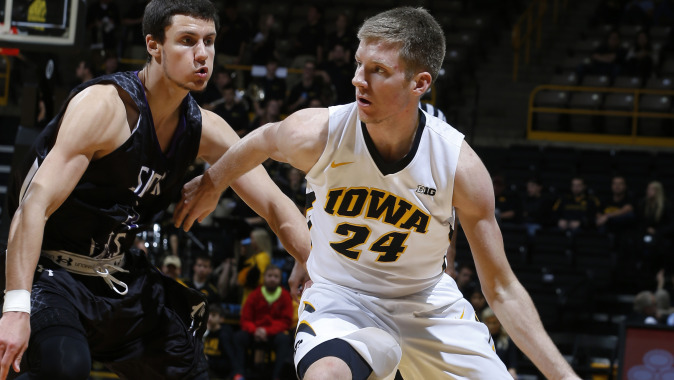 Nov. 19, 2015
Editor's Note: The following first appeared in the University of Iowa's Hawk Talk Daily, an e-newsletter that offers a daily look at the Iowa Hawkeyes, delivered free each morning to thousands of fans of the Hawkeyes worldwide. To receive daily news from the Iowa Hawkeyes, sign up HERE.
By JAMES ALLAN
hawkeyesports.com
IOWA CITY, Iowa — Brady Ellingson returns to his home state Thursday for the inaugural Gavitt Games fresh off his coming out party.
The University of Iowa redshirt freshman scored a career-high 20 points in a 103-68 Hawkeye rout of Coppin State on Nov. 15. Ellingson made 7-of-8 field goals, went 5-of-6 from the free throw line, and pulled in three rebounds in 17 minutes.
"Brady's performance didn't surprise me at all," said senior guard Mike Gesell. "Brady is one of the best shooters I have ever played with. He's a hard worker and has a great feel for the game. He knows where to be at on the court."
Ellingson spent his freshman season on-and-off the court after coming to Iowa City in the summer of 2014 with a stress fracture in his foot, and it hampered him all season. He appeared in seven games, logging 32 minutes and scoring 13 points, before his season was shut down.
"Brady never got any traction, and it took him a long time for him to be on the floor," said UI head coach Fran McCaffery. "When he was able to, he did it without any pressure and could figure everything out without having to worry about playing time. That was a big boost for his confidence and understanding how we play and how he fits."
Once Ellingson found his way back to the court, it helped him grow leaps and bounds.
"Going up against Peter (Jok) and Jarrod (Uthoff) every day helped me get better defensively," said Ellingson. "Offensively, it was working every day with the scout team."
This season a healthy Ellingson has been the first guard off the bench for the 2-0 Hawkeyes. He is averaging 12 points on 64.3 percent shooting in 20 minutes per game. He's showing he is an all-around player.
"Brady is a great basketball player that can shoot the ball," said Gesell. "He's not just a shooter that is looking to shoot 3s. He can put it on the deck, get to the basket, and does a great job of reading screens. When they're chasing him, he curls, and maybe gets someone else open, too."
Ellingson is comfortable with his role early in the season.
"I am moving better without the ball," he said. "My teammates are setting good screens and looking for me coming off of them. That is setting me up for good shots. I know my role. I need to take shots I am capable of making and play good defense."
Ellingson has taken on a new role this week as a ticket broker. Thursday's game will be played 15 minutes from his hometown of Sussex, Wisconsin, in an arena — the BMO Harris Bradley Center — that he frequented as a kid.
"Everybody is asking for tickets," he said. "It will be cool playing at back home against Marquette."
Thursday's game begins a challenging four-game road stretch for the Hawkeyes. After facing the Golden Eagles in the Gavitt Games, Iowa heads to Orlando for three games in the Advocare Invitational, opening against Dayton on Thanksgiving Day.
"It's going to be fun," said Gesell. "That's why you play college basketball; you want to play the best teams. The game against Marquette will be the first big test for us."
Thursday's game will tipoff at 8:15 p.m. (CT), and it will be televised on FS1 with Brian Anderson and Stephen Bardo on the call.