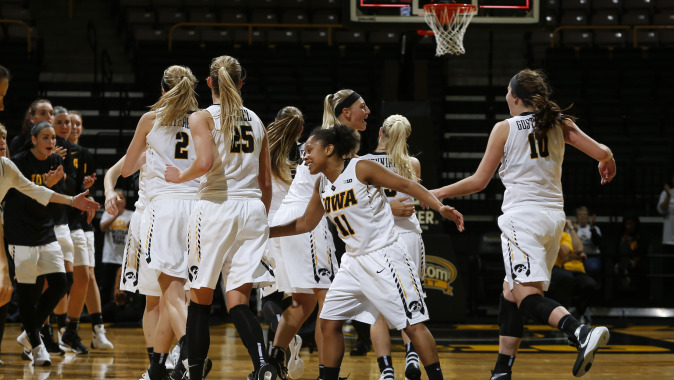 Nov. 20, 2015
Game Notes – at UNI

THE SETTING
The 23rd-ranked University of Iowa women's basketball team hits the road for its first road game of the season at Northern Iowa on Sunday. Tipoff is set for 2 p.m. (CT) at the McLeod Center in Cedar Falls, Iowa.
Game 4 | #23 Iowa (3-0) at Northern Iowa (2-0)
Date:
Sunday, Nov. 22 | 2 p.m. (CT)
Location:
Cedar Falls, Iowa | McLeod Center
TV:
ESPN3
Radio:
1360 KMJM (Cedar Rapids)
Live Coverage:
StatBroadcast | Twitter Game Updates
All-Time Series:
Iowa leads, 18-2
GAME COVERAGE
? Fans can watch Sunday's game live on ESPN3.
? Brent Balbinot and Todd Werner will call the action. Fans can tune in to 1360 AM KMJM or listen live on Hawkeye All-Access.
? Balbinot is in his 12th season as Iowa's play-by-play voice, while Todd Werner is in his first providing analysis.
? Links to audio and live stats are available on the women's basketball schedule page at hawkeyesports.com.
SCOUTING UNI
? The Panthers bring a 2-0 record into the Sunday contest with wins over Rockhurst, 58-39, and South Dakota, 64-43.
? As a team, UNI averages 61 points per game and has held its opponents to 41 points per game thus far. Jen Keitel (13.5) and Amber Sorensen (10.5) average double digit point totals per game.
? The Panthers, comprised of six freshmen, one sophomore, five juniors, and four seniors, are led by ninth-year head coach Tanya Warren.
? UNI earned the program's fifth postseason bid all-time last year when it was invited to compete in the WNIT. Warren has guided her team to the postseason in five of the last six seasons.
SERIES HISTORY
? Iowa leads UNI, 18-2, in the all-time series.
? The Hawkeyes have won eight consecutive games against the Panthers.
? In games played in Cedar Falls, Iowa holds the advantage, 9-1.
? UNI last defeated Iowa, 83-62, in 2006-07 in Iowa City.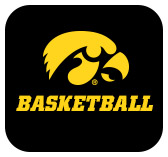 HOME STREAK RANKING
? Iowa women's basketball has won 21 consecutive games on Mediacom Court in Carver-Hawkeye Arena.
? The streak began in when the Hawkeyes posted a perfect 18-0 mark at home in 2014-15 and has continued three games into the 2015-16 season.
? The 21-game win streak is the third longest home win streak in program history.
? Iowa's longest home win streak lasted 46 games, including the final 13 home games of the 1986-87 season, all 14 home games in the 1987-88 season, all 14 home games in the 1988-89 season, and the first five home games of the 1989-90 season.
? The second longest home win streak lasted 25 games. It began when the Hawkeyes went 17-0 at home in 1992-93 and stretched eight home games into the 1993-94 season.
? Twelve home contests remain on the 2015-16 schedule, including nine against Big Ten opponents.
? Iowa was one of 13 teams nationally to finish undefeated on its home court with an 18-0 mark last season, a program record for wins at home in a single season.
PANTHER TIES
? UI head coach Lisa Bluder was a three-year starter at UNI, playing for the Panthers from 1979-83.
? She graduated with a bachelor's degree in marketing in 1983.
? The Marion, Iowa, native was inducted into the Northern Iowa Hall of Fame in 2000.
3-0 START STATS
? Iowa has won its first three games of the season for the fourth consecutive season.
? The Hawkeyes have gotten off to a 3-0 start 18 times in program history.
? The best start in program history, occurred in 1987-88 when the Hawkeyes won their first 22 games of the season. Iowa ended the year with a 29-2 record overall and the outright Big Ten Championship with a 17-1 mark in league action. The Hawkeyes also advanced to the Sweet Sixteen that season.
OVERTIME THRILLER
? Trailing Western Illinois by three points with nine seconds remaining in regulation, sophomore guard Whitney Jennings netted a clutch 3-pointer to send the Hawkeyes to overtime Thursday night.
? Iowa outscored the Leathernecks 18-4 in overtime to secure the win, 96-81.
? Five Hawkeyes scored in double figures, including Megan Gustafson (23), Ally Disterhoft (21), Chase Coley (13), Alexa Kastanek (13), and Whitney Jennings (10).
? Kali Peschel led the Hawkeyes with 11 rebounds, while Gutsafson posted nine boards, one shy of earning her first double-double.
? Gustafson posted career-highs in points (23), rebounds (9), and blocks (3) in 29 minutes off the bench.
? Kastanek and Coley both set career-highs in points with 13 points each.
DISTERHOFT MAKES HISTORY
Junior Ally Disterhoft became the 34th player in Iowa women's basketball history to reach the 1,000 career points mark. The Iowa City, Iowa, native scored 20 points in season-opening action against North Dakota and surpassed the 1,000-point threshold with 11 points against UT Martin.
With 21 points scored in Iowa' s overtime win against Western Illinois, Disterhoft moved up to 33rd all-time in scoring with 1,030 career points. The guard, who is averaging 17.3 points per game to lead the Hawkeyes, is 16 points from Robin Anderson, who is 32nd all-time in scoring with 1,046 career points (1980-85).
HAWKEYES REMAIN IN THE RANKINGS
Iowa maintained its preseason rank of No. 23 in the week two release of the USA Today Coaches Poll. The Hawkeyes continue to receive votes (10) in the Associated Press Top 25 Poll. The Hawkeyes, who appeared in the rankings each week in 2014-15, finished the season ranked 11th in the USA Today Coaches Poll and 18th in the AP Top 25 Poll.
Four Big Ten teams are included in the USA Today's Top 25, including Maryland (No. 6), Ohio State (T-No. 14), Northwestern (No. 22), and Iowa (No. 23). The Big Ten also has four representatives in the AP Top 25 Poll in No. 7 Ohio State, No. 8 Maryland, No. 20 Northwestern, and No. 23 Michigan State.
SEASON TICKETS
Season tickets are on sale for the 2015-16 Iowa women's basketball season. General public season tickets are $100. UI faculty/staff can purchase tickets for $80. Senior tickets (50 and older) are also $80, while youth season tickets (18 or younger) are $25. UI students are admitted free to women's basketball games.
Tickets are available by visiting the ticket office at Carver-Hawkeye Arena, calling 1-800-IA-HAWKS, or online at hawkeyesports.com.
ON DECK
Iowa heads to Austin, Texas, for the Lone Star Showcase, Nov. 26-28. The team plays three games in three days, challenging Wright State, George Washington, and Houston.
The Hawkeyes wrap up their five-game road stint with a B1G/ACC Challenge contest at Virginia on Dec. 2.