Nov. 25, 2015
ON THE MAT
The second-ranked University of Iowa wrestling team travels to Ames, Iowa, to face No. 17 Iowa State on Sunday in the annual Iowa Corn Cy-Hawk Series. The dual begins at 2 p.m. (CT) inside Hilton Coliseum. Admission is $20 for adults and $10 for youth (high school age and younger).
Dan Gable TRAVELING TROPHY
The Iowa-Iowa State wrestling rivalry introduced the Dan Gable Traveling Trophy in 2010. In a joint collaboration, the schools announced the annual dual would be wrestled for a trophy representing Iowa State's former two-time NCAA Champion and Iowa's 15-time NCAA championship coach. Iowa has won every meeting since the trophy's inception (5-0), including a 22-13 win at home in 2010, a 27-9 win in Ames in 2011, a 32-3 win in Iowa City in 2012, a 23-9 win in Ames in 2013, and a 28-8 win in Iowa City last season.
THE SERIES
Iowa leads Iowa State, 63-16-2, in the all-time series, and has won the last 11 meetings. The Hawkeyes own a 25-11-1 in Ames, Iowa. Iowa State's last win in the series was 19-16 on Dec. 5, 2004. Iowa has won the last five meetings in Ames, and has not lost to Iowa State on the road since Dec. 7, 2003 (21-13). Prior to that Iowa State win, the Hawkeyes had won 30 in a row in the series. A win on Sunday would run Iowa's active win streak to 12.
IOWA CORN CY-HAWK SERIES
The Cy-Hawk Series is in its 12th season in 2015-16, being sponsored for the fifth time by Iowa Corn. The Hawkeyes lead the season series, 7-4, having secured wins in soccer, volleyball and football. The Cyclones earned wins in men's and women's cross country. Iowa State leads the all-time series, 6-5, including a 15-11 win in 2014-15. Iowa wrestling owns a 10-1 lead in the Cy-Hawk Series duals. The Cyclones won the first meeting in 2004, and Iowa has won the last 10. (Iowa has won 11 straight overall, including a meeting at the National Duals.)
IOWA NATIVES
The Hawkeyes have five native Iowans in their probable lineup, including each of the first four weight classes — Thomas Gilman (Council Bluffs), Cory Clark (Pleasant Hill), Logan Ryan (Bettendorf), and Brandon Sorensen (Cedar Falls). Iowa's 174-pounder, Alex Meyer, is also from Pleasant Hill. The Cyclones have five native Iowans in their probable lineup. Three matches — 125, 141, and 149 — could pit Iowa native against Iowa native. The Hawkeyes have 20 total Iowa natives on their roster. The Cyclones have 23.
CY-HAWK EXPERIENCE
Cory Clark and Sammy Brooks are both making their third Cy-Hawk Series appearance. Clark is 2-0 all-time, with both wins against Earl Hall. Clark defeated Hall, 8-7, at 125 pounds in Ames in 2013. Both wrestlers bumped up a weight class in 2014, when Clark got the best of Hall, 8-3, in Iowa City. Brooks bumped up to 197 pounds in 2013, Iowa's last trip to Ames, and fell to All-American Kyven Gadson, 3-2. He defeated LeLund Weatherspoon at 184 pounds in Iowa City last year, 9-1. Nathan Burak is making his first appearance in the series since 2012, when he lost to Gadson, 5-4, as a true freshman in 2012. Thomas Gilman is making a Cy-Hawk appearance for the second straight year. He defeated Kyle Larson, 6-1, in 2014. Brandon Sorensen also made his Cy-Hawk debut last season, topping Gabe Moreno, 7-6. Gilman, Clark, Sorensen, Brooks, and Burak are the only Hawkeyes with previous Cy-Hawk Series experience.
BRANDS' PERFECT 10
University of Iowa head coach Tom Brands is 10-0 all-time against Iowa State. During that stretch, the Hawkeyes have won by an average of 13.4 points per dual, outscoring Iowa State, 253-119. The slimmest margin of victory over the last 10 meetings was an 18-16 win in Ames in 2009. The largest margin of victory was a 32-3 win in Iowa City in 2012.
EARLY RISERS
The Hawkeyes are 5-0 heading into their Nov. 29 dual with Iowa State. This season is the first in program history Iowa will have wrestled Oklahoma State, Iowa State, and its Big Ten opener prior to the calendar turning to December. The Hawkeyes opened the season Nov. 14 with an 18-16 win against top-ranked Oklahoma State. They hosted Maryland on Nov. 21, winning the conference opener, 36-9. This is the second year in row Iowa wrestles Iowa State on Nov. 29.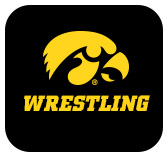 HAWKEYE WRESTLING HISTORY
Iowa's overall dual meet record is 963-225-31 (.799) in 104 seasons. The Hawkeyes have won 23 national titles and 35 Big Ten titles. Iowa's 53 NCAA Champions have won a total of 81 NCAA individual titles, crowning six three-time and 16 two-time champions. The Hawkeyes' 109 Big Ten champions have combined for 195 conference titles. There have been seven four-time, 18 three-time, and 29 two-time Iowa winners. Iowa's 152 All-Americans have earned All-America status 313 times, including 18 four-time, 34 three-time and 40 two-time honorees.
DOMINANT SINCE NO. 1
Gary Kurdelmeier led Iowa to its first NCAA Championship in 1975, and in the 41 years since, the Hawkeyes have accumulated 23 team titles, more than any other school — Oklahoma State (7), Penn State (4), Minnesota (3), Iowa State (2), Ohio State (1) and Arizona State (1).
ALL-AMERICAN STREAK
Iowa returns four All-Americans this year — Thomas Gilman (125), Cory Clark (133), Brandon Sorensen (149), and Nathan Burak (197). The Hawkeyes had a tournament-high six All-Americans in 2015. Mike Evans (6th/174) and Bobby Telford (5th/285) won All-America honors for the third time, Nathan Burak (7th/197) and Cory Clark (2nd/133) became two-time All-Americans, and Thomas Gilman (4th/125) and Brandon Sorensen (4th/149) are first-time All-Americans. The Hawkeyes crowned at least one All-American for the 44th consecutive season, a stretch dating back to 1972. Iowa has totaled 267 All-America honors during that stretch.
CLARK EXTENDS RUN TO 26
Sophomore Cory Clark advanced to the finals at 133 pounds in 2015 to extend Iowa's streak of NCAA finalists to 26 consecutive years. Iowa has had at least one wrestler in the national finals every year since 1990, and in 40 of the last 41 seasons dating back to 1975.
BROOKS EARNS WEEKLY HONORS
Junior Sammy Brooks was named Big Ten and USA Wrestling Athlete of the Week on Nov. 16. The Oak Park, Illinois, native used four takedowns and eight nearfall points to earn a 17-2 technical fall over Oklahoma State's Jordan Rogers at the "Grapple on the Gridiron" on Nov. 14. Brooks' bonus points at 184 pounds gave Iowa a 15-13 lead and proved to be the difference in the Hawkeyes' 18-16 win over the top-ranked Cowboys. Each week USA Wrestling selects an Athlete of the Week based upon performance within wrestling for that week. The selection committee will consider any level of wrestling, from youth programs through the senior level.
IOWA ON THE AIR
Iowa wrestling events are broadcast by KXIC and streamed online at Hawkeye All-Access throughout the 2015-16 season. Steven Grace and Mark Ironside will call the action for Hawkeye Sports Properties, a property of Learfield Sports.