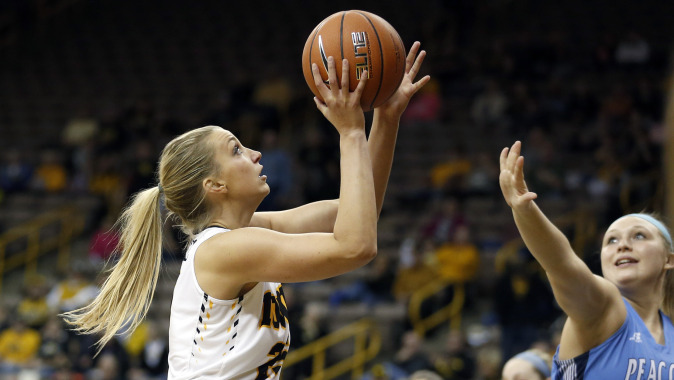 Nov. 30, 2015
Game Notes – at Virginia

THE SETTING
The No. 21 University of Iowa women's basketball team concludes its five-game road swing at Virginia on Wednesday as a part of the annual Big Ten/ACC Challenge. Tipoff is set for 6 p.m. (CT).
Game 8 | #21 Iowa (6-1) at Virginia (5-2)
Date:
Wednesday, Dec. 2 | 6 p.m. (CT)
Location:
Charlottesville, Virginia | John Paul Jones Arena
Watch:
Cavaliers Live
Radio:
Hawkeye All-Access
Live Coverage:
Gametracker | Twitter Game Updates
All-Time Series:
Iowa leads, 2-0
GAME COVERAGE
? Hawkeye fans can listen to the midweek contest on Hawkeye All-Access. Brent Balbinot and Todd Werner will call the action.
? Balbinot is in his 12th season as Iowa's play-by-play voice, while Werner is in his first providing analysis.
? For a fee, fans can view the game online on Cavaliers Live.
? Links to audio, video, and live stats are on the women's basketball schedule page at hawkeyesports.com.
IOWA VS THE ACC
? Iowa is 2-6 in the Big Ten/ACC Challenge after falling on the road to Louisville last year.
? The Hawkeyes' most recent win in the Big Ten/ACC Challenge occurred in Iowa City in 2013-14. Iowa defeated first year ACC member, Syracuse, 97-91.
? Iowa is 15-9 all-time against ACC opponents after splitting, 1-1, last season. The Hawkeyes fell at Louisville in last year's challenge, before defeating Miami inside Carver-Hawkeye Arena in the NCAA Tournament Second Round, 88-70, to advance to the Sweet Sixteen.
SCOUTING VIRGINIA
? The Cavaliers, picked to finish eighth in the Blue Ribbon Panel ACC Preseason Poll, bring a 5-2 record into the matchup.
? Virginia got off to a 5-0 start, before dropping its last two contests to Rutgers, 60-48, and Tulane, 67-62, at neutral sites.
? As a team, Virginia averages 69.1 points per game. Four players average double figures in scoring including, Faith Randolph (13.1), Mikayla Venson (12.3), Aliyah Huland El (10.6), and Lauren Moses (10.0).
? The Cavaliers, comprised of four freshmen, five sophomores, two juniors, and one senior, are led by fifth-year head coach Joanne Boyle.
SERIES HISTORY
? Iowa leads Virginia, 2-0, in the all-time series. Both games were played a neutral sites.
? The first meeting was in 1987-88, when the Hawkeyes defeated the Cavaliers, 75-59.
? Iowa won the last meeting between the teams, 69-62, in 2001-02.
CAVALIER CONNECTION
? Second-year Hawkeye recruiting assistant Telia (McCall) Marks was a four-year basketball letterwinner at Virginia from 2009-13.
? Marks played in 126 career games as a Cavalier and graduated with a bachelor of arts degree in sociology in 2013.
? Following her collegiate career, Marks went on to play basketball professionally overseas in Luxembourg and Finland.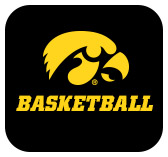 2 TOURNAMENTS, 2 TEAM TROPHIES
? The Hawkeyes have taken home the hardware in every tournament so far this season, beginning with the Hawkeye Challenge, Nov. 13-15, and continuing at the Lone Star Showcase, Nov. 26-28.
? Iowa topped North Dakota and UT Martin at its annual tournament in Iowa City opening weekend to secure its first team championship with a 2-0 record.
? Ally Disterhoft (MVP), Kali Peschel, and Megan Gustafson earned Hawkeye Challenge All-Tournament team accolades.
? The Hawkeyes edged out the competition in their bracket at the Lone Star Showcase over Thanksgiving break. The squad recorded wins over Wright State and Houston, but fell to No. 23 George Washington in double overtime.
? Iowa and George Washington both posted 2-1 records, but the Hawkeyes earned the team title by the margin of victory tie breaker.
LONE STAR SHOWCASE NOTABLES
? Iowa won its bracket at the Lone Star Showcase with a 2-1 record.
? With a win over Wright State on opening day, Iowa was off to a 5-0 start on the season.
? Freshman Tania Davis set a career-high with 13 points, sophomore Chase Coley scored a career-high 22 points, and junior Alexa Kastanek netted a career-high six three-pointers against Wright State.
? Iowa's double overtime loss ended the team's five-game win streak. Coley posted her second career double-double with 22 points (matching her career-high) and 10 rebounds in the contest.
? Iowa closed tournament play with a 14-point win over Houston.
? Sophomore Carly Mohns posted a career-high 11 points of the bench, reaching double figures for the first time. Three others scored in double figures, including junior Ally Disterhoft (15), Kastanek (13), and freshman Megan Gustafson (11).
IOWAWBB.COM
Check out the Iowa women's basketball team's website, iowawbb.com, devoted to everything on-and-off-the-court surrounding the program. Iowawbb.com, allows fans a chance to go behind the scenes with the Hawkeye basketball program. The site is complete with exclusive videos, photo galleries, and content featuring the basketball program.
ON DECK
Iowa returns to Mediacom Court in Carver-Hawkeye Arena on Dec. 6 for a contest against Robert Morris at 1 p.m. (CT).